Mammal!
I've heard about them but never listened to their music they sound interesting though who would you compare them to?

Edit: wow he has a heavy Australian accent and he like sings/speaks not bad actually kinda refreshing
Last edited by volcom_sk8_rock at Mar 24, 2009,
Almost abit like Karnivool, except more australian m8, haha.
I didn't think anyone would like the vocals, I didn't at first.
smash the pinata is pretty sweet good guitar work. Where can I find their music?
You mean tabs? I'm not too sure. You could ask the band via their website/myspace, they might reply. I'm not sure what tuning they use either. I was right next to the guitar tech at the annandale gig a couple of weeks back, I should have asked

But I got the setlist

Best. Australian. Band. EVER!

Ezekiel's voice is great (IMO). His somewhat spoken word technique owns.
It reminds me of RATM a bit, his voice is pretty cool though
You mean tabs? I'm not too sure. You could ask the band via their website/myspace, they might reply. I'm not sure what tuning they use either. I was right next to the guitar tech at the annandale gig a couple of weeks back, I should have asked

But I got the setlist
nah like is their any music on the internet that I can get.....free ya know
Don't you dare!


Small Australian bands need all the help they can get

Pm'ed

Especially with Mammal whole "no label" nonsense

Turns out my friend already has that album Majority so I will have to have a proper listen to it.
Well first few listens the majority and smash the pinata stand out. Im hearing a lot of good guitar work as well kind of remind me of Audioslave but Im not a huge fan of them.

A pretty high octane band they are all over the place first in terms of their sound.
I saw an interesting article that came up with this

Tool + Rage Against The Machine x Karl Marx = MAMMAL

Awesome band, anybody who is a fan should check out "Full Scale" The band Zeke was in before Mammal. Lyrics are similar in content, but the sound as a whole is more heavy.

Unfortunately Full Scale disbanded quite a while ago.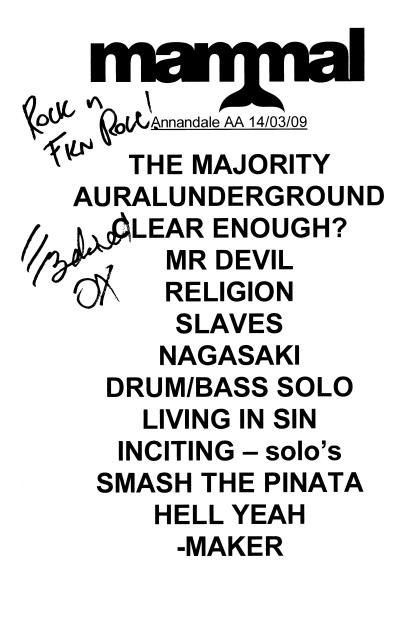 Setlist for anyone interested. Listening to full scale atm, not bad!
Nice setlist! I've unfortunately only seen Mammal once (pathetic I know) and it was a similar one that we got.

And yeah! Full Scale are catchy as, Party Political was their biggest hit I believe. Such a massive sound.
Zeke played a solo song at the concert too. He went on stage with an acoustic guitar and some chick on violin and played a song about ned kelly

For real!? Ah that's just far too cool. Although we were lucky enough to have them play a couple songs with Lucius Borich of COG on stage playing an interesting assortment of drums. I love it when bands get guest members like that.
Aww lucky bastard! Lucius wasn't there at my gig

Saw Cog at bdo, and I've got to say, it didn't fit, I think they're more suited to enclosed venues. There just wasn't much energy

I agree, I've seen Cog three times now, once at BDO, once at a smaller festival, and once at their own show. They definitely need a stage that compliments their show. Amazing when they have that however.
It's probably a lot to do with Flynn being quite closed-off as a frontman also, they need ambience.
And I'd call me a lucky bitch, not bastard

Well sorry

Cog will be writing later on this year, apparently! 2009 will be a good year

Oh it will, touring from heaps of bands, including Mammal.
New album most definitely from Karnivool, and debut from Dead Letter Circus we hope.
COG writing.
Sounds great!
Can't say I've ever listened to dead letter circus, what's their sound like?
Ummm... God. They supported COG a couple years back on the tour before Sharing Space was released. They're a brisbane band, interesting vocals! Not the best of our Aussie talent but worth a listen nonetheless. You'll have to check them out because they're a bit hard to explain.

They released an EP a couple of years ago, and a single recently. Try and find the songs "The Mile" and "Alien"
One thing they really have going for them is their bassist, he's a gun.
I listened to disconnect and apply, I like it. There's so many good unheard of bands around here, it's crazy.
Another good song of their first EP. And it's true. I honestly believe the Aussie rock and metal scene is one of the best out there. It just doesn't get anywhere near enough exposure.
I'm listening to sleepmakeswaves atm, bloody great music. Very prog, arrangements are ace.
Yeah I saw that on the other thread and would like to listen, unfortunately I'm currently at my hermit boyfriends house and he has DIAL-UP. (What's that you ask? exactly...)

So I can't listen to anything just now.
But I'll be sure to check them out when I get back to civilisation!

ok. Well they're instrumental, so if you like a heavy version of Sigur Ros with no vocals, then you should like them

Sounds interesting! I daresay I'll probably like them. Though I speak of all this heavy Aussie music I love, what am I currently listening to? Moon Safari. Yeah.
Dead Letter Circus have some really good guitar work in their songs and as for Australian music well its just great I used to be pretty ignorant towards it but now an Australian band are easily one of my favourites (The Drones) haha had to slip them in somewhere.
I have to agree, although their guitarist is a wanker, as is Kim, the singer. Shame when that happens with bands, but hell! If the music is good, who really gives a damn?
Got the mammal EP today , sounds pretty good


Join date: Nov 2008
20

IQ
I saw them at Newcastle, one of the best gigs I've ever been to, Zeke is the best frontman I've seen live and the whole show was electric!!!

I'd also liken them the Chili Peppers, only cause of the vocals, slap bass and rhythmic nature of the songs... early Chili Peppers that is...

But yeah Mammal are awesome! For one of their songs at the Cambridge they invited the support band Poetikool Justice up to sing and play drums and stuff... it was really cool..
Got the mammal EP today , sounds pretty good
It is good! The last song "Groove Junkie" has this awesome guitar and bass, very Tool sounding don't you think?
I haven't listened to it proper yet


Join date: Oct 2007
61

IQ
I love Smash the Pinata when it gets to 3:48. I listen to the whole song just for that 10 sec part. If that was the chorus, it would be the best song ever written

.
**** I love Mammal
EDIT: My brother talks about that mechanical eye thing every time Mammal is brought up

Now I know what he is gas bagging about.
Last edited by sebastian_96 at May 18, 2009,