Marshall 1960a, Soldano 2x12
I have these two cabs for sale. Both in relatively good condition. Send me an email and I will send pics.
I would like to get 375 for the Marshall. It has one or two good size rips in the tolex, and some tears in the grill cloth. Nothing too bad at all.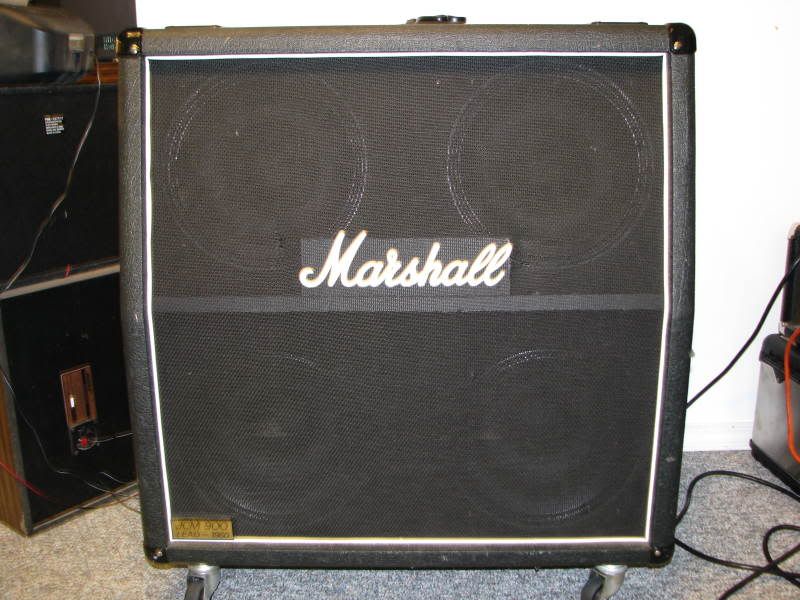 I would like to get 400 for the soldano. It has some black marks on the top from amps sitting on it, but thats about it, good condition besides that.
Shoot me an email at
gwarner911@aol.com
and Ill send some pictures for anyone interested.
Prices dont include shipping. Id rather not use paypal as I recently had a bad experience, but if I have to then I have to.
Only thing I would be interested in trading for are 1x12 cabs.

Join date: Feb 2006
30

IQ
Can I can get a picture of the Soldano?
Dont have any right now, but if you give me 15 minutes i can take some.

Join date: Mar 2008
30

IQ
do you ship int'l if buyer covers shipment??? pm me

Join date: Apr 2004
30

IQ
location? might be interested in the 1960 if shipping wouldn't kill me.
what speakers are in the soldano?
I dunno, Im pretty sure they are some cheap ones though. They sound good, especially w/ high gain, Im just pretty sure they arent original.

They have a scooped tone. It actually sounds really good with my marshall clone aswell.
what would shipping be like to CA?
im guessing around 60-70 dollars. Possibly cheaper. Let me check.
yup just checked. thats how much it should be.
hmm so 460$ no promises here man, but I will keep my ears open.
I like it.
what ab out shipping a the 1960 to missouri.....i am really interested at that price but shipping is prolly gonna kill
Shouldnt be more than 60-70 dollars.
if you'll do it for 375 shipped ill buy......that cab doesnt't rattle or make noise does it
sorry, cant sell it for basically 300.
how solid is the cab....i mean is it DEAD quiet at extreme volumes
its as quiet as as cab I have heard. There are no functional flaws with the amp, only a few cosmetic scrapes as ive already pointed out.
i really want the marshall....how much shipped to 63901?
If I can sell my hellraiser I will for sure consider buying the marshall. I could even pick it up..
sorry man, i didnt see your post there. I dont have the exact dimensions of the cab right now, but it should be about 75 dollars to you. So i could do 450 shipped.