New amp >;D (Pics)
Got it a couple of days ago, so not exactly new amp day, but I've been too lazy to post a thread, but I thought it might give me something to do, so yeah.
Okay, so I've been planning to buy a valve amp for a lonnnggggg time now (Since like november), and finally I had the chance to zip in to Melbourne and get one.
Originally I was gonna get a Bugera 333xl, but it wasn't gonna last me (It'd just die eventually), and it was too powerful. So I ended up checking ebay, and I found what I'd been hoping for. A used Marshall JCM900 Hi Gain Dual Reverb 100watt head *drools* for a reasonable price ($1100 AU), so I bought it straight away, and on Sunday, I went up to Melbourne and got it, and damnnnn is it good, lots of gain, great sound, ****ing loud, versatile, and sexy =P.
I play mostly thrash metal, and while the gain might not be high enough at low volumes, once it's cranked up and has been turned on for a while, it's great, but I like to have an OD pedal just for a bit of boost.
It'd sound better if I was using a good cab, this cab's been treated fairly roughly (Had a valvestate cranked up playing death metal through it using an instrument cable instead of a speaker cable for the last 10 years.
Condition report:
Only damage is that the front panel is a little warped, has a couple of grots, and there's a few scratches on the vinyl, but nothing much, great considering it's from 1995. The valves in it were brand new sovtek tubes (Bleh)
So now for the long awaited pics: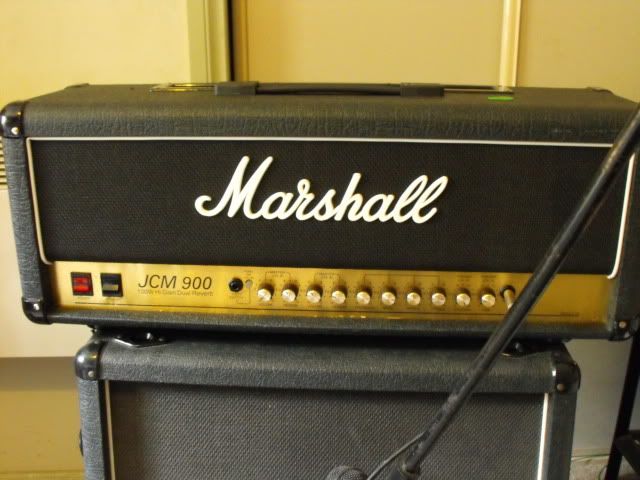 Yay, pics.
Edit: Despite it not being a new amp anymore, since I just submitted it to that new "NAD thread", I might post some updates.
I don't have any clips (The mics suck (In my camera, and that one you can see in the pics)), and I've so far had to send it in to the shop (Probably wasn't all that necessary though, only needed new tubes, but I wanted to make sure it was all fine) but now I think the caps are starting to age, and I'm getting a bit of hum on channel B, apart from that, I've found a new combination for the preamp tubes, and it's sounding even better than ever.
Last edited by Jesstaa at Jul 3, 2009,
Nice Buy, can't wait for the pics.
HNAD

Might need to get a wider cab

looks great, NAD!


Join date: Jan 2009
40

IQ
Lol @ cab. Looks awesome - HNAD!
there we go. Now, get a bigger cab

HNAD!!!
Looks like you need a cab with more headroom.
lol massive uneven head to cab ratio.

Join date: Apr 2008
20

IQ
Looks like you need a cab with more headroom.
i was the one that got told that


Join date: Dec 2007
70

IQ
Looks like you need a cab with more headroom.

haha


Join date: May 2004
270

IQ
Very nice.


Join date: Mar 2008
780

IQ


you got any clipznit with tat mike?