What the hell is with this G-400 and tuning?
Holy ****ing ****.

I can't stand this goddamn guitar anymore. I tune it, play it a little bit, then I try to play something else and it sounds absolutely ****ing out of tune, after LESS THAN A MINUTE OF PLAYING.

I can't stand this G-400 any more. Unfortunately I can't buy a new guitar right now, I need a new amp before anything. The most I can do right now is buy a new nut but this is freaking ridiculous. I rubbed a pencil in the bridge and nut before. It worked the first time, and eventually it stopped staying in tune so I did it again (could that have possibly ruined it?)

I honestly can't live with this tuning problem any more. I have to take money out of my JCM 900 budget just to get a graphite nut for the guitar.

Did anybody else have bad tuning problems with this guitar, or did I get the cursed guitar?

Join date: Jul 2008
10

IQ
My friend has one and its fine

Maybe just look into better tuners

Join date: Aug 2008
41

IQ
New tuners and you're set.

Locking would be even better.
I have Grovers on it, I haven't heard anything bad about them.

Maybe I should switch both, I will probably try that.

Join date: Dec 2004
20

IQ
maybe you just suck at wrapping when you re-string
mine tuning is only off on the g string sometimes, when did you get the guitar? and when did you change your strings last?
Don't switch tuners. G-400s have 18:1 Grovers, you can't get more accurate tuners than that. Whatever tuners you changed them to could only be a downgrade.
99.9999% of tuning problems come solely from the owner not restringing the guitar correctly.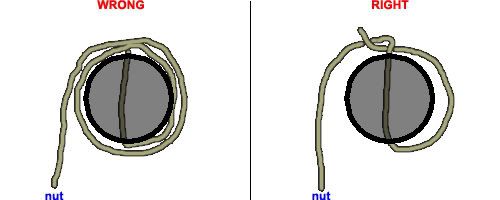 This very crappy MSPaint diagram I just knocked up sort-of tries to explain it. I've purposefully left gaps and such in that picture so it's easier to follow, but that doens't mean you should actually leave gaps between the string and tuning peg when stringing the guitar.
The 'wrong' way is what most people do at first; they take the string, push the end straight through one hole, then just keep turning the peg over and over. This is wrong. Even if you only wrap the string around the peg a couple of times or even if you wrap it around a hundred times, restringing this way can still let the string slip, and it is wrong.
The right way to string a guitar is to take the string through the nut slot, then bring it up on the inside of the headstock, around to the far side of the post, and thread it through the hole so that the end of the string is now pointing towards the guitar. You then take the string end (threaded through the post hole), and wrap it around the outside side of the tuner post. You then bring the end under the string (where it originally entered the tuner post hole), and pull it back up the other side (so the end of the string should now be sandwiched between the tuner and the string). You then begin to turn the tuner. You've got to pull the end of the string pretty tight while you do the first couple of turns, since even when stretched out the string can be springy and if it slips back out of the loop then you'll end up with a bent string that's nigh-on impossible to resting properly. Keep pulling the end of the string directly upwards until there's a couple of wraps around the tuner post and the string is roughly in-tune, then you can cut the excess end of the string off. This method is almost entirely fool-proof and won't let the string slip at all. The only tricky part is judging how much of the string to wrap around the post the first time, since you can't just keep blindly turning the tuner until all the slack is taken up like most people (incorrectly) do.
If you restring your guitar the right way, with 18:1 Grovers like Epiphones have, you should never have any tuning problems (bar a dodgy nut slot filled with fluff, of course). The string is safely locked in against itself and will never slip.
My Iommi G-400 stays in tune fine, and most likely it has the same Grovers that are on yours.

Join date: Jan 2008
231

IQ
i dont have a problem with mine.

its either the way you strung the guitar or you might have a bad set of tuners.

go to guitarfetish.com if you need new tuners. thay are pretty cheap.

Join date: Jan 2008
60

IQ
Yeah those grover tuners are not the problem.
Yes the G-400's all do have a problem with the G-string but it isn't really that bad.
99.9999% of tuning problems come solely from the owner not restringing the guitar correctly.
MrFlibble is right on. I had tuning issues until I started installing strings as per his diagram.(which actually looks better than you think...) If you adopt his method I think you will find than even average tuners will rise to the occasion. And no overlapping strings!
But, I think it actually only solves 98.87503% of tuning problems....
I am going to get the local shop to put my next set on. I already tried to put two on eariler, but something just feels wrong about how I put them on. I am going to have to wait until thursday so I can put my strings on, so I will have to wait for nearly a week until I can play guitar at all.

MrFilbble, I tried your method with one string, but something feels wrong about the way I did it.

****. Strings are the worst part of owning a guitar.
Strings are a little bit of a pain until you've handled them a few times.