FS: Rally LP copy (UK)
The basic stuff:
This is in Bath, in the south-west of the UK. Unfortunately I don't have the means to ship this anywhere, this is collection only.

Not interested in any trades, period.

This is a Rally GL-450, a Les Paul copy made in I think China and I think in 2007. This particular model was a limited run, apparently there's only about 12 in the country. It's about the same quality as the typical Epi LP Custom, Vintage LP copy, etc.

There's nothing upfront wrong with this guitar. I'm only selling it because I'm running out of space and I've got other good Les Pauls anyway.
Now the details of the guitar:
Body is solid mahogany with a carved mahogany top and a AA flame maple veneer. It's not a light guitar by any means, but then who the hell buys a Les Paul if they want light weight? The body shape is almost exactly the same as an Epi/Gibson, except the horn cutout is a bit sharper.

The neck is rock maple with a rosewood fretboard and ornate abalone vine inlays running the whole length of the fretboard, with usual dot markers on the side. Neck join is a usual LP set neck. Neck profile is about the same as a modern Fender or Epi slim-taper neck, not as thin and flat as something like an Ibanez but not as thick as a Gibson 50's or an Epi archtop guitar's neck. Fretwire is regular 'jumbo' like you get on every Epi/Squier/Gibson/Fender. Usual Les Paul 24.75" scale length.

Neck and back of the body is a fairly deep transparent cherry red colour. Front of the body is a strong cherry burst. Usual glossy poly finish all over. Body is double bound on the front side and back side with some odd cream binding, I think it's just single-ply binding but they make it look like five-ply cream/black binding. Headstock has the same binding. Neck has single-ply cream binding.

Hardware is gold-coloured brass, but like all gold hardware on guitars of this price range the gold has started to fade on some of the tuners and a couple of spots on the bridge. The pickup mounting rings are gold plastic. Control knobs are gold-plated brass knobs with pearl tops.

Usual LP two humbucker, 3-way switch, two volume and two tone. The volume and tone pots are mini-pots, I admit they don't have the best sweep range but they do the job well enough.

I took out the stock crappy pickups months ago, and had them replaced with two Swineshead pickups: a Condor model in the neck and a Warthog in the bridge. These were special ordered wood humbuckers, each humbucker has one coil made in ebony wood and one coil made in rosewood wood. The Warthog is a pretty powerful Alnico V humbucker, the Condor is a mellow Alnico II humbucker. More info can be found at the Swineshead site HERE. Note these pickups cost £70 each, these are damn good pups.

Still got the basic strap buttons. They do a good enough job, I've had this guitar for about nine months and the strap buttons have never caused me any problems.

This guitar's only been gigged once, and only has minimal wear. A bit of usual buckle wear on the back, as I said before the gold hardware has stated to fade in a couple of places, and there's the odd other scratch here and there, though nothing noticeable.

There is no case with this guitar. It didn't come with one, I don't have any.

It's currently got .11-.52 strings on it and I have it setup for Drop-C. I'll put regular .10s on and set it back up for E Standard tuning unless a potential buyer requests otherwise.
Now pictures!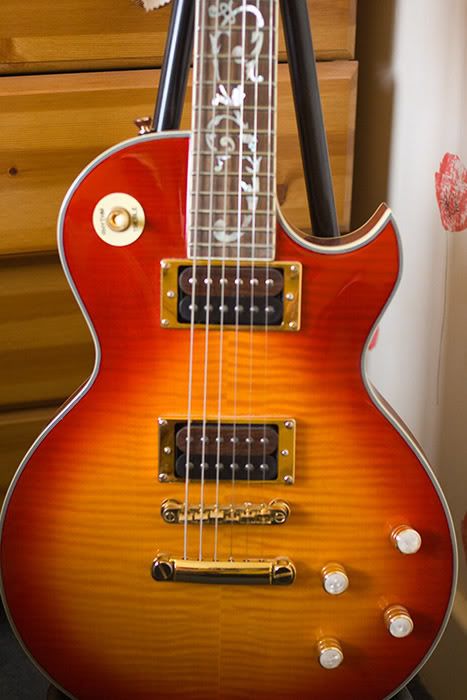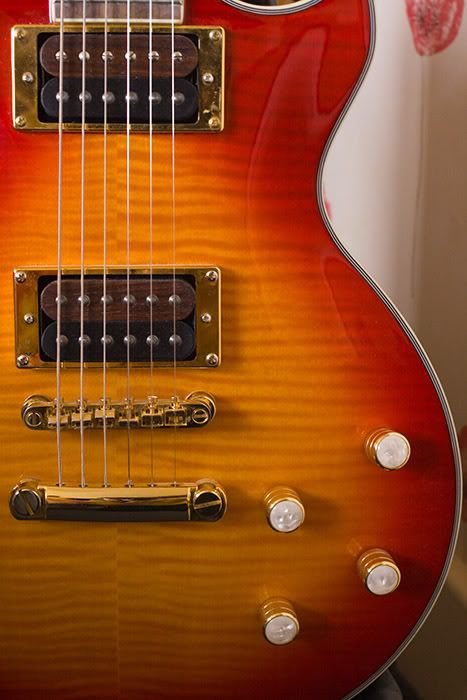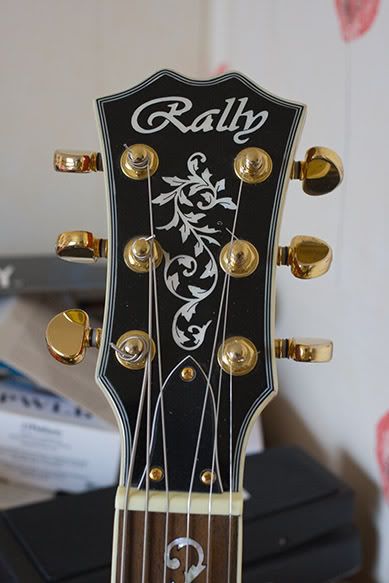 Asking price:
This thing was £280 new nine months ago and it's got £140 worth of pickups in it. I'm asking just
£260
for it now. Price is negotiable if someone gives me a quick sale. I'd rather take a cheque for payment though cash would be fine too, not doing any internet payments though.
If you've got any questions, please ask them
Join date: May 2008
40

IQ
you know what..i wish i could actually travel to where ur at, those pickups look well worth the journey.
ive seen a rally in the local shop, played nice, sound was a bit..well.. meh, but im guessing the replacements scream it away!
erm..i envy you for having such a pretty guitar.. and also living like..in the west..if u were s/e england would snap that when i get paid from work.

hmm the utmost luck in your sale!!

*waves hands quite odd like* boys from the dwarf!!
Bumping because this is still for sale and I still need the money!
Forgot to mention: the price of Swineshead pickups actually went up to £100 each for these wooden ones, plus Swineshead stopped production several months ago. So this is pretty much the last chance to get hold of any of these fantastic pickups and you're basically getting a pretty good LP copy thrown in for peanuts!