Copa's first build (Warning: will progress slowly!)
Okay, pics time

I thought I was going to get two 5-piece laminate necks out of the raw boards, but after machining I only got one. But I'm happy with the result

glueing on Saturday.
See First Post of Thread for Pics
The Flame:
Looking down the neck blank:
A Close-up:
And a quick pic of UFA:
Last edited by Copaman at Feb 28, 2010,
Thanks Bobby.

If I was any good at doing scarf joints, I'd cut that neck blank in half and have me two blanks. But. I fail at scarfing, so I'm not gonna.

Join date: Jun 2009
60

IQ
What's the Sapele like to work with, I've read here that it's very similar to mahogany... in what ways is it different?
Grain is slightly different, and it can have a ribbon figure.

About same tone, and same ease of workness.
They are from the same family fyi.

Join date: Jun 2009
60

IQ
Yea the grain looks really cool, all curly and stuff

Update, with finished neck blank. Scarf jig and cut sometime this week.
See First Post of Thread for Pics
Here's a look at the top of my fretboard, to give a quick preview of what the headstock will be(ish) like.
Last edited by Copaman at Feb 28, 2010,
Nice! So what's your neck angle going to end up being? And how are you going to do it?
Pocket angle was about 4* last time I did it; I should probably figure it out again. Scarf angle will be 15*; Gibson's angle of choice.
Cool. I really like this build.

I'm sigging that

Scarf joint jig done. 15*. If anyone has questions on how I made it, I'd be happy to share. I did not take pictures of the whole process though and I really should have.
See First Post of Thread for Pictures
With the neck blank... a preview of what I'll probably be doing tomorrow

Last edited by Copaman at Feb 28, 2010,
Nice jig

Took me long enough, didn't it?

My electric screwdrivers were all not working, so I put every screw in by hand...
Was easy to make though right? I mean, besides you having to brute force the screws.
Yeah, it was. Just a few mitre cuts.
Aaactually if you didn't mind... Could you just outline the basics of what you did?
Sure.

I found a spare 2x3 on the "wood rack" in my garage (equipped with some 2x4's and quarter round and the like, nothing really special.).

After pulling it down, I cut the first piece on my mitre saw, the long one you see. The hypotenuse, if you will.

I then cut the second piece, the base.

Moved the mitre saw to 15*. Cut the angle on the smaller piece. Moved mitre saw back to 0*. Cut the small piece.

Moved mitre saw to 15*. Cut the angle on the longer piece. Eyeballed how long it should be by holding the base, small piece, and hypotenuse together as you see them in the picture and then laying the 2x3 with the angle on one end over the top of the held together parts. Cut to length.

Assembled. I used something like 2.5" screws; two for each angled piece into the base, and one at each angle piece for the hypotenuse to the angles.

What it lets you do is put the base (short piece) up against the fence of a table saw. Hold (because my neck blank is so long I'm probably going to lightly clamp with a padded clamp) the neck blank against the hypotenuse. Push the jig along the fence, and you'll end up with a 15* headstock scarf joint cut.

If you want to do smth like 13 or 17*, look at my directions above and replace the 15 with the number you want to use.
Aaactually if you didn't mind... Could you just outline the basics of what you did?
if you dont understand his directions, look in my scarf tut thread, i have diagrams in there to help explain.
Cell Phone Picture Warning.
==
See First Post of Thread
Scarf joint profilo... with fishys!
Looking down the fretboard side of the neck...
Looking down the back of the neck.
One more picture for good measure.
Last edited by Copaman at Feb 28, 2010,

Join date: Jun 2008
50

IQ
Nice. Coming along beautifully so far

See my edit to the OP.

All the photos of the build which I have posted now have broken links. I reorganized my Photobucket account and moved all photos into an album of their own. I linked the album in the OP.

All further pictures of this build will not have a broken link issue.

Join date: Jul 2009
140

IQ
Lookin' good! Thanks for commenting on my thread btw.

It's nice to see a hybrid of 2 great guitars.. with modifications for the player. Good luck!
Truss Rod Routing done today. The flame looks nice in these pictures, IMO.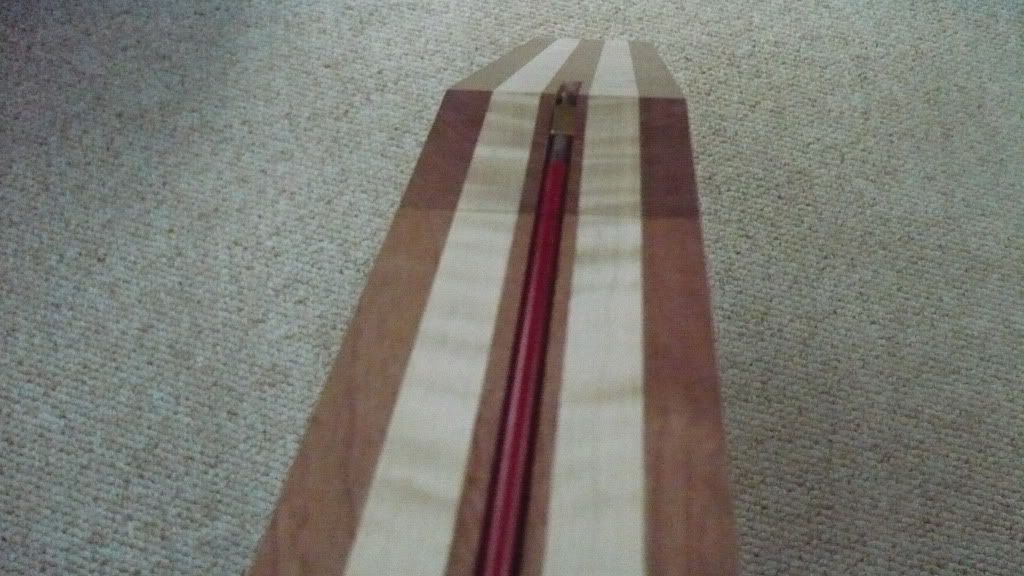 Leeeeedle bit of wiggle room, but I'll fix that before putting the fretboard on.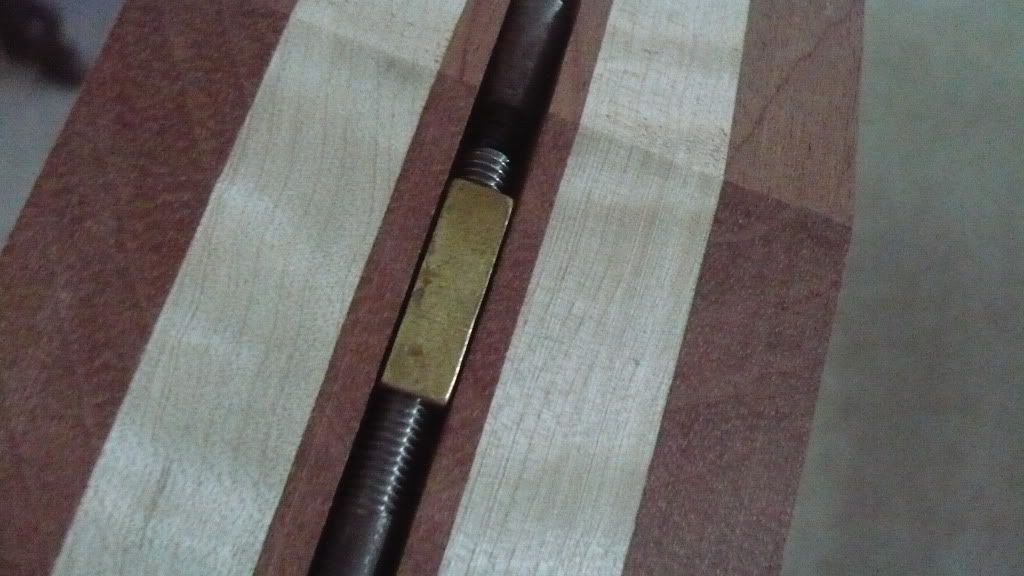 One more shot, some nice flame.
All the playroom I have at the heel end of the neck...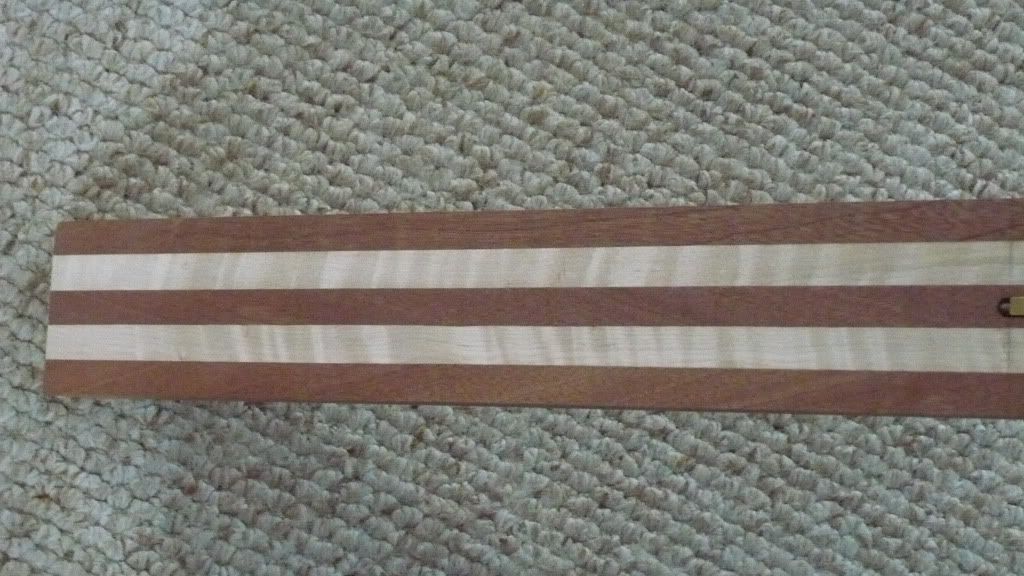 This shall be covered by a truss rod cover. I wasn't entirely sure on how to do this part so I just said, "the hell with it, I'll just make an extra long TRC if this is longer than the accepted usual length." Tape measure used to show scale. Does that look right?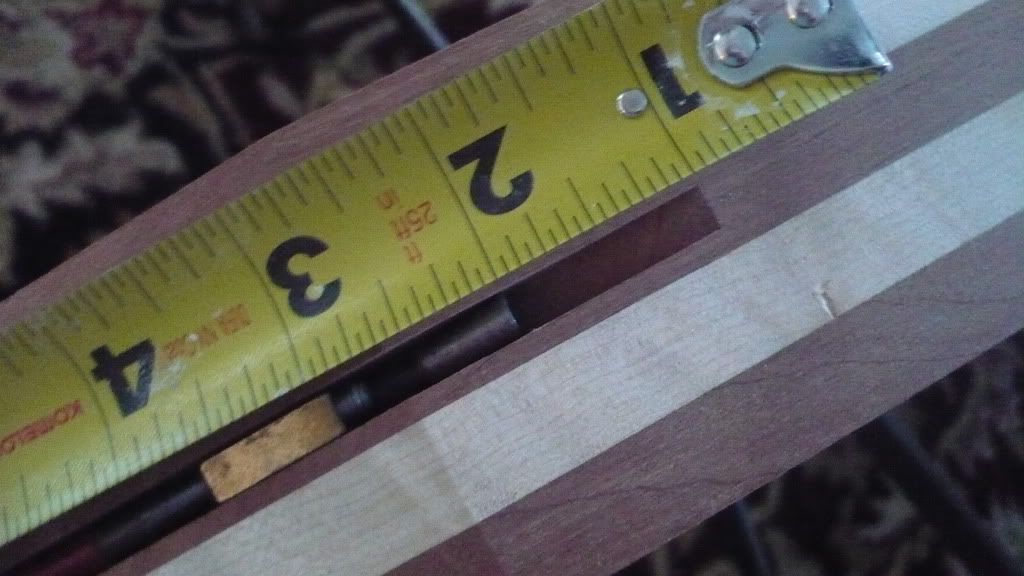 Isn't your truss rod upside-down?
No. The StewMac rods are supposed to be installed with the adjuster on bottom.

And plus I haven't put the fretboard over top yet so I can change it if need be.
Ah, I didn't know that!

The length looks fine on the TRC area. I mean, you have to have enough space to get an allen key in and wiggle, otherwise there's no point. The truss rod covers on all of my guitars are no shorter than 40mm - if that's the convention, you'll definitely get away with one slightly longer. If you're worried about it, you could always veneer the headstock, then just leave enough room to get the key in.

Also, that neck blank is fantastic!
Thanks for the praise

I just do the best I can, try not to make a mistake, and learn if I do

So I probably should've knocked on wood after that last post.

Update:

Forgot to plane the headstock piece of the scarf down to proper thickness before gluing.

I am unable to make any further progress until I do get it to the proper thickness - in reducing its thickness, I will need to extend the truss rod channel further down the neck. I am also unable to glue the fretboard to the neck at the moment due to this mistake
You can always clamp wood to either side of the headstock, making sure that the two are parallel to each other, so that the top remains flat. These will become rails, from here you can rout down the headstock with a router. Simple procedure, just don't mess up the set up and your good.
Would clamping my neck to the scarf jig I have, and then maneuvering the headstock (by use of jig) around a router table work?

I'll draw it up in paint if you can't picture it.
So not really an update seeing as how I did this more than a month ago, but...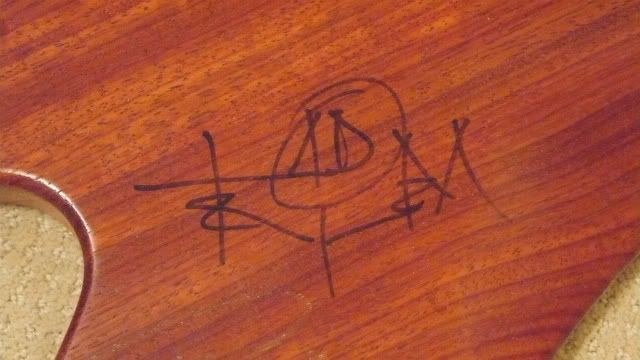 Tom Delonge's autograph under a few layers of tung oil lacquer.
Photobucket is being stupid right now; I've got a few more photos of the lacquered back of the guitar for you, as well as the remnants of David Kennedy's signature (you can kinda see it in the above photo a little) - they had silver sharpies with them at the VIP event, and I guess silver sharpie and tung oil lacquer don't get along well. I'm really glad I had Tom sign in black sharpie.
Other bits of info:
School's out. Good. I no longer have a ton of school work to keep me from building.
School's out. Bad. I now either have to rely on my uncle, who has a crazy work schedule, for tools I can use, or my friend's dad, who lives a solid 20 or more minutes away.
I can go over to my friend's house and use her dad's shop. Good. He's a professional cabinet maker and has a sick-ass wood shop with very nearly everything I need. See above for the bad.
This build is more than a year old. In that time, I've designed a great looking (IMO) guitar, cut it out and things, changed my mind a bunch, messed up one neck black, made another, successfully scarfed and routed for a truss rod, and that's about it. I've learned so much in the process though. I'm glad I didn't just jump in.
So I glued up my headstock ears today. Pictures tomorrow, when I take the clamps off. Assuming that photobucket is working. It really doesn't like me.
Sweeeet. I'm looking forward to pictures!
Huge pictures may be huge, but I promised you pictures and I have to go to work in like ten minutes, so I've got to get ready and therefore don't have time to resize them.
These are pictures of the lacquer and the autograph interspersed with pictures of headstock ears.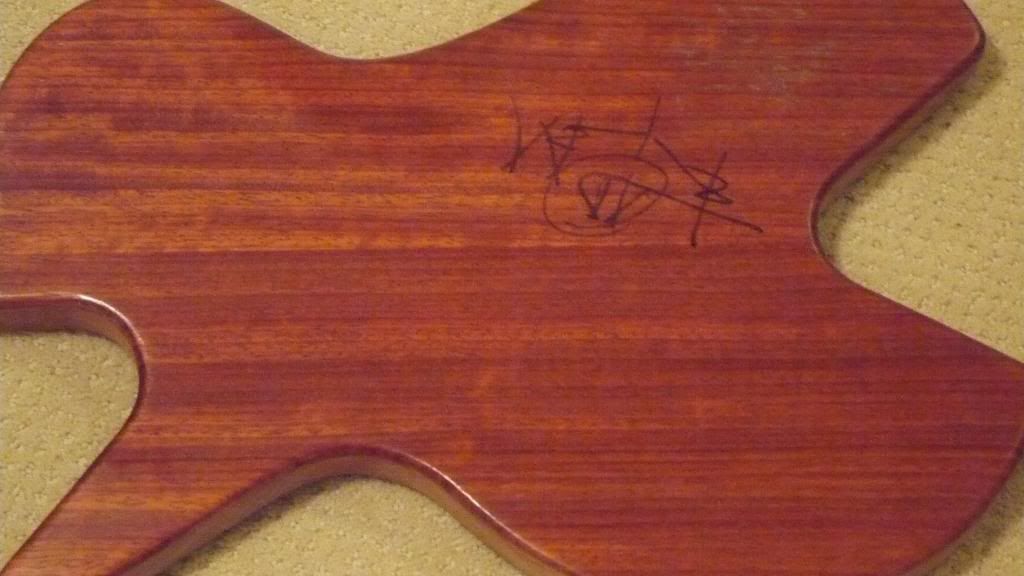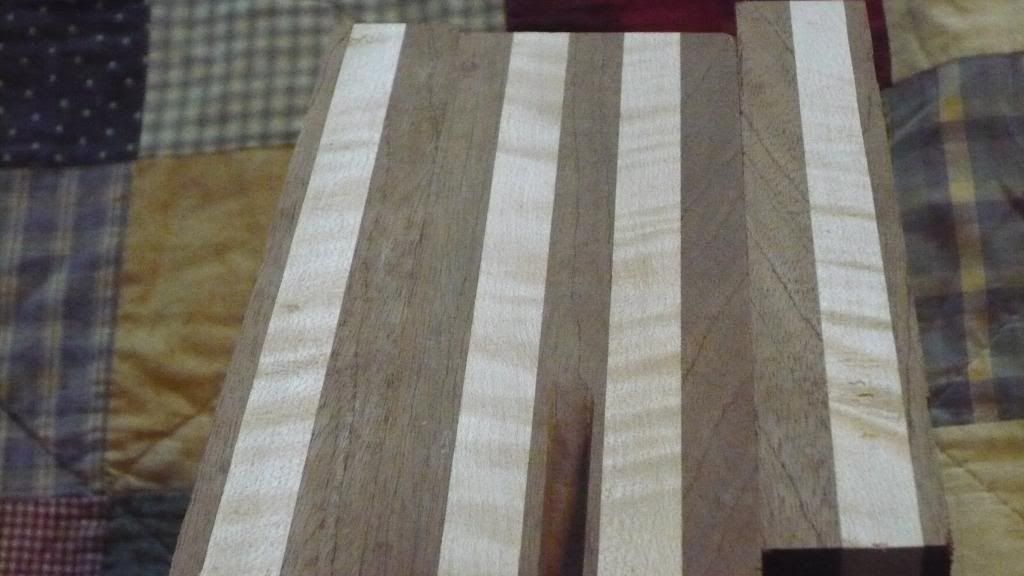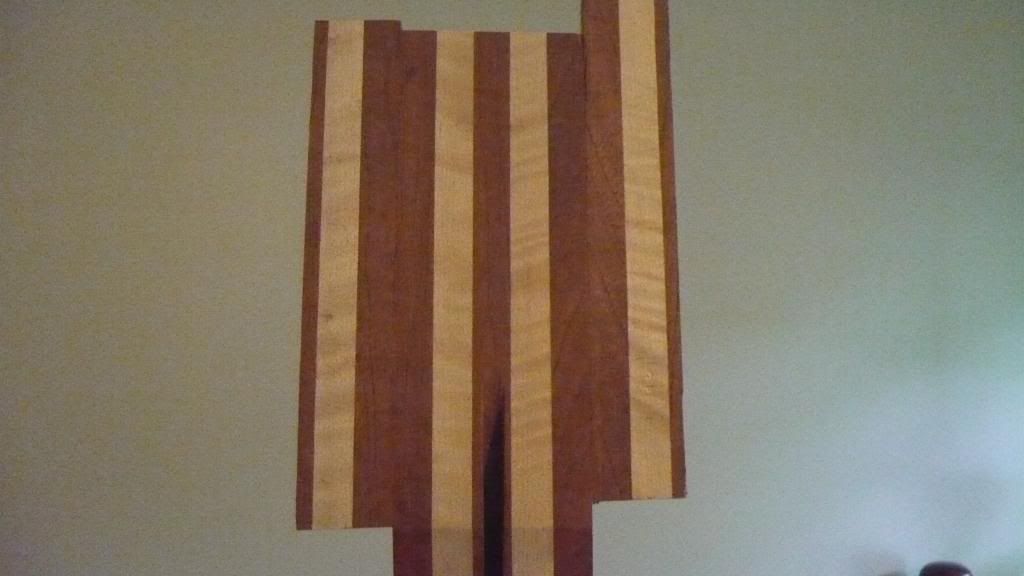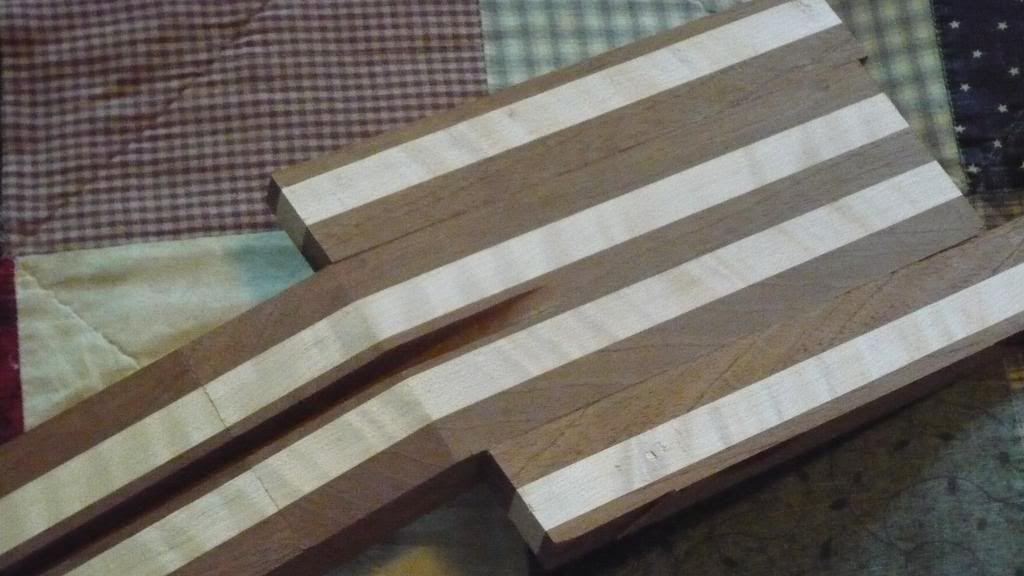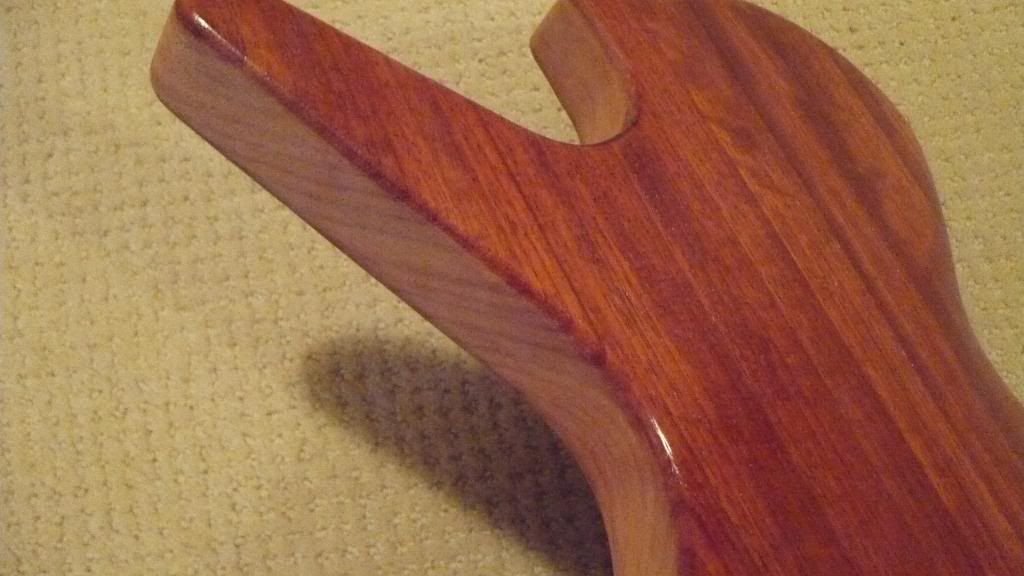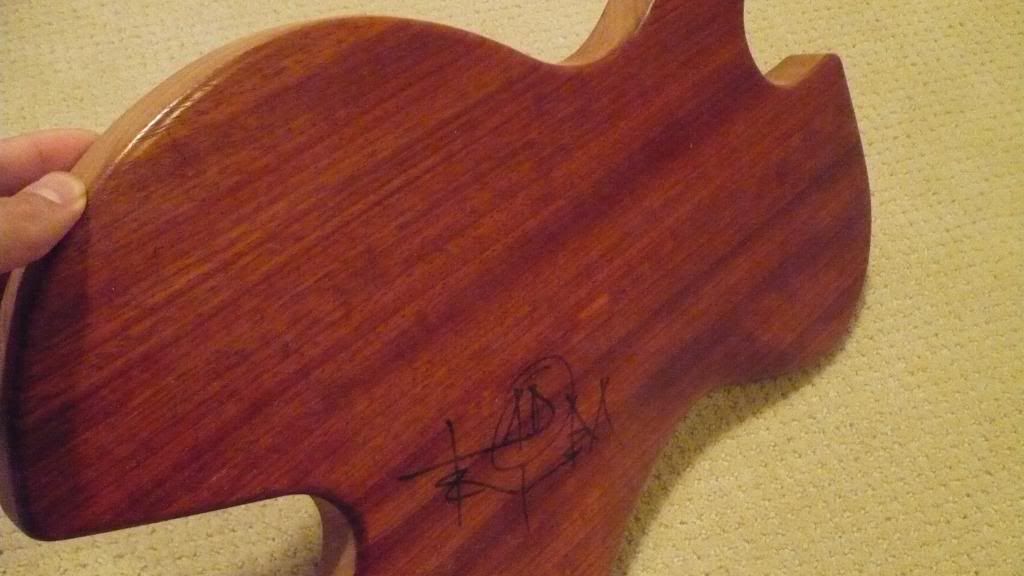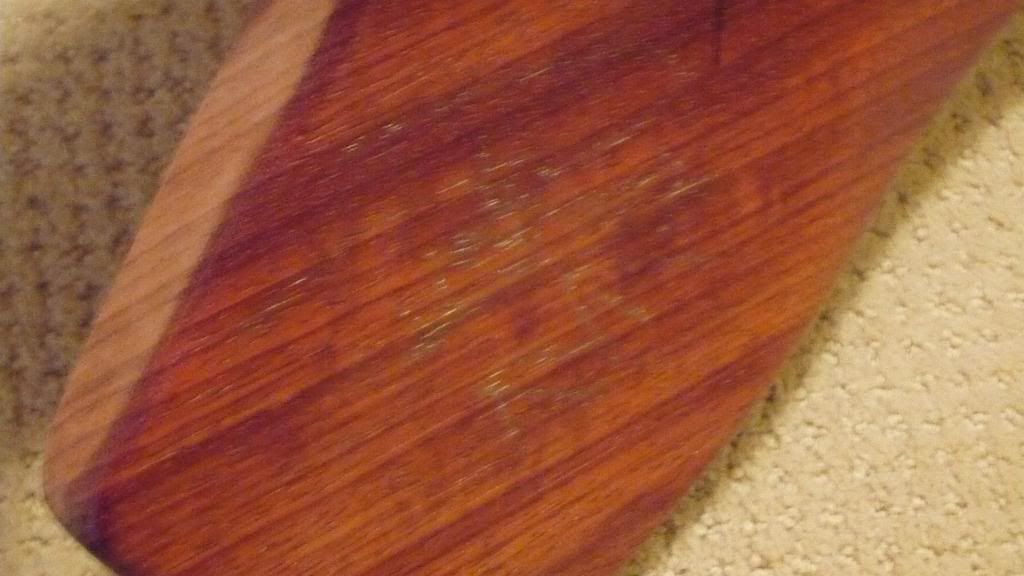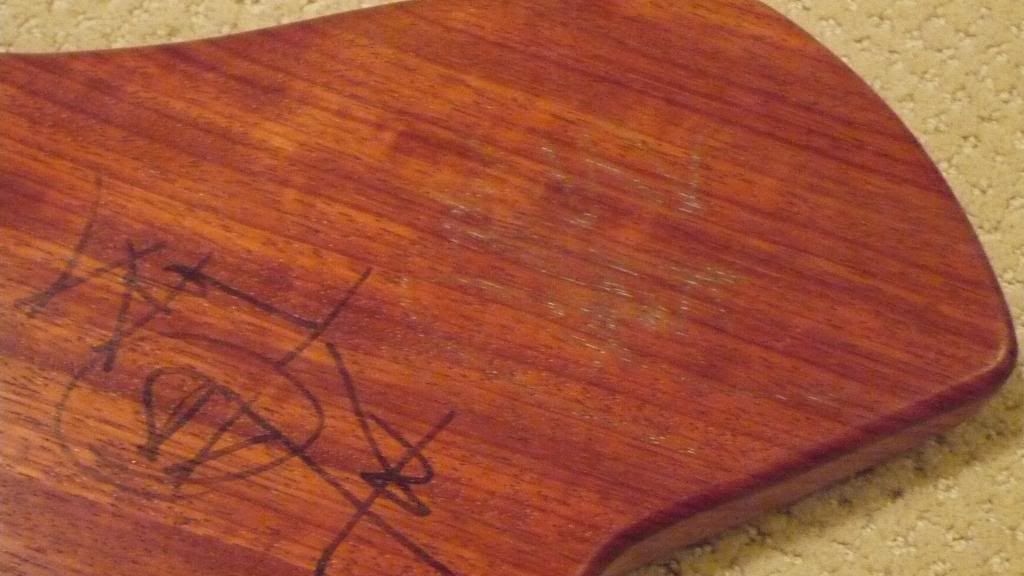 UPDATE TIME (with a super awesome gift too!)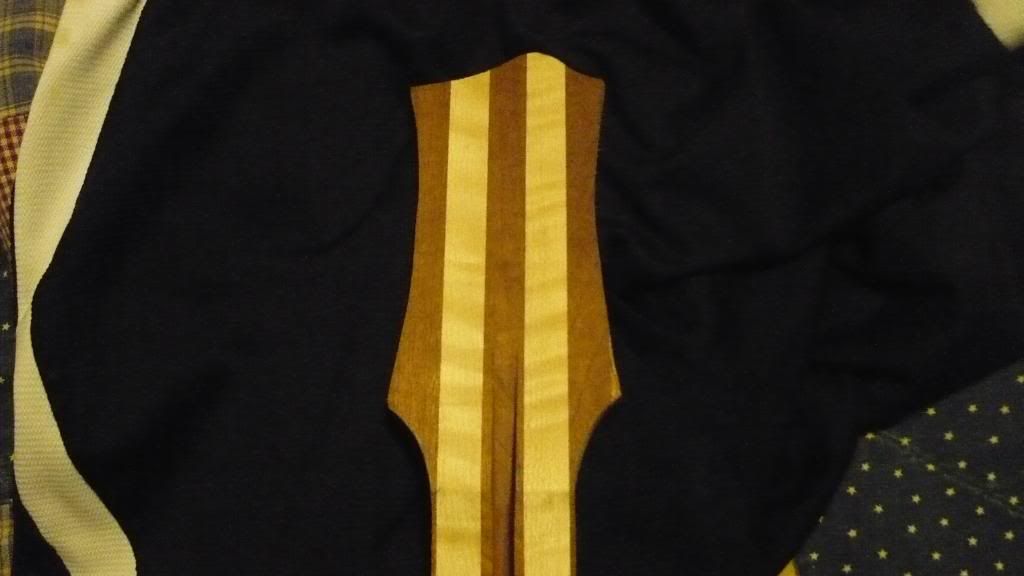 So that's my update. Headstock and taper are cut. Truss rod will being going in shortly, fretboard glued on, and fretboard taper cut.
Here's the gift I was talking about: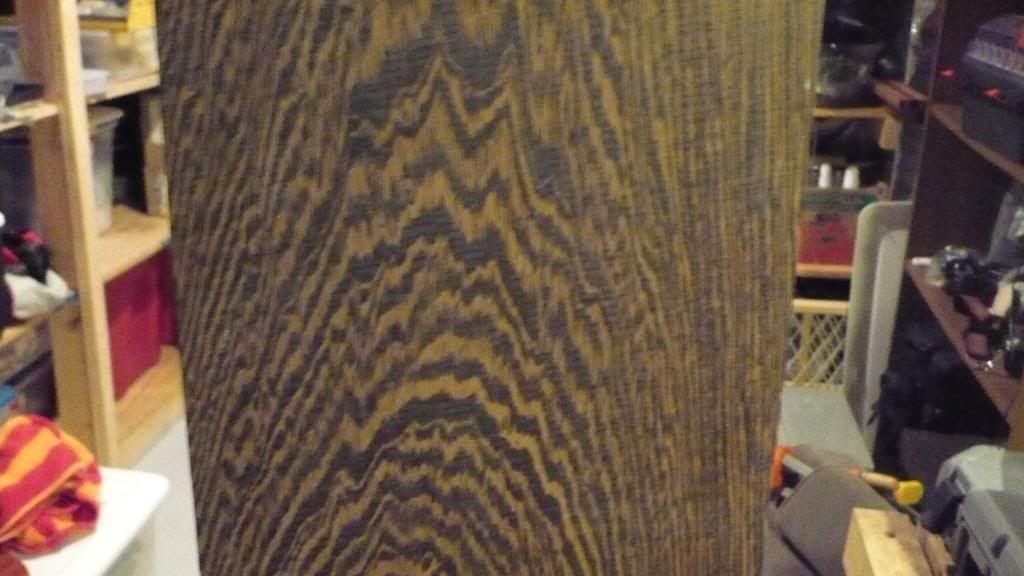 A huge slab of wenge given to me by the guy whose bandsaw I used today. I remarked that it was a very large, nice looking piece, and he said "take it. I've had it there for a few years and I haven't touched it since. I just don't like working with it."
Here's a shot of just how big it is (pardon my messy basement):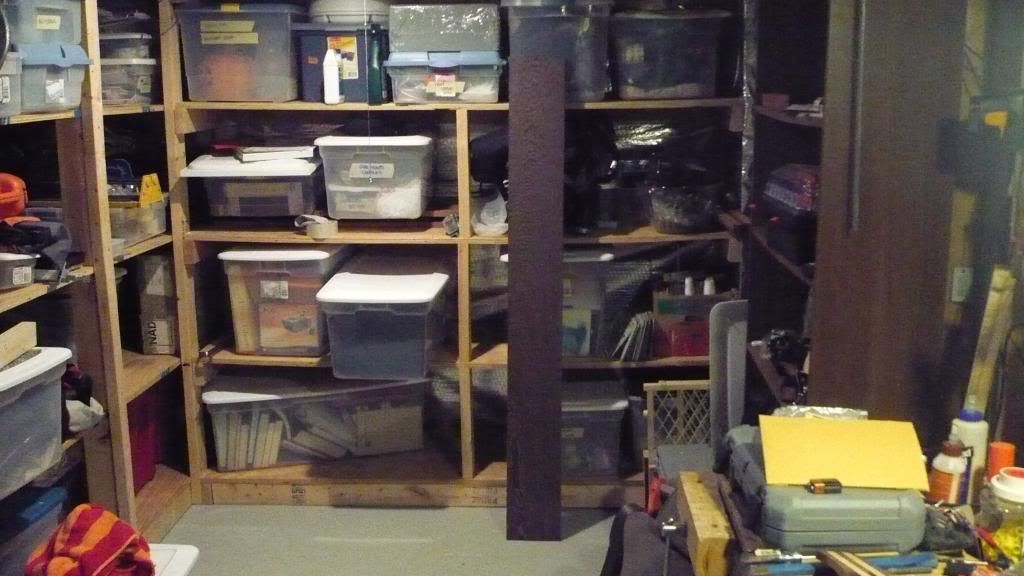 And a shot with my dad's skis for scale:
Dimensions of that board of wenge are approx. 5' 5" long x 7.25" wide x 1" thick
I dont blame him. Stuff looks good, but it's such a pain to work with.
I'm just pumped to have that much of it. That's like... a top AND neck laminates. Twice.


EDIT: just realized how bad my camera actually is... good thing I'm getting a new one before I go off to college...
Last edited by Copaman at Jul 17, 2010,