Raven West Guitars ??

Join date: Jul 2007
470

IQ
Hi guys,

I just got in from visiting some music shops and I am a bit puzzled maybe shocked would be a better term. I was at one place that had an absolutely mint used RWG LP copy it has flame maple top with a trans black finish, abalone binding top and bottom of the body, neck and headstock, ebony fret board with abalone box inlays and all gold hardware. I never played or even seen a RWG in person so i had to check it out. I couldn't put it down! I played it for a long time then finally tried several other guitar from the top of the line to some of the lower quality guitars before I left I picked up the RWG again and played it for at least another half hour. I can't believe how great it was even compared to several of the other guitars I tried that were ten times the cost. I have no clue what pups it has but they had a sweet tone like they were Gibson Classic 57s but the salesman/owner at the shop said they were stock but it is a used guitar and without opening it up I can't tell.

Does anyone else have a RWG is yours that good or did I hit the lottery with this one? I asked him to hold on to it until I can get back there on Sat I am seriously thinking about buying it.

I checked out there web site and the guitars look good but I just would expect this type of quality and sound from a guitar I never really heard of.

Join date: Aug 2008
10

IQ
They have G+B pickups, Wilkinson tuners, etc. Plus, I heard that their LFR is very good after a setup. I have heard nothing but good things about them. I'm planning on picking one up for my next guitar.
Plus, they are the sexiest guitars ever.
Last edited by mamosa at Jun 25, 2009,
I want one of their LP´s with quilted maple in that acid green colour that only they have. It´s too late for me to steal one from mamosa.


Join date: Jul 2007
470

IQ
I want one of their LP´s with quilted maple in that acid green colour that only they have.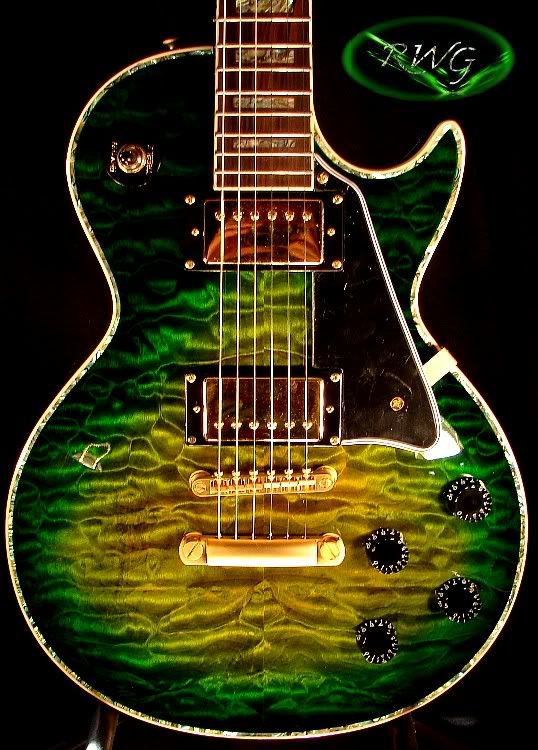 I love that one too I saw it on their web site.
Sorry, No pics I haven't bought it yet and I didn't have a camera with me.
This was my first experience with the guitar and I have to say I was very impressed to say the least. The shop is about 50 miles from my house but i am in the area up there once a week if i don't buy it I will see if they will allow me to snap a pic or two. Some shops are funny though and look down on it.
John