Yay t00bs! NAD!
So I decided to look around for a decently priced tube amp on craigslist to add it to my arsenal and I stumbled upon this baby.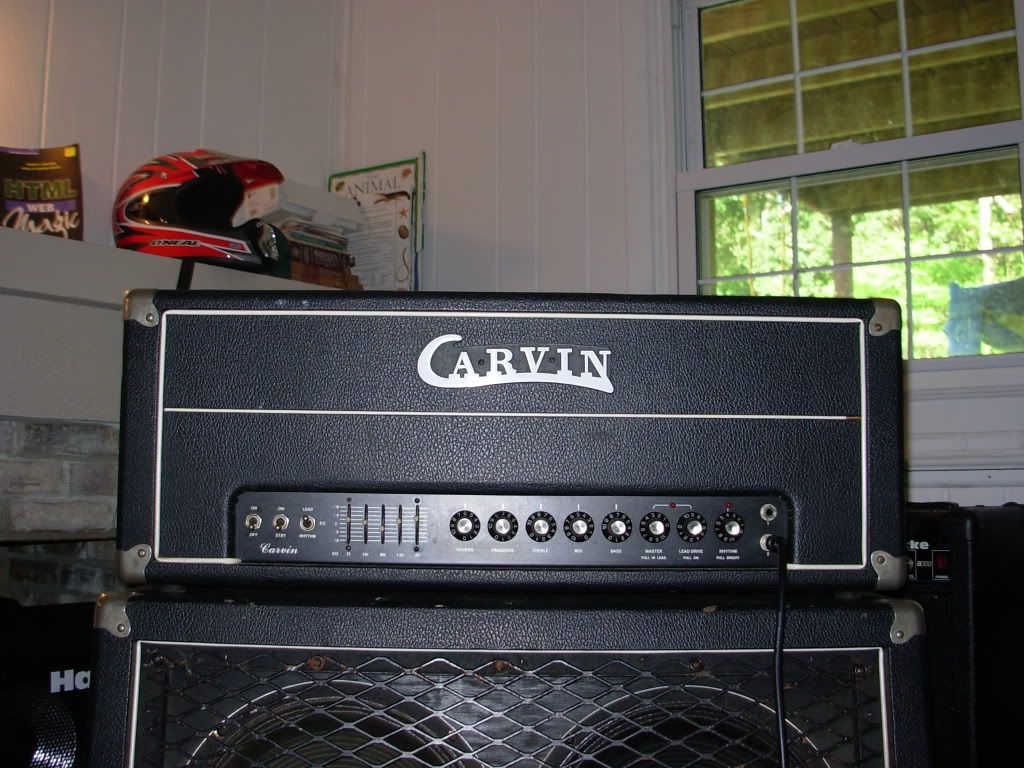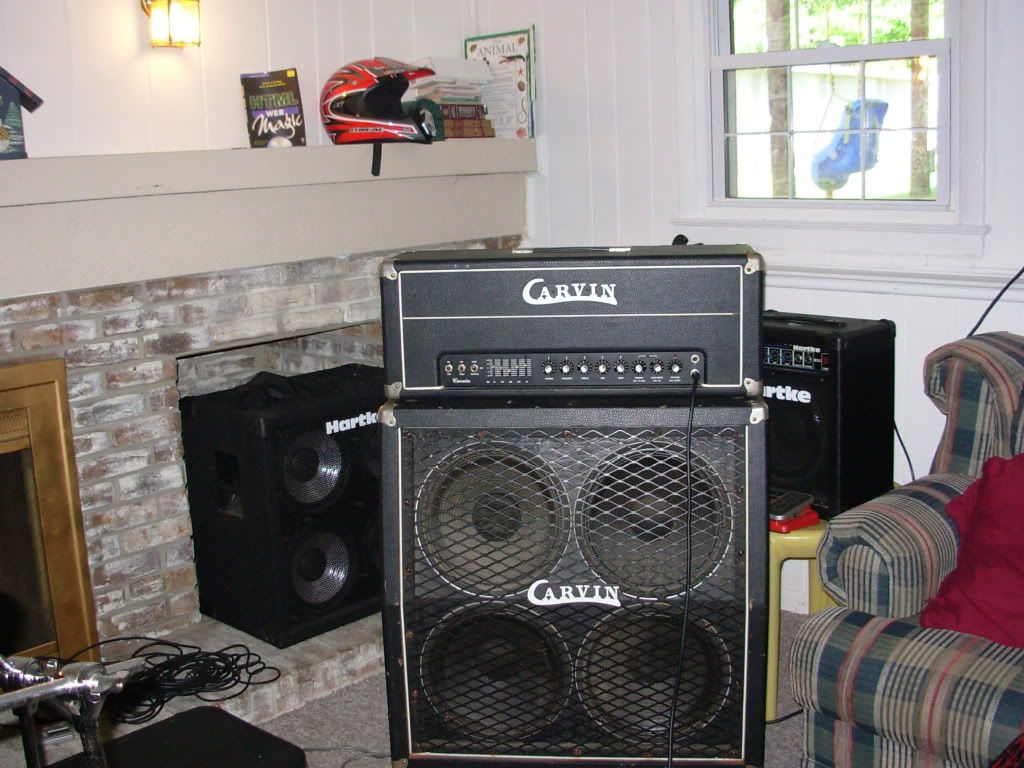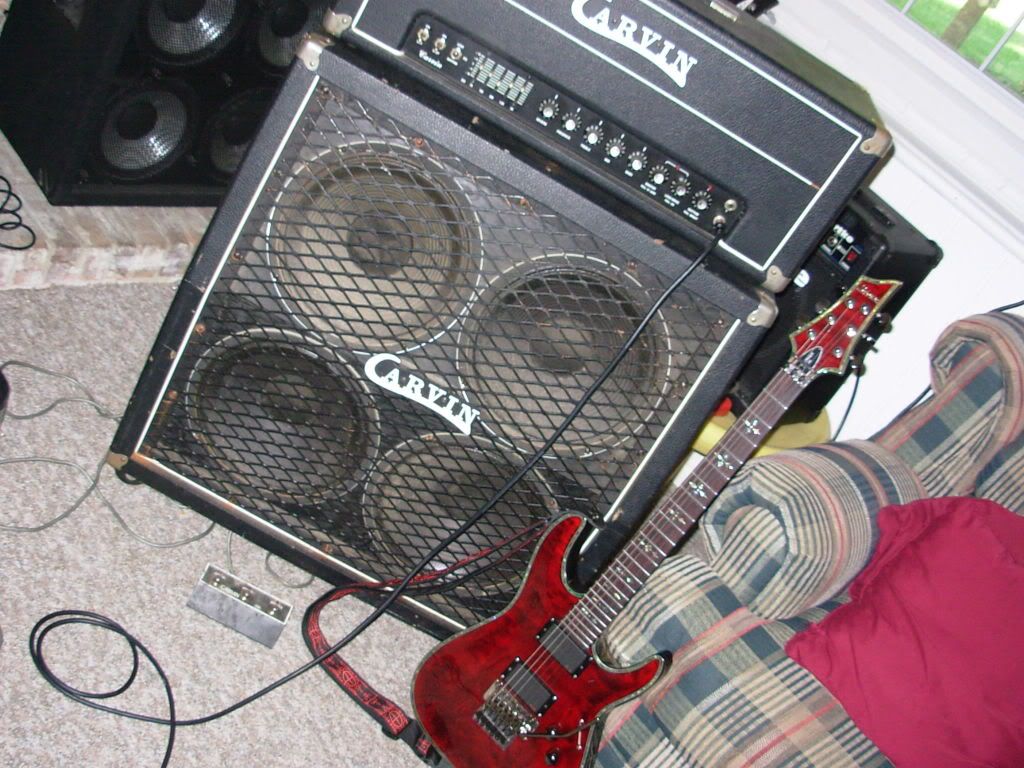 Its a vintage 1984 Carvin Series III X100B and its matching Cab!
Its my first tube amp

So far, I like it, Its got amazing cleans which was something I was looking for in a tube amp. Its lead channel is givin me a bit of trouble dialing in the tone I want but I've only had it for about a day now so I'm sure that will work itself out. But I snagged the two of them together for $450 so you cant really beat that price.
Kid I got it from said he never replaced the tubes since he's had it, so I figure that should probably be the first thing I do and see how it sounds afterward, see if it helps bring my lead channel back on par. It seems right now its very easy to muddy up the lead channel, and I've heard that these things really aren't muddy at all. So I figure it might need some new tubes and a bit of TLC to get it back to tip top.
After that I'll probably pop a tube screamer in front of it and I'm ready to go.
Last edited by Dragonis at Jun 29, 2009,


Congrats! It's not the fuzzy one!

Join date: Feb 2009
40

IQ
Epic NAD


Join date: Jun 2008
170

IQ
You my friend just scored.

I feel like the guy in Just Friends. "He shoots, and... he scores."

Join date: May 2005
30

IQ
Happy new amp day. Vai used one of them quite a bit back in the '80s, IIRC.

Join date: Dec 2007
70

IQ
Congrats! It's not the fuzzy one!

The fuzzy one pwns!!

Join date: Jul 2005
1,118

IQ
Congratulations on a very good deal.
Nice score, any chance of clips? (Sorry if you've mentioned clips, I briefly skimmed your post for the main details, and then glanced at teh pic)
Thanks everyone. It sounds sick so far, I was messing around with the EQ earlier to find a good tone I like. Finally got what I wanted on the lead channel (Its not perfect, still needs small tweaking, but I like it so far). I have my guitar volume set up just under full on so I can crank it into a nice fat chunky overdrive whenever I so choose. Clean channel of course sounds absolutely spectacular.

No clips yet, but whenever I get a free chance I'm going to put up some clips of both this and my vetta in a shootout. I still have yet to put up vetta clips since I got it.

That will all come in the next few days, this weekend at latest. Look for a thread in riffs and recordings from me sometime soon.

Join date: Mar 2008
780

IQ
NICE !
HNAD

I think another UGr just got one of these. I'll have to check my NAD Collection thread. I just added yours.
Do you play bass too? I see you have an affinity for putting gear in empty fireplaces

I do too. Nice guitar too btw.
Nice pickup, I just got my first tube amp recently, I know the feeling

HNAD!!!

Join date: Dec 2008
90

IQ
HNAD! You should wear your helmet and crank it. I was able to sit in front of my cab with the volume on 10 with mine on.

Join date: Dec 2007
70

IQ
The fuzzy one pwns!!
Says the guy with Star Wars soundproofing.

Both fuking awesome amps imo.

By the way, I have those same Star Wars sheets.

HNAD!


Join date: Nov 2006
1,192

IQ
Sweet!
x100bs are teh ****!


Join date: Jan 2007
50

IQ
Congrats, thats one helluava amp.

HNAD!
haha thanks everyone! Yeah this amp is the **** for sure. I'm really starting to love it, been playing it non-stop whenever I get a chance.
Actually on monday I came home for lunch and no one was home, so I decided to unleash the beast. I set the drive on 8, cranked the lead channel to max, and blew the friggen walls down!!
Haha well not literally, but it was ****ing LOUD. I always play very loud though so it didnt bother me in the least bit. Twas ****ing awesome to put it mildly haha.
Do you play bass too? I see you have an affinity for putting gear in empty fireplaces

I do too. Nice guitar too btw.
Actually its my friends bass. He's got a Rickenbacker Bass thats sitting behind the carvin, and then his Hartke and the Cab he's got for it. And thats actually right next to my fireplace... its originally where we put the wood for the fire, but we haven't used the fireplace in years. To be honest I dont know why its sitting in there... haha I didnt put it like that.
My music room is pretty much complete though. We got drums, 2 guitars, 2 amps, and Bass and amp for that. Pure awesome.
Last edited by Dragonis at Jun 30, 2009,