Peavey Millenium "Cutting Out" sometimes
Hey this is my bro's bass, but I've been bassing it up lately; and the sound on the amp will just cut out sometimes.
And it does it on his bass amp as well as the guitar amp i was using 10 min ago.
Since it has active electronics; is it the pickups (new batteries)? Or is it a jack problem/some other electrical problem.
EDIT: THe bass amp is also a Peavey, some 15 or 10W with TransTube
Bass Amp
Bass Guitar
(in Trans Black)
Last edited by Colton165 at Jul 1, 2009,

Join date: Dec 2007
50

IQ
Check your input jack.
Mine was always coming loose, maybe a wire on yours has disconnected.
well it isnt loose at all, but an internal wire could be disconnected, ill check that soon.

i gotta fix the loose jack on my Ibby 7321 guitar anyway, so while i have the Phillips head out ill get on that and check it.

but i mean i get sound sometimes, then it cuts out
I don't know the problem, but if you have a bass amp, don't play through a guitar amp.
no i played through both his bass amp, and my guitar amp.

it does same thing on both, plays for about 15 sec fresh after powered up, then after that, it will just go out on me, regardless of amp/cable.

i just took the backing plate off and i see 2 possible spots (this was made in China, so im sure production line, really quick speedy robotic soldering may be to blame)

there is one possible bad solder area at the input jack, and another at one of the tone pots.

i tried it with 3 different cables (do they make bass cables, or just instrument cables?), one of which was a DiMarzio, one a FirstAct (came with his bass free), and another Planet Waves.

ill remind you that this is active electronics/pups, and it still has stock chinese cheapie 9V's in it, do you think that is a cause?

i will replace the 9Vs tomorrow, and if this doesnt work, I dont know what to do, take it to a shop?
Last edited by Colton165 at Jul 1, 2009,
I was just saying, don't play through the guitar amp anymore.
the funkiest-looking solder spot that is almost broken, not quite, is on the "blend" or "drive" pot/knob i believe, it is called one of those.

would this affect it 'cutting out', i thought it would just affect tone massively or devastatingly.

would a loose/disconnected solder at a "Blend" pot/knob be affecting this?

or the double hong kong made 9Vs, is that a major problem

ive never had a guitar with active pups, i dont like them on guitars, so i dont know the avg lifespan, or how often they need to be changed.

please help
Last edited by Colton165 at Jul 1, 2009,
trace from the pickups to the output jack. if it is one of the main chain solders, we have a winner.

or so I would think.
If your batteries are dying, first you'll notice a slight loss of volume, then distorting at lower volumes than normal, then just lots of distortion, then no sound. That's what dying batteries sound like.
im sorry i dont know what that means; as im new to electrical problems.
there are 2 white wires, one directly from the pups into the master volume knob, which is all good, then a small white one i guess "chaining" to each pot/knob in circuit.
seeing as how the drive knob is directly after the master volume/output level knob, would this be it?
is that what you meant by tracing it humanity?
EDIT: I am replacing the batteries regardless, even if they arent the problem, im putting in some good Energizers or something, not Hong Kong Gold

yes.

and I think that funky solder could be your problem.

got a digital camera?
yes.

and I think that funky solder could be your problem.

got a digital camera?
well my moms good one got broken after christmas in march, but i know she has an older one somewhere.
i have a phone with a 2MP cam, but no EV coverage here, just 1X (i have verizon, i think EV is needed to send pics and vids)
ill look around for it, if not ill try my cell cam
EDIT: cell cam is way too fuzzy for these minute wires, but i had my dad look, and when he looked at it, the small white wire was broken off of the solder spot at that pot
DOUBLEEDIT: how much do they charge at a shop to inspect and fix electrical problems and solders?
Last edited by Colton165 at Jul 1, 2009,
solder yourself- it just takes simple soldering really.
well i have no soldering wire.

but do you think that this is the major problem?

if so, ill get some tomorrow along with 2 9Vs
well i hope it is!

if its not, ill probably post in this thread, and "resurrect it" tomorrow, if not; ill let it die, etc.

thanks for the help guys, especially humanity, you were a great help
I will PM you my paypal.

I will be sorely disappointed if I you do not pay me a price of 3 dollars per post.

including this one.


I'm kidding :P

Good Luck!!!!
ok got a webcam now, took pics here are 2 pics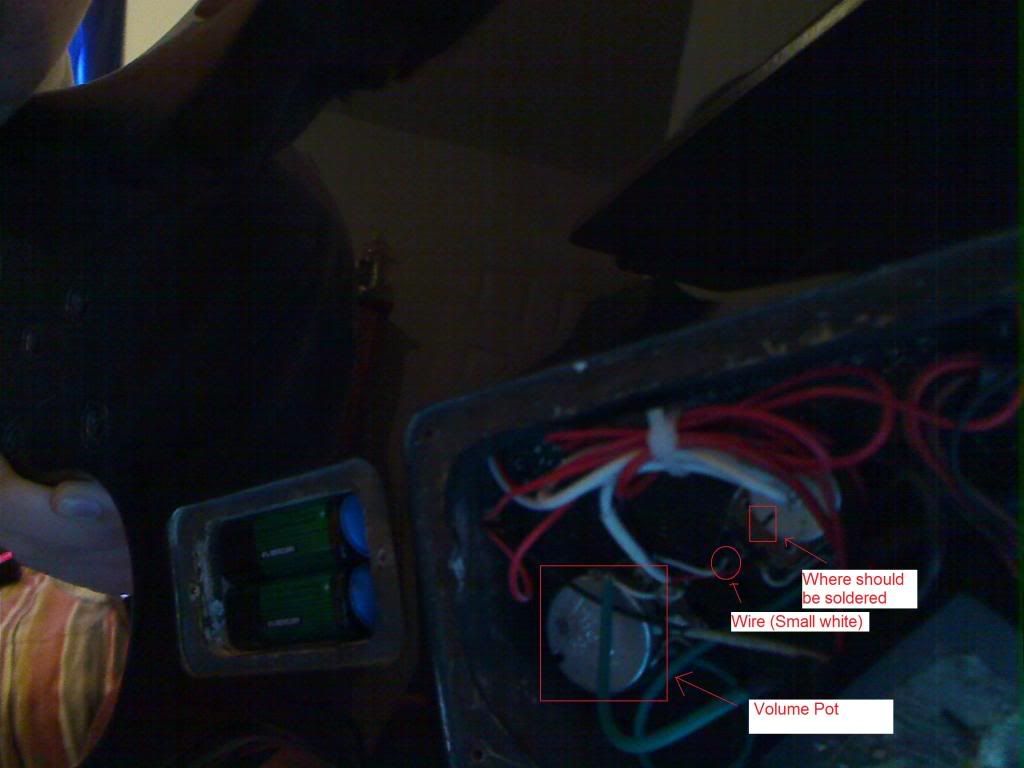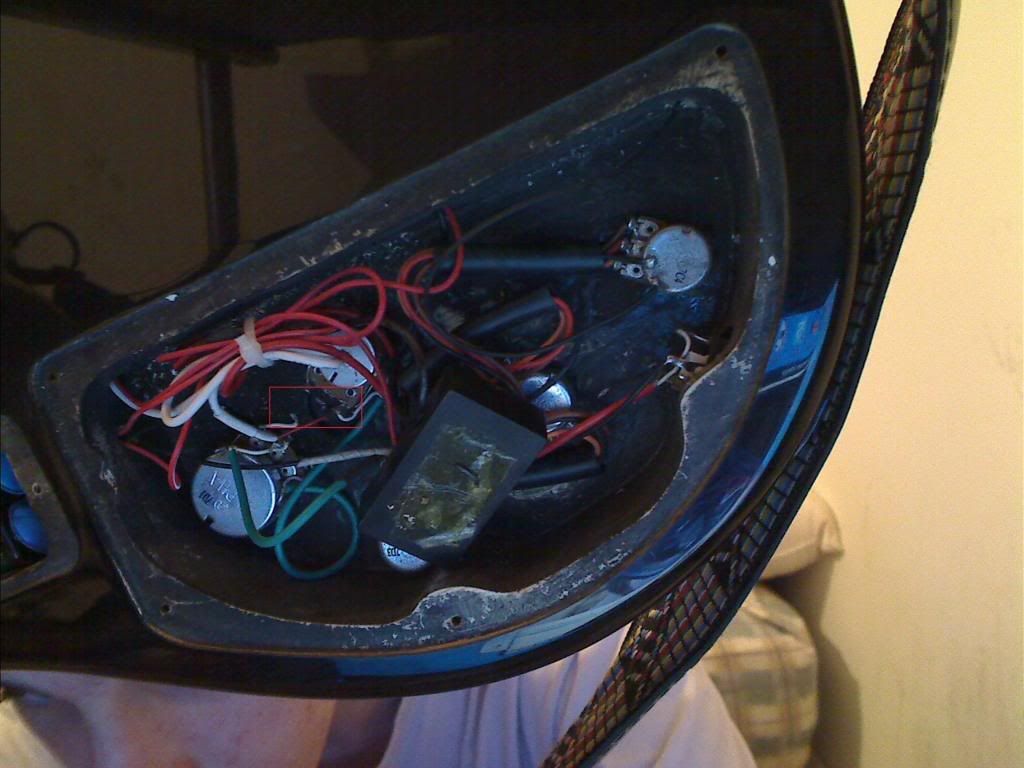 please help as to what i need to do
EDIT: sorry about size guys, really.

Join date: Apr 2006
703

IQ
It's just a case of resoldering the white wire to where iot should be soldered. My old local tech would charge £20 for a setup, cleaning, and small maintenance jobs like resoldering. It is a piss easy job to do though, and it's good to learn how to do it. My basses always travel with a soldering iron. Dead cheap too.
so you know which wire is disconnected and where it needs to go?

Join date: Mar 2006
60

IQ
Yeah, that wire looks like a ground wire. Sound cutting in and out could be that it is disconnected sometimes, but bumps into the pot sometimes establishing a connection. Fix that and give it new batteries.
thanks delirium, cedrics, and the humanity.
when i solder, i put the solder wire under it, and heat the actual wire, not the solder itself, and feed the solder to the wire with my free hand?
is this correct? ive only soldered something 2 times before in my life, and 1 of those times it was with what is supposed to be a woodburning gun/tip.

no thanks for me

soldering is a bit easier if you have someone to hold the wire for you, but yeah you can just hold down the wire with the soldering gun and feed in the solder, then hold the wire as you remove the soldering gun (but don't burn yourself)
ill have my dad take a look at it or maybe even do it for me.

he knows this stuff, not in basses/guitars, but general electronics as well as plumbing, automotive, welding, machining, carpentry, well everything haha.