Well if everybody is showing their NGD!!!

Join date: Jun 2008
378

IQ
I traded an beloved SG Standard for this seckstatstic piece and got an additional $200, I think it was a good deal. The ebony neck is surprisingly smooth. I always had a principle problem against the faded LP and SG, but liked the explorers and v's....and this one is really nice. I mainly got it so I can refinish it. I'm gonna do surf green, I think that'd be pretty sweet. Once I get some experience refinishing, of course!!!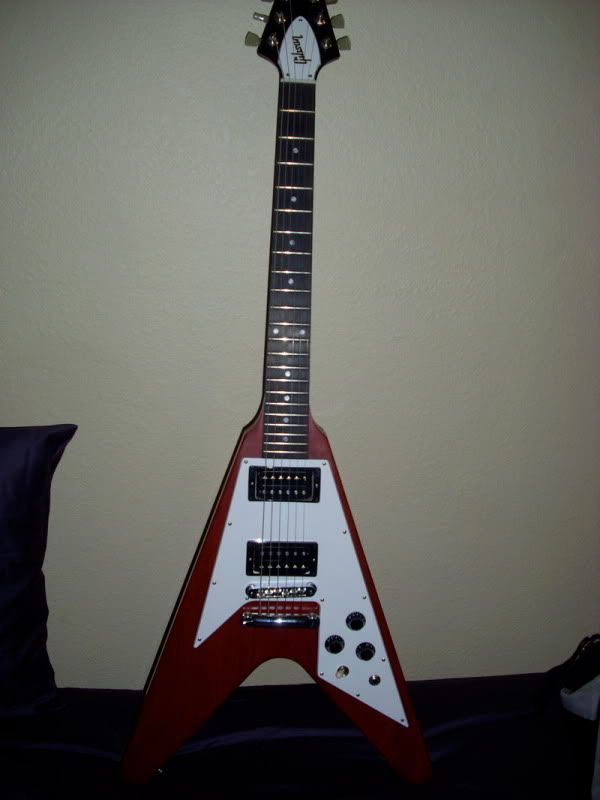 I think I just came

Dude I'm deff jealous! Happy NGD!!!

Join date: Sep 2008
150

IQ
Sweet...pics when refinished right?

Join date: Oct 2008
40

IQ
How'd you come across a faded with an ebony fretboard?

Join date: Jul 2008
206

IQ
holy fak
now thats a guitar
It just needs some cleaning and a faint gloss, imo. Grats and enjoy it!

Join date: Jun 2009
20

IQ
How'd you come across a faded with an ebony fretboard?
The older ones had Ebony boards on them, such as my 2003 Flying V.
What's the serial number on your new Gibby? The pickup rings aren't original, so some other things might have been modified at some point in the instrument's life. Either way, welcome to the prestigious Flying V Club

Can't wait for the refinished pics, HNGD


Join date: Jan 2008
60

IQ
Ah,so torn here.I love SG's and can't understand why anyone would trade one off!
But on the hand,that's a nice guitar,and with an extra $200 you could mod it pretty nicely.
HNGD!
the color is great

love it! hngd