Ngd
Tungsten lighting+cell phone camera FTL
It's an Agile...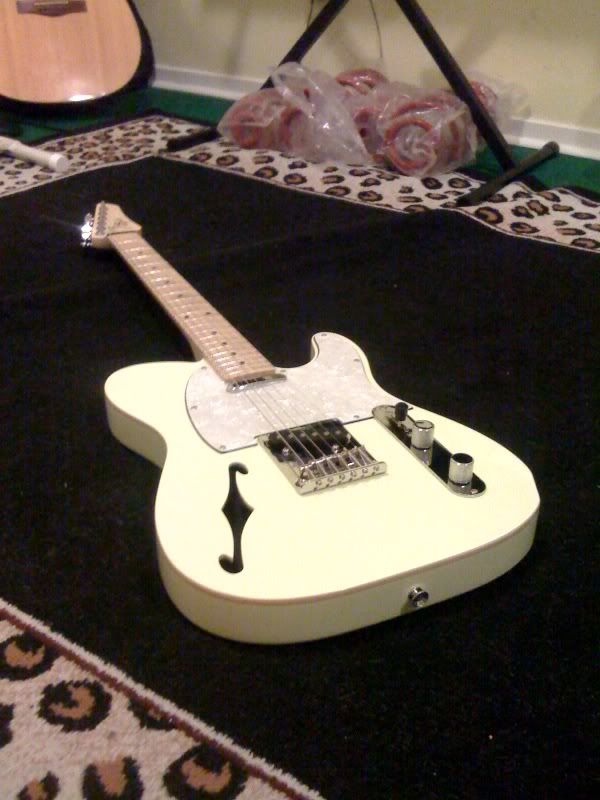 TC-730...
Thinline Telecaster clone.
Group shot of the family... (Gibson Explorer Pro, Schecter S-1 Blackjack, Agile TC-730)
I've been wanting some kind of telecaster for awhile now, so when I saw this for $270 on rondo I had to pick one up. Check the specs on the page:
http://www.rondomusic.com/tc730.html
It was surprisingly well set up right out of the box... Much better than my Gibson was anyhow. I just tweaked the intonation a little bit and then it was good to go.
It's much darker sounding than I was expecting. I don't know if it's the pickups or because it's a semi-hollow... I'll have to get my hands on a Fender Thinline to compare. The neck position sounds warm and deep. The bridge position is pretty spanky. The middle position is probably my favorite. I was expecting more hum from the single coils, but it's actually tolerable even on the lead channel of my Mesa.
All in all I'm pretty happy with my purchase. I don't think you can beat those specs for $270. I'm probably going to swap the p/ups for some GFS ones eventually. I haven't checked inside the cavity yet, so I may be replacing some of the other electronics as well. I'm also considering putting some sort of finish on the fretboard, but my guess is I'll get used to it unfinished.
I've got two short, pretty lame clips up in my profile. 11pm is a little late to be recording, so you're stuck with these for now.

Join date: Dec 2007
200

IQ
mmm...yum.

ever since i saw that guitar on the rondo site i've wanted one. nice buy.
mmm...yum.

ever since i saw that guitar on the rondo site i've wanted one. nice buy.
And how can you go wrong for less than 300 bucks?

Less than $300? Barstard.

HNGD, that is beautiful

Join date: Jan 2009
40

IQ
Damn that's hella nice. I've thought about getting some kind of guitar from Rondo one day, but I'm not sure. Are their copies same specs dimension-wise (necks, etc..)? Does anyone know?

Join date: Nov 2003
90

IQ
Pretty! Congrats on your new addition!
HNGD!
Looks good.


Join date: May 2009
100

IQ
holy **** that guitar looks awsome........i would expect fender to make that awsoem guitar but AGILE did.......wow
Very nice,

Thanks guys.

I just fooled around with the bridge a little and was able to get the action considerably lower without any fret buzz. One annoying thing is if you drag your fingers on the pickguard it picks up the static electricity or something. When I restring it I'll take a peak inside and see if I can figure out a fix. I'll take a gut shot then so you can get a feel for Agile's wiring/electronics. I'm curious to see inside it myself...

Join date: Feb 2009
110

IQ
Sweet ! HNGD bro!
That looks like one to put on my list



Join date: Aug 2007
310

IQ
That looks ****ing awesome.
So does the explorer.


Join date: Aug 2007
40

IQ
nice! i like it. very classy
I have that same fridge in my room! HNGD!

Join date: Feb 2009
40

IQ
Very nice, very nice