Need help identifying this guitar

Join date: Nov 2006
16

IQ
My friend gave me this guitar because she moved 96784 miles away and didn't use it much.
I played it expecting nothing but I kinda found it to play much better than some other guitars I've played.
I think the pickups have been switched out too (though I don't know a single thing about pickups or any electronics :/) since it handles metal and high gain settings well without any hum or buzzing.
Anyway, it's a Squire guitar and the serial code or whatever is "s/n IC041120857."
I googled around and didn't find any pictures or anything relevant to this guitar.. :/
My friend got this guitar from someone else so I can't really ask her any questions about it and it's just been sitting around in her room not being used for quite a while so she doesn't know much about it anyway. I took these pictures just now if it helps: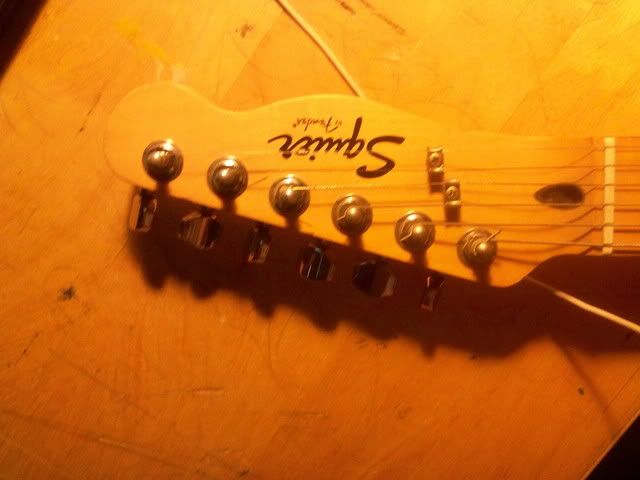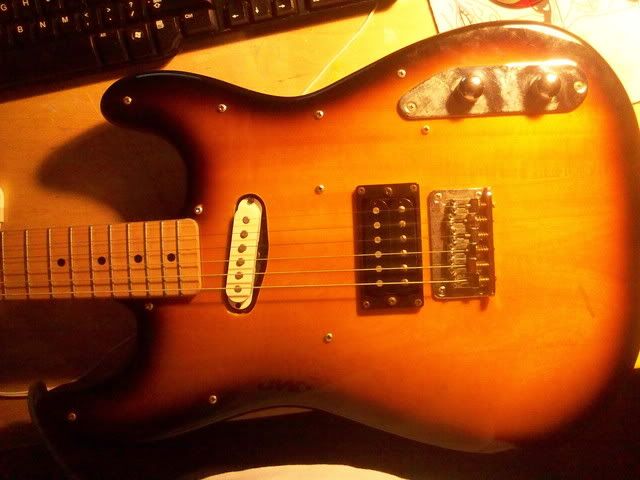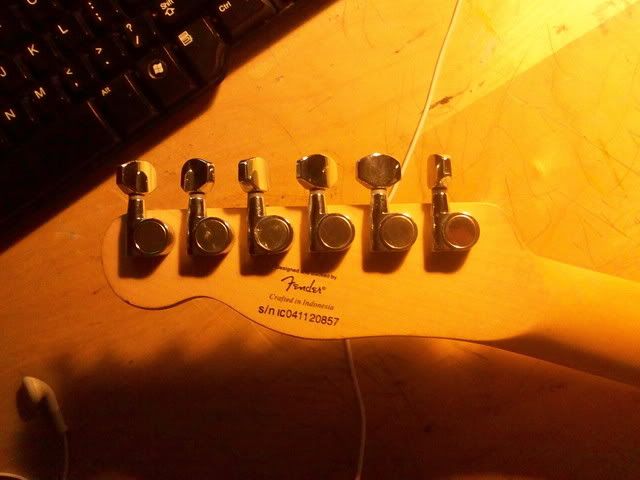 Well, that's strange... I mean, no doubt Squier Telecaster neck. But the body, is more of a Stratish shape.

It has an humbucker on the bridge and a slanted neck pickup, and the control knobs appear to be from a telecaster. However the pickguard doesn't match the standard Strats pickguard, so, my friend....


You have a "FrankenSquier" on your hands


Edit: If it plays nicely and you like it, keep it!
Last edited by Woozye at Jul 7, 2009,
It looks like a Fender Squier '51 Reissue. It originally came with a white pickguard that went over the neck pup and up to both the upper and lower horns. As you can see by the pickguard screws still left.


Join date: Nov 2006
16

IQ
oook
Thanks

This guitar is really nice, I still have a hard time believing these are stock pickups though
I dunno, I just didn't expect much from Squire, but it was free and I like it.
Forgot to tell you...
If you want to get a replacement pickguard for cheap,
Guitar Fetish
has them on clearance for really cheap.

Join date: Oct 2006
190

IQ
It's just a Squier 51 with the pickguard removed - decent little guitars though.

Join date: Oct 2008
40

IQ
It's just a Squier 51 with the pickguard removed - decent little guitars though.
Yes. My friend Richie has one, great cleans, especially for a Squier. Prenty of twang as well, good for you, TS.
for the $8 definitely get the GuitarFetish pickguard