!!!New Guitar Day!!!

Join date: May 2009
90

IQ
Ok so i just bought this new guitar today for the price of 680$ us.
Shes a beautiful 2005 American fender Telecaster... it came with a case and plays like a charm... has a couple scratch but it just gives her character.
Im thinking about maybe changing the neck pickup for a better distorted sound.
On clean tho she shines like a million suns so i dont know.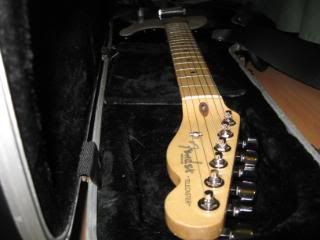 I named her Empress as soon as i touched her. (my other guitar called princess)
anyone has an idea for wich pickup i could put in the bridge for some better distorted tone (alternative rock tone)?
Last edited by ModestAxis at Jul 7, 2009,

Join date: May 2008
90

IQ
HNGD. Tele's aren't my style, but I definately love the looks of some of them.

Join date: Oct 2007
290

IQ
Noice. Very Springsteen...I'm a fan.

Not a tele guy, but still cool lookin'
hands down!!

VHNGD!!!!!!!!

Join date: Feb 2009
40

IQ
HNGD


Join date: May 2009
90

IQ
many thanks guy

all of the peps on this forum where so usefull