Selling a Gretsch Electromatic?
i'm looking for an electromatic only in either black or red.
i can't afford any of the higher priced ones, unless you want to be nice and give me a good deal.
also, i'm not looking for a double cut, i'd prefer the single cut version.
either the G5120 or the G5126.
any condition really.
reply with pics if possible so i can decide faster.
thanks guys.

Join date: Sep 2008
40

IQ
Go to gretschpages.com
They have a for sale section that usually has a few 5120's in it. A 5126 will be a harder find.
thanks.
i found one or two electromatics, but not exactly what i'm looking for.
i'll keep looking but i still hope i find someone here because i check this site much more than the gretsch pages one.

Join date: Sep 2008
40

IQ
If you want a Gretsch you would be much better off keeping up with gretschpages. They pop up all the time. This is a good site if you want an Ibanez or Schecter.

Join date: Jul 2006
40

IQ
that sucks that you only want it in black or red, i have a 5120 for sale but its in orange
is it one of the actual paint orange ones?
or more like an orange stain with a clear coat over it?

Join date: Jul 2006
40

IQ
im not really sure what you mean by that so i cant accurately answer, ill post some pics, they are a little blurry but they will get the point across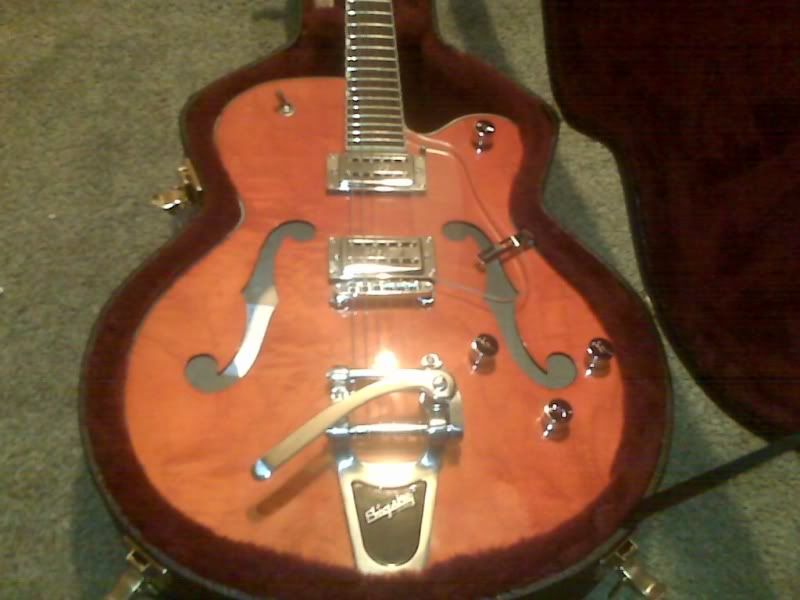 Join date: Apr 2005
60

IQ
how much do you want for that
oh alright.
yeah, no thanks man.
i'm not the biggest fan of orange, but gretsch had a few electromatics that were crazy-ass orange that had a lot of coats of paint and looked pretty cool.
but the current 5120 is just almost like an orange stain so you can still see the wood grain which looks nice, but just not so much in orange (in my opinion)
actually, how much would you want for it?