New Amp Day!!!

Join date: Jun 2008
20

IQ
Well actually i got the amp a few weeks ago but the cab just came today so i thought i would post a pic.... and yes that is white snakeskin....
now my GAS is almost complete!!!

Join date: Dec 2008
60

IQ
i SO envy you right now...

Join date: Dec 2005
70

IQ
Welcome to the JSX club

Hope you enjoy it. Its a fun, easy to tweak amp.
Whats left for your gas?

Join date: Apr 2008
120

IQ
looks like someone is an instrumental virtuoso fan

JSX's are amazing, and so is the rest of your gear, im sure it sounds orgasmic
Very Nice!!!!! but GAS is a never ending problem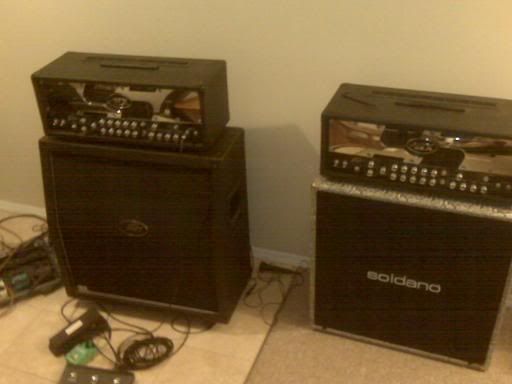 aww arent they cute together?!
Looks good, but I'm just not a fan of Soldano cabs.

Join date: Jun 2008
20

IQ
well so far i haven't heard anything i don't like !!
the soldano cab has eminence legends and they seem to have a wide range of sound and some tight ass bass for riffing.

As far as my gas list right now it includes:

-Morley bad horsie wah
-Ibanez tubescreamer
-Holy Grail reverb (possibly)

and maybe a carvin legacy just for good measure.....
Join date: Dec 2007
60

IQ
Nice HNACD!!

And the GAS will never end!!!!!!!!!!!!!!!!!!!

Join date: Aug 2007
310

IQ
Very very nice man I loved that amp when I tried it.