Ngd Jt 1000

Join date: Jul 2007
470

IQ
Hi guys, I won this on Ebay last week for a whopping $38.00. It was a brand new guitar that was damaged in shipping. The JT 1000 is a neck thru guitar. 7 piece maple/walnut neck with ash body. They play pretty well and have a great tone.

I picked it up today and I got it home and repaired the HS and repainted it. Luckily it's flat black so it was a pretty easy match in color.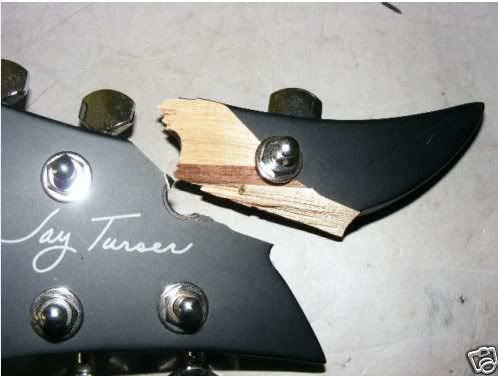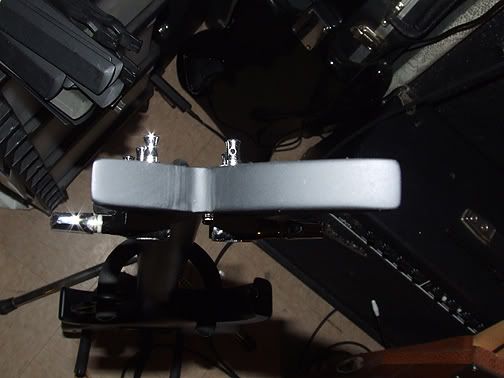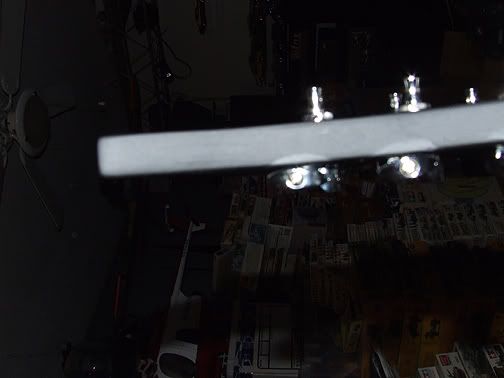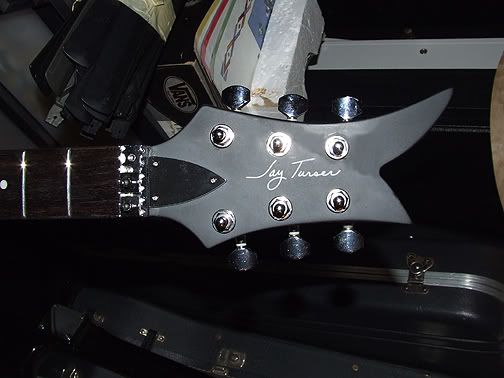 Once the paint cures I will blend it in better. You can see on the back of the head stock where the paint is not quite the same.
John
Last edited by johnro6659 at Jul 14, 2009,

Join date: Feb 2008
20

IQ
sucks it got damaged but the repair looks nice

HNGD
IMO I thought the headstock looked better with that chunk missing off it

Join date: Dec 2005
80

IQ
IMO I thought the headstock looked better with that chunk missing off it
yeah but then it just reminds me of that LTD cockstock which looks ****.
anyway good job on the repair man any plans for the rest of the guitar?
Nice repair job!

That upper horn is GIGANTIC!

Join date: Nov 2003
90

IQ
Hey not a bad deal- and the repair didn't damage the playability right?
Congrats!
$38.00? I thought $50 for a hollowbody was good. You sir, win. Just take it.


Nice job on the repair as well.

Join date: Dec 2006
287

IQ
FFFF WHERE DO PEOPLE FIND THESE DEALS?!

HNGD $38 freaking...

Join date: Jul 2007
470

IQ
You got to be persistent look thru all the sources. Luckily when I buy from Daddy's Ebay shop I don't have to pay for shipping a guitar they deliver it to my local Daddy's for $5.00 I think. Craigs list is a great place to find guitars cheap. Your not going to find too many deals on Gibsons or Fenders but for the lesser known brands you can score big. Jay Turser makes great inexpensive guitars IMO I have 5 now and love them all. They might not be up there with some high priced guitars but they hold there own with guitar that cost two to three times as much. I love buying guitars that have minor problems and that are easy fixes. I try and stay away from basket cases unless it's for parts. I have gotten several guitars on Craigs list for $100.00 Dean, Schecter, Epi and BC Rich to name a few and not low end ones either. I got a perfect Fender Front Man 212 R for $50.00 a couple months ago the guys said it was cutting in and out. All it was, was the solder joint for the input jack.

I need to do a few more tweaks to this guitar. I'll probably pot the pups JT pups actually are not bad and when potted perform much better.

I forgot it was missing the knobs and toggle switch tip. Parts I had in my spare parts bin.


John
Good work with the repair job, thats a nice looking guitar.

Join date: May 2009
100

IQ
hngd........awsome guitar