Good and bad delay pedals
Can people tell me what their recommended and most hated (Marshall MG of the delay world) delay pedals are?
I'm looking at up to £50ish pounds second hand. Joe Bonamassa sound really, warm sort of delay (apparently)
I will be going off to try these on saturday

Current list:
Marshall Echohead
Boss DD-3
Boss - DD3 is a good bang for buck, i own one and love it
Only one i've ever tried to be honest.
For Digital Delay definitely go with a BOSS, they've got more or less complex models depending on what you're looking for. But for the warmness you mentioned I would get an Analog delay. My favorite there is the MXR's Carbon Copy, sounds great, and easy to use.

Join date: Mar 2007
40

IQ
a couple of years ago i was choosing between these two and a got the marshall because it was cheaper and because of the different modes however is you want exact delay times the boss may be better

Join date: Mar 2005
40

IQ
Well Joe Bonamassa uses a DD-3 that always on with the knobs all at 12 o'clock through one his amp's effects loop.
naahh, I'm looking at something approximate, and only really a vague bigging up type sound.

Yeah the MXR is too expensive for me, it's £119 brand new and I want to be paying up to £50ish second hand

Join date: Mar 2005
40

IQ
Then I would agree with Nightraven and wait for the Memory Toy or Boy if you can stretch your budget. They seem like the best bang for your buck.
yeah but how much will the memory toy be? The memory boy is £134 brand new, so that's £30 more than a DD-3, so that's not much use.
Last edited by Cachao at Jul 15, 2009,
yeah and the MXR is a piece of ****. the memory toy is cheaper and it'll most likely sound much better.
The MXR is not a piece of ****
Its a great analog delay and the mod switch adds depth to your music. The only problem is that its overpriced.
yeah but how much will the memory toy be?
Just over $80
Seriously? A pedal from ehx that cheap?
Is that brand new right?
Any other suggestions?
worldmusicsupply has it priced at $80. that's about half what the dunlop pedal costs.

find me a worse analogue delay

Thank you come again......
anyway...
back to the list?
Are there any in that price range I should really stay away from?
those aren't BBD delays. they use digital ICs.


BETTER LUCK NEXT TIME!


and to be honest, i bet that artec one does sound better. the murkiness of the carbon copy sounds so incredibly fake.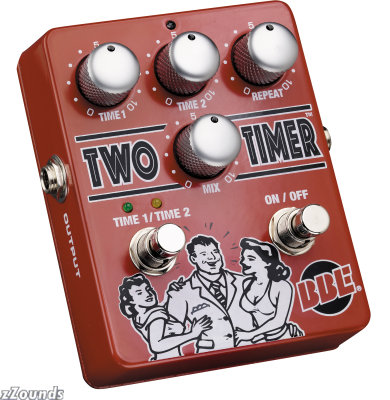 ohhh someone is slick....
How about this


Join date: Mar 2007
40

IQ
anyway...
back to the list?
Are there any in that price range I should really stay away from?
any price below your budget (£50)
the memory toy will probably be worth waiting for
I mean £50 second hand

and damn that last pedal is stylish!
dude that's a dm-2 clone, and a pretty good one as well, and good value. that pwns the carbon copy in every way
Lol... You are correct. The man knows his stuff.. The bad part is I know what its a clone of but knowing jack sh!t about delays is not helping my case

Im just a chugga guy fooling around with ya..

So what do you hate about the Carbon.. I know there is a clock noise issue. Other then that I thought it was pretty decent delay for the money

The really muddy repeats.

I think you can do a lot better for you money than the Carbon Copy.
But theres no way I can afford a carbon, I don't care how good it is.

How good actually is the echohead?
ahem...enough with the carbon stuff (although general delay info is appreciated)
Now, the marshall echohead...
the repeats are dark, but clear, which is exactly the worst thing that a delay can do. it seems like dunlop designed the pedal to simulate a good analog delay pedal. then the modulation is really weak and you have no control over it. supposedly they made the modulation a bit more prominent on the v2 carbon copy but still. it's a poor attempt to get wow and flutter. and they're made of cheap components and judging from all the people who've had them break down, it's cheaply built too.
Phew thats a relief, thought it was something worse then that.. Good thing I like my delay like I like my metal..... dark and clear

But honestly it doesnt bother me, but I do see how it could bother some to alot of people

And MXR has always been extremely reliable for me so we will have to see how she withstands the test of time.
How about the EHX #1 echo? Any good or bad comments regarding that?
well, be gentle with it

the dunlop MXRs aren't as sturdy as the original MXR pedals
I dont gig so no worries there

So, the overall consensus is get a DD-3?
I'm not looking for loads of features here, just a not too long, not too short delay, and after looking at the PGS demo: it does that.

Whats the sound of it like? Warm? EHX says its warm.
Seriously people, I need some ideas before tomorrow!

What are the good and bad delays? In my kind of price area, and what should I look out for in a delay pedal-I already saw something about clear and dark repeats. Delay tricks? Anything I should do one trying one out?