Guitar Creation Journal
Wow, this is looking awesome.

The guitar kinda looks like it has a personality disorder... on the top, it's got that sort of SG shape, and on the bottom, it looks like a supersized strat.

I think you should leave it with a natural, gloss wood colour... it looks just incredible as is.
Damn, that **** looks like a shredder guitar, but im not really big on the headstock, maybe if it was more like a 3 per side one that would be cool or maybe more pointed like a PRS or ibanez, i like the control setup, what color is it gonna be?

Join date: Jun 2004
10

IQ
nice job man. to me that the part where the trem is looks kinda empty. a floyd rose would be awesome. anyway nice ****ing guitar
Originally posted by nerdlinger
That looks ****ing kick-ass man well done!! Have you done this before?? What did you use to shape the headstock??
Thanks

and nope, never before
Bandsaw, Ociliating Cylinder sander, Belt Sander
Chrisb - Thanks, that helps alot. Do you suppose an airconditioned building will be enoug of a non-humid zone?
Backup Guitar - Personality disorder? Excellent, a sg/strat fusion was what I was going for.
CoryXCore - I'm going to shrink the tip of the head a little. I like the six in a row look. I think I'm going to stain it a deep red bursting into a red-orange.
Fatuglybass - If I had the money, I'd floydrose it

Untill then, I'm sticking with a standard trem
Thanks everyone who commented!! I really appreciate the input and support!
----
Today is nothing more than sanding ... sanding ... sanding. Then I think I'm going to start sealing it with the spraygun our shop has.
Join date: Jun 2004
10

IQ
that looks so awsome man, i would be building one in seconds if only i knew how to go at making one
damn, dude. well done so far. im taking advanced woodshop this school year, and after the first mandatory project, we can do whatev we want. so here's my new goal!! yay!!
Originally posted by chrisb0109
That looks great. I can't wait to see the finished product.


yesterday IU was talking to the guitar tech at my local shop about the finshing of guitars. He was very knowledgeable and was telling waht was necisary to do a good jod.


It seems to be very complicated. The wood has to be sealed before the stain goes one. Then stain, then clear coat. Be careful when clear coating. Theses things called fish eyes can appear in it. The are like little bubble and they cannot be gotten rid of.

The humidity needs to be very low. That is what cause fish eye, high humidity.


I am in about the same place as you with my project now. I can't wait to finish
It's the great guitar-building race! Whoever wins gets to burn the other guitar.

Consider finding a dehumidifier for the staining process. I know where it is (toronto), the humidity is ridiculously high.

Join date: Jun 2004
30

IQ
I think you should use a solid color, the guitar just doesnt seem right with a stain. Or maybe a really thick stain, but still, I just cant see the guitar in a stain without it looking kind of cheesy. In any case, its not me building it, and this guitar looks ****ing awesome.

Great job.
Today I stain it. I did a quick test on a piece of veneer, and I quite like the results:
Now, I'm off to seal, then stain. I'll take pictures afterwards.
Last edited by Zombat at Jul 20, 2004,
i think we said seal after stain!
nope. It goes

Seal - Stain - Finish

When I seal it, it'll prevent the stuff on the ends from soaking up too much stain and looking odd.

Join date: Jun 2003
10

IQ
That looks great man. Congrats and good luck with the rest
Stained the body the first color:
Today I'll hopefully be able to burst the color. I've got the masks made out for my custom 3-tone sunburst. In the meantime, I worked a little more on the headstock, adding veneer, sanding off the finish it came with, and staining it:
Wow, that guitar is kickass, its cool to see original body shapes when theres so many regular guitars going about (no offence meant to anyone else whos built a guitar here!)
Can't wait to see the finished product.

Joe

P.S It's your guitar so obvisouly you decide how to finish it but if it were me, I would want to do a Mystic Dream finish like on the EBMM JP models!

Join date: Jul 2003
10

IQ
man, that things nice, I can't beleive it's your first time, good work man
Originally posted by jay777


P.S It's your guitar so obvisouly you decide how to finish it but if it were me, I would want to do a Mystic Dream finish like on the EBMM JP models!
While I dig that look, I paid the money for the mahogany, I'm not going to paint over it.
:notes he has to flip through the pages of UG to find his topic, wonder's why chrisb gets all the glory

:
wow!
Hurry up and finish that body!
yumm, PORN

That looks great. I still love that bevel on the edge. It makes it look very nice.


did you make the neck?
Originally posted by chrisb0109

did you make the neck?
Well I havent upgraded the inlays yet, but its playable.
I meant did you make it or buy it?

nice guitar

I bought it, but when I get more funds I'm going to make my own.
if the whole guitar ends up lookin like that headstock im going to have to go steal it from you

The burst is sweet. It reminds me of hot toast sitting in a bowl on top is a bassman for some reason.

I love how the burst is vintage, but the shape is modern. I could just eat that guitar. Maybe I'm a little too sleepy.

How did you do the burst, did you just use thicker layers?
What I did for the burst on the headstock was:
1. I coated the wood once with tung oil to seal up the cracks that could lead to bleeding in the grain
2. I painted on a coat of 'Cherry' minwax stain, waited 10 minutes, and wiped the excess off. It gives it a nice warm tone to the wood
3. Using 'mahogany red' stain:
I put some of the stain on a rolled up napkin at one end. (So its like a piece of charcoal with one side wrapped with a tissue.
4. I then rubbed the outer edges with the napkin flat on the board. The wet part would leave the stain in while the dry part soaks up extra/makes it an even gradient. I did the edges quickly, and slowly dragged the color into the headstock
5. I repeated the process with a black stain by the same manufacturer.
When I think about it, its gonna look pretty weird in the end. I'm deciding wether the burst should be like a: Fender, or a SG Supreme
Thoughts?
At the rate things are going, it looks like I won't be able to begin staining untill this weekend. :/
Oh, I finished staining the back of the neck, now its a sleek back waiting to be finished:
That gives me time, however, to order the lacqer.
Last edited by Zombat at Jul 23, 2004,

Join date: Jun 2004
30

IQ
Wow. I think I would go with the strat finish, just because it matches the neck and headstock so well, you know, give it a real nice rounded off finish.
I would definately go with the strat version. It will just look much classier.
Strat version... that SG finish looks like someone vomited on a guitar.
first impressions would say sg cos its flash and very suits the guitar, but when i use some sense, the strat burst would look nicer
I stained it tonight ... I'm so excited right now. All thats left to do is Lacquer it which I may do this week or the next, depending on humidity, and then polish.
Tomorrow when the stain dries I'll put it all together and drool, take a photo.
and now, the photos:
The First Coat of red is applied: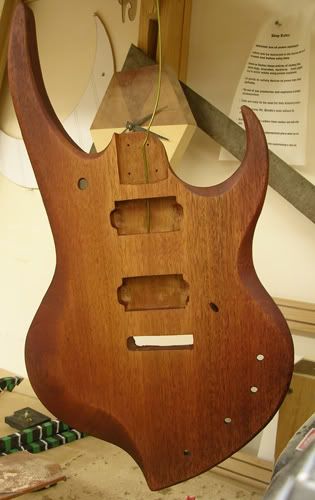 Black is applied, and after some last minute sanding/staining, the color is DONE: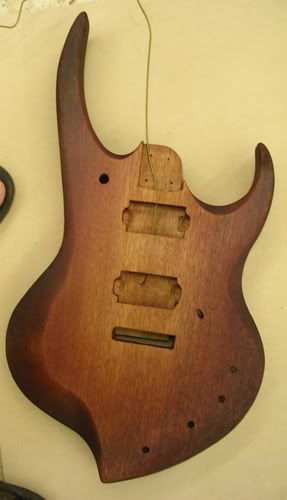 Those photos were taken under flourescenet lights, this one was under a tungsten bulb. Its hard to see because its so blurry (sry) but it looks a lot different in person ... darker, deeper ... beautiful: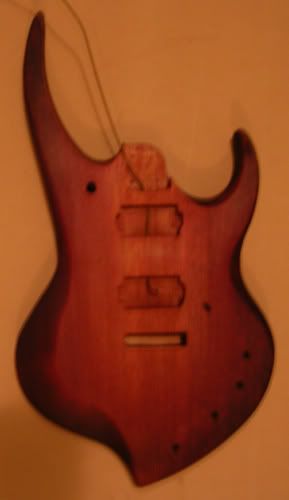 When everything's done, I'll set up my good camera and take some professional beauty shots.

hat looks incredible. You did a great job.


But whats with the hole in the body?
The hole is a mistake. I'm going to put something over it when I can.

Looking back I'm kinda upset at how the bevelling screwed with the staining. My next guitar I think I'm going to do a solid color. but for now, this is cool. I can't wait to put it together.
The beveling looks great in my opinion. It is much darker which gives is a very 3D look.

Join date: Oct 2003
20

IQ
sexy...very sex. personally, my vote goes for the strat color scheme, but the SG's style. get what im saying. make it so it has the color styling but the color of the strat.

Join date: May 2004
10

IQ
I'm not very big on the SHAPE of the guitar, but other than that.


Sexy.
Thank you everyone!
Originally posted by Got Chains?
I'm not very big on the SHAPE of the guitar, but other than that.

well you're the first to mention it ...
I decided to go with a fusion of the strat and sg style of spraying because I couldn't decide on either one. I'm kicking myself for sealing the wood first, as the sealer unexpectedly did some weird things to the way the stain collected.