ovation 12 string copy

i found this going on ebay for around 180 USD including shipping. ( it has electronics)
its a ovation copy
description says stuff such as NEW round back acoustic and electric 12 string Guitar, Unique shape, (copy of ovation) 4 band equalizer, 12 String, Great sound.
seller has good feedback but im not sure whether to get this or not.
i ahve a question abou this style of body too.
if im playing unplugged how is the projection and loudness?
and are they comfertable to play in your lap because ive heard about that from a few unhappy people.
thanks in advance
~shpunt
Edit : i sent the dude an email and this is the reply
In a message dated 7/17/2009 5:24:58 P.M. Central America Standard T,
member@ebay.com
writes:
i would like to know the sound quality in comparison to an actual ovation in the 300-500 price range.
I do not have actual Ovation;
also unplugged how loud is its projection,
Prety loud
and comfortability playing in a lap?
YES
ill like to know your opinions :\
Last edited by Shpunt at Jul 17, 2009,
I never had a problem with lap comfortability when just trying them out at stores, but then so many people have complained about them being weird to hold. I sorta slouch over my guitar anyway, so maybe that's why its easier for me to hold?

And I have no clue about the sound of the copy. An actual ovation that I tried had this really weird sorta tinny sound when playing unplugged. It wasn't bad, it was just sort of different. It reminded me of playing an unplugged electric guitar, like I was playing my strat unamped but it was obviously louder. It wasn't insanely loud, sorta similar in volume to a smaller 00 body guitar. That being said, they were essentially designed to be plugged in, and I have heard (though never tried) that their amped sound is gorgeous.

Realize, this was only me messing around with an ovation in a store, I have no idea what the copy will feel/sound like.
ah. wlel i need a 200 or less 12 string acoustic-elec. that i can get used, or new, and ive been scanning around and this sorta caught my eyes
Well, go for it. I mean, 180 really isnt much when it comes to 12 strings...and if you
need
one then you may as well. And if you hate it, then you can always try and sell it and try to break even or make a profit

Last edited by ReChord at Jul 18, 2009,

Join date: Jan 2008
110

IQ
Buying that would be an utter waste of everything. Don't even consider it. You'll end up with nothing but problems.
problems and how so?

m not sure becasue im just getting into 12 strings but i tihnk the only problem there would be is action, the tuners, and the sound might be a little weaker than that of a ovation
Last edited by Shpunt at Jul 18, 2009,
yeah i decided not tog et because im going to be playing acoustically more than plugged in.
but i sitll am looking for a discount guitar and i stumbled upon this
205 inc shipping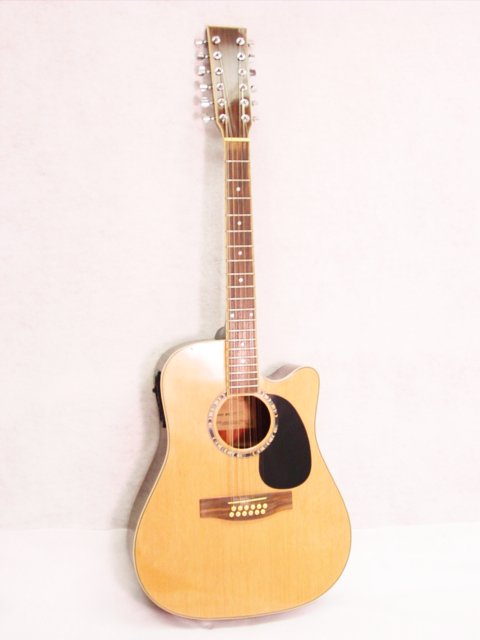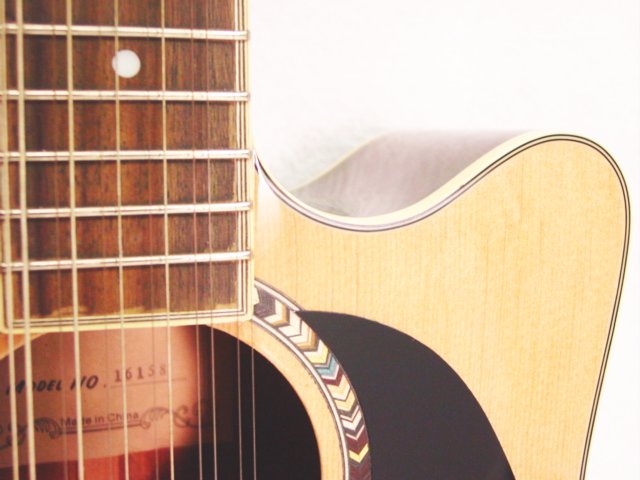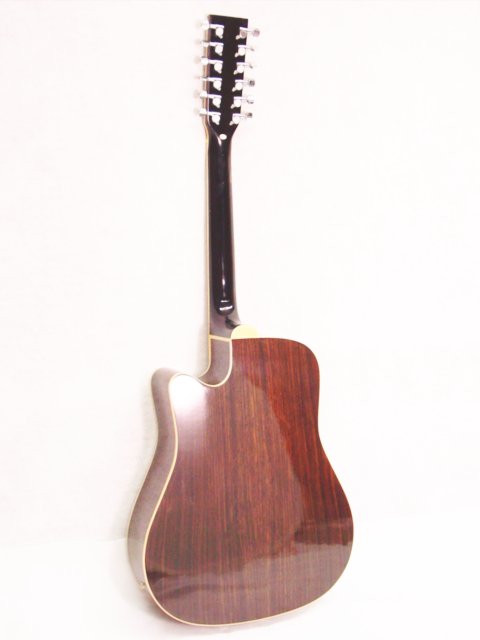 specs say
spruce top
Full 4-BAND EQ Controls
Also an independant Volume control knob and a Battery Tester Built in.
ROSEWOOD Back and Sides
Cut Wooden Rosette adorns the soundhole
Fully adjustable neck.
Sealed Machine Heads / Tuners
TWO STRIPE Purfling surrounds the Front body, the back of the body and ALL ALONG the fretboard and headstock
The guitar is just over 43" Long from Strap Button to the end of the Headstock.
------------------
also this one
12 String Acoustic Guitar
Natural Spruce Top
Nato Back & Sides
Hardwood Maple Neck
Right Hand Model
Rosewood Fingerboard
Cutaway Dreadnought Body
20 Frets
Polished Nickel Frets
2" Nut Width
Peghead Tuners: 6~Bass & 6~Treble
Die Cast Machine Head
Chrome Hardware
Electronics: 3 Band EQ w/ Vol.
Bass~Mid~Treble~Volume Control
External Battery Access: 9 Volt
Bridge Piezo P/U
12" Upper Body Bout
15 7/8" Lower Body Bout
4 3/4" Body Depth
43" Overall Guitar Length
Rosewood Pin Bridge
Adjustable Truss Rod (Soundhole)
Bound Body (Frnt/Bck)~Neck
Binding Color: Black
Pick Guard Color: Black
Solid Sounding 12-String w/ Pro Set-Up!
Last edited by Shpunt at Jul 18, 2009,
ive asked them and they are solid top
althoughi would love to ahve alectronic. would it be better if i dont by a lot more? beacuse these guitar seem quite tempting. especialy the first one
Last edited by Shpunt at Jul 18, 2009,
well is there any guitar around 250. that i could buy, i would rather have a cutaway. but is there any known cheap one? i heard about some epiphone. or soemthing.

but first let me explain what im using it for.

i am a active muscian, and im playing currently in a 80s rock/metal band.

im backup singer but i do have 1 solo song with acoustic in our set that we usually play.

i want to get deeper involved in singing and i tried my friend's washburn 12 string and i fell in love with them.

im not going to be using it full time, just to doodle aroudn with, i just want something i could sing with, and hopefully amplify.

as for the cutaway, i would lik to have one, because in my spare time i play a lot of russian folk that require access to upper frets.

also not only am i seriously GAssing for one right now. but my budgets very low, i got enough moeny for our new PA, and still in the process of getting money for a new jackson. so this is the biggest cut of money i could buy things with
Last edited by Shpunt at Jul 19, 2009,

Join date: Feb 2007
10

IQ
Last edited by Shpunt at Jul 19, 2009,
one mroe thing i forgot to explain.

sicne a year and a half ago ive beens aving up for a pa, and a new guitar, also a 12 string.

my plans were to buy them all now. but apprently i ahve about 1500 for the pa. 850 for the guitar. and 250 for the 12 string. and ive been GASsing so hard i just cant take it.