NGD (Beginner content inside)
Started learning about a little less than a month ago on my classical guitar through justinguitar.com, with the prospect to go over to electric guitar.
Today I went to pickup my "new" (used for 8 months :P) guitar (quite a nice deal, 170€, 260€ retail)
It's just a Yamaha Pacifica 112vcx (vintage white with red tort pickguard) but I find it a such sexy geetah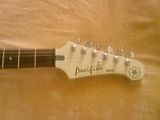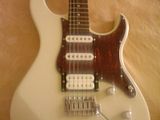 Sorry for crappy pics, phone camera
Not a bad first electric! HNGD!
Congratulations on your first electric guitar

Hope you enjoy it as much as I enjoy mine

HSS configuations are godly, and I've always wanted a Red tort/White guitar, they look so sexy.
Very Sweet NGD!


Join date: Sep 2008
140

IQ
Pacificas are great guitars, the body and necks are great, with some fret redressing, a new pup in the humbucker slot and some general adjustments mine was really nice.
welcome. next is amp! have fun during the selection process. be careful though, once you get one, you will want another one like a month later and so on and on... it never ends man... get out while you still can!!!!!!


Join date: Nov 2003
90

IQ
Congrats on your new addition!
Best starting guitar you could have possibly got

Whoever told you to get one deserves a thank you!
If you got it by your own accord, good choice!

Join date: Sep 2008
20

IQ
Good choice of guitar...if i'm not mistaken that's the new Pacifica 112v with coil tap right?..HNGD!!

Thanks for all the comments

I picked it myself, I love to do informed purchases, so I researched quite a bit before deciding.
Today I'm gonna order a Vox DA5, was trying to decide between the Vox or the Microcube, can't hear them live since no store nearby has them

so I decided based on youtube videos and FX options. So, NAD coming by the end of the week hopefully


Join date: Nov 2007
20

IQ
I think its funny how Yamaha makes guitars and recievers and ATV's?????!!!!!

pretty cool first guit though