Gibson's Historic Designs
A lot of guitars today can trace their roots back to 'radical' Gibson designs like the SG, Explorer, or Flying V. But what about the designs that didn't stand the test of time, those ones that should have been thrown out from day one? The goal of this thread is to
share some of the lesser-known Gibson models and prototypes
from their electric lineup. This could also be used to inspire builds in GB&C.
I'm pretty sure this is the only register of odd-ball Gibsons currently available online, so I'll try to keep the information correct as much as possible

. Feel free give me suggestions for the list or point out any mistakes I've made.
1. Please don't turn this into a flame war or call a guitar 'ugly' to start fights. What one person calls hideous is beauty to someone else.
2. If you wish to contribute, post a
SMALL
pic and I'll add it to the list (assuming it is a Gibson guitar). I want to keep this 56k friendly

3. Everyone knows about the Reverse/Holy guitars, let's keep them out of this. Also let's keep signature guitars outta this.
Bantam
(Submitted by Flying Couch)
Custom Shop model produced in the mid 90's. Available with an ebony fretboard, multi-ply binding, and Grover tuners. Basically a hollowbody Les Paul.
Blueshawk
(Submitted and Owned by fender_lespaul)
Produced from 1996-2006 and a variant of the Nighthawk. Semihollow poplar body with a flat maple top, 25.5", throughbody stringing, "Noise reduction circuity" and the "Varitone circuit". The one pictured below has a Bigsby and isn't stringthru.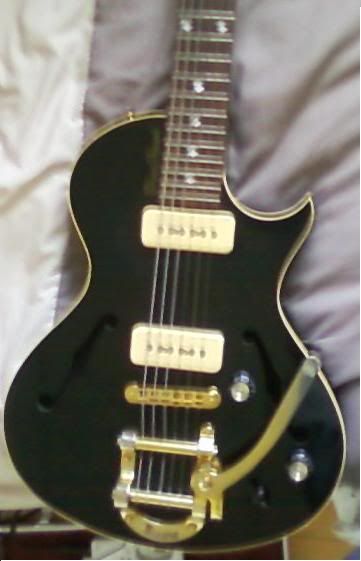 Corvus
(Submitted by Flux'D)
Made from 1982-1984, also known as the Gibson "Can Opener". The body shape "resembles a crow in flight" and it's name means "Crow" in Latin. Available with a single humbucker, dual humbuckers, or 3 single coils. Bolt on Maple neck, Alder body.
ES-335 Solid
(Submitted by necrosis1193)
Explorer 7 String
(Submitted by Flux'D)
Notice how far up the bridge sits and the million frets
Les Paul Recording
(Submitted by necrosis1193)
Produced in the mid 70's. Featured low-inpedance pickups and a unique cable for impedance matching to the amplifier. I'm not sure on the specifics of the cable. Some were available with a maple fretboard.
Les Paul Signature
(Submitted by Flux'D).
LS Series
(Submitted by Flying Couch)
Last edited by Flux'D at Nov 11, 2011,