What guitar is this???
My friend found his dad's guitar from the 60s. I have some pics. The headstock is unlabeled, so is every other part.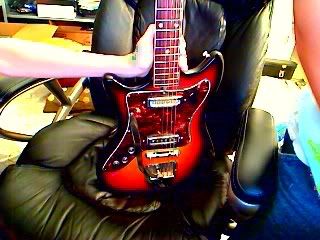 Last edited by Pickle Roaster at Jul 23, 2009,

Join date: Mar 2009
30

IQ
its strange doesn't say fender
It's an old Japanese guitar, likely a Tiesto or Kay, or something like that. If you search around on those names, you'll probably find out more

They are pretty cool guitars, but were essentially cheap beginner's guitars, if my memory serves me correct. They are going through a semi-cool revival at the moment for indie and shoe gaze bands.

Join date: Dec 2005
80

IQ
Any serial numbers? Is it a bolt on? If it is have you checked inside the neck pocket for any markings of any kind?
its pretty cool. its hard to tune, but most old guitars are

Join date: Dec 2005
80

IQ
i like it, it sounds clean and has a good tremolo bar

Join date: Oct 2004
70

IQ
dude is right
its an old Teisco or Kay
maybe a Del Ray?
you can pull some interesting sounds out of those axes
~b
thats great. i like this thing. its old, so it has a clean tone
how much you think this is worth?
looks like a jazzmaster ripoff...
Join date: Jul 2006
80

IQ
It looks like an old Tesco/Tesico/however it's spelled. They made a lot of guitars in odd shapes like that.
how much you think this is worth?
Depends on the condition, but about $150 or so if it's in great condition. Some of the models are quite collectable, but the model you have is the most common one I've seen. As someone else stated, I think it's a Del Ray.