"Bear, Ninja, Hunter"
Okay so I've got a sweet new game my friend showed me, like rock paper scissors, just more epic.
It's called "Bear, Ninja, Hunter"
You stand back to back, and count to three, on three you jump to a stance. Either, bear, ninja, or a hunter and face each other in your stance.
The rules are as follows:
Bear>Ninja
Ninja>Hunter
Hunter>Bear
Pics Of Stances:
Bear
Ninja
Hunter (you're holding a gun)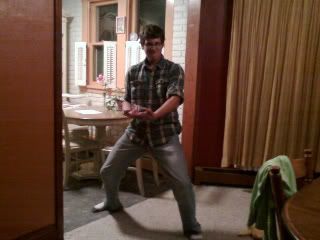 EDIT* Feel free to shoop the pictures, or post your own interpretations of the stances.
Last edited by GuitarYay at Jul 26, 2009,