NAD - Mesa Content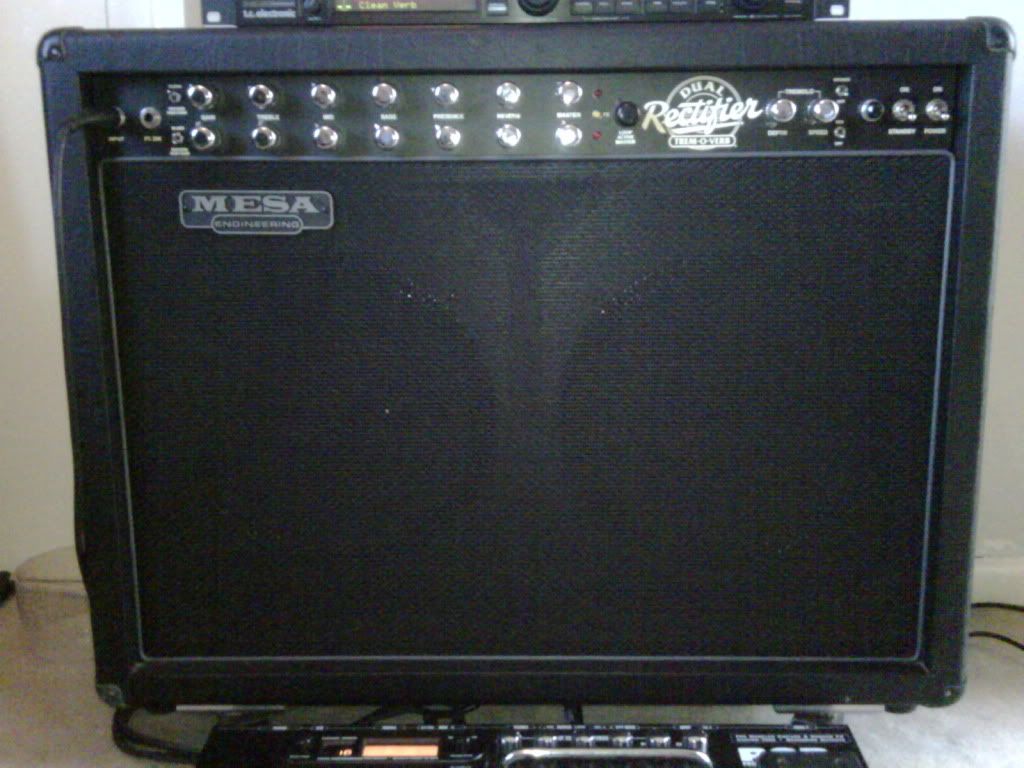 So I finally got my hands on the Tremoverb id been gassing for since i was 16. I had to raid the credit card to afford it but that will be paid off in a mere month so its all good.
Sounds killer so far however I cant give a proper review until I'v spent some time with it. However is going to take a while to get my settings dialled in as many things affect the tone that you wouldn't normally expect. The Reverb control has a massive effect and a big influence on the "Recto" sound. the loop mix control has similar effects on the end tone.
The stock tubes had been replaced at some point and I found a TAD 12ax7 in V1, Mesa 12ax7s in V2 and V3 and marshall 12a7x7s in v4-6. Seems all good as the V4-6 are the Loop, reverb and Phase splitter. I swapped out V4 and V5 for JJs I had laying around for good measure.
The power section is where it gets interesting, I find a quartet of 7581A PhilipsECG tubes. I did some research and they are rather well thought of and sell for a handsome price.
They look exactly like these
http://angela.com/7581aphilipssylvanianostubematchedpair.aspx
Last edited by halikus at Sep 8, 2009,
Cool stuff, Happy new amp day!

Join date: Mar 2008
780

IQ
WOW. Trem-o-verb. Don't see those everyday. Never heard of those tubes either. How does it sound? Can you get some clippy's?
HNAD!

I'll add that to the NAD collection pronto

So far it sounds very bright clear and punchy but I really have no basis for comparison. The last time I played one was back in about 1996. The range of tones that come out is rater diverse. Im loving the cleans most so far as cleans have always been the weak link in my sound. My prs was born to play on this amp, the middle position on the 5 way on the vintage high gain channel dirty with the vol down and the tone pot trimmed, ah just magic.

Il endeavour to get some clips done tomorrow when the inlaws are all out so i can really test things.

Join date: Mar 2008
780

IQ
cool.
what's up with the 'mystery Nad' dated today in your sig?
Never mind.

you can update your sig now

Ya got in there just as I was changing it!

Join date: Feb 2009
110

IQ
Nice!!!
I've always wanted to try one of these.
HNAD

Join date: Jan 2008
480

IQ
Congratz


Love me some Mesa....HNAD man.

Join date: Dec 2007
60

IQ
HNAD!! Might I suggest downloading the manual if you don't have it. It really is a must have for Mesa amps.(Make it your tone bible) And
This
Site might help with some settings for you.
sweet


Join date: Oct 2006
70

IQ
$400 dollars worth of power tubes inside???? WOW.........

NAD!

Join date: Feb 2009
40

IQ
0_0
Well thats something you don't see everyday, HNAD


Join date: Nov 2007
70

IQ
Cool man!!!

I really don't care for the recto sound, but hey that's me. As long as you like it, then that's all that matters!
Thats a sweet amp. Makes me want to get one. When you do a review, let me know what you think of the clean channel. I've heard its one of the best recto cleans.

Join date: Nov 2006
1,222

IQ
Nice! I've wanted one of these for a while.
And even sweeter on the tubes!


Join date: Dec 2007
330

IQ
Now go play some Jeff Buckley on that bad boy. Nice find.
HNAD! Can't wait for the clips

Hey guys! Thanks for all the kind words so far. I have put up some clips of the cleans on my profile for your listening pleasure. All clean tones so far as my mic does not like recording distorted guitars one bit. Bees and Boss metal zones come to mind...

Join date: Mar 2008
40

IQ
grats those are nice amps
Curses! Channel 2 just died on me...

Playin clean hits channel switch POP! no sound from channel 2. Theres still a sound if I dime the master but its very weak indeed.

First things first, tubes are all glowing. Channel one is still working completely. channel cloning on channel one is all good and the red channel will clone to channel one. Okay time to pull some tubes, dammit all working fine.

Iv called the shop but I need to talk to the boss whos not in till tomorrow morning.

Anyone got any bright ideas? have i missed anything in my troubleshooting?
Well I spoke to the manager of the shop I bought this from and they are going to get it pickled up then fixed by their tech guys. Good job too as its an hour and a half drive to the shop from where I am.

Looks like a few weeks without my new amp, Id barley started to tweak the tone too.
how is putting vinegar on it going to help?

Touche! Well spotted Dave, my typos know no bounds. MMMM pickled Mesa.

I just spoke to the shop and it looks like I'm going to be ampless for another couple of weeks while they order in parts...

Join date: Jul 2008
190

IQ
Touche! Well spotted Dave, my typos know no bounds. MMMM pickled Mesa.

I just spoke to the shop and it looks like I'm going to be ampless for another couple of weeks while they order in parts...
They're stealing your tubes!
Mmmmmm, pickled Mesa.
They're stealing your tubes!
That's crossed my mind on a few occasions...I do hope the tech they use isnt a thieving scumbag.
The mesa is back! without the Jan tubes and the leather cover it was sent with.

Guess what Im gonna be doing come 10am when the shop opens...
One week later and POP! no channel 2 again.

Called the store and they gave me 3 options,

1) Get it sent back to Boogie again for another fix
2) Get a new amp from the same store with a discount
3) Get money back

Realistically id love to just get it fixed again and pray it dont break again but im paranoid now so this isn't likely to happen despite me loving this amp with a passion. oh all but the parralel FX loop, god I hate that.

Id like to try getting a different amp from the same store as i could probably pick somthing a bit more expensive and get it for the same price however the only amp i see that I like the looks of is a Rivera Fandango but im sure it wont get brutal enuff for my liking.

Option 3 looks the most likley to happen so Im thinking Mk4 as I see a couple in my budget on the ebay but its a awefull lot of money to use on ebay especially ias it could be broken and the one im looking at is the other end of the country.

So UG suggestions.

£1200 possibly a bit more as i can wait a month, I dont mind going used, 3 channels, series fx loop, will do brutal rhythm and smooth leads along with nice effected cleans.