what guitar is this dude playing?

Join date: Aug 2006
20

IQ

Join date: Dec 2007
130

IQ
Hmmm... It does look like a Singlecut SG.

Join date: Oct 2008
70

IQ
it's probably a custom made guitar he did himself

Join date: Nov 2008
30

IQ
That hollow body tele is way cool. That one that looks like an SG looks like he just built it out of a bunch of parts? i dunno?
i looks like a strat neck on a single cut sg... that tele looks sick too

Join date: Oct 2007
50

IQ
Thinline Tele and what looks like some random Partscaster with a Fender neck

Join date: Apr 2007
10

IQ
Looks kinda like an Ovation Preacher and an SG hybrid... Either way, love it and the band rules
Reminds of a Fender.

Could be some other company we've never heard of.
something like that maybe?
It looks like something he made himself. The body might be a modfied tele and the neck looks like a strat.
There's a better picture of it on this video (@3:05):
http://www.youtube.com/watch?v=9HVb_Lov-Kw&feature=related
Single cut SG with Strat neck is my best guess. Hammered something together.
Edit:
Looks like he lopped the top horn of an SG off and slapped a Fender neck to it.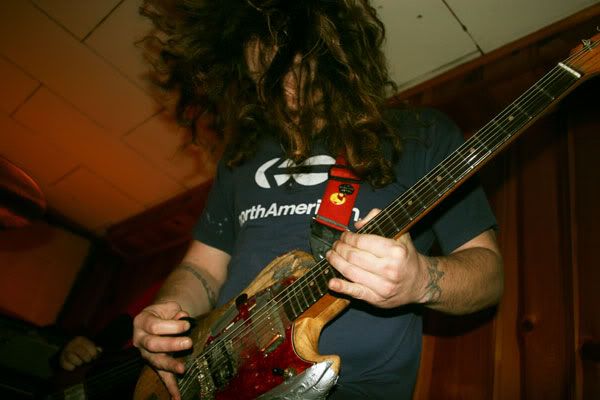 Last edited by Hakael at Jul 30, 2009,
I dont know about the guitar but that is a great f*cking video.
that is for sure a fender neck... looks like he did it himself too

EDIT: awesome song btw... ill check em out
Last edited by just17n8 at Jul 30, 2009,
It's a battered Mustang. Note how the top part where the other horn is meant to be is covered in tape: it's been damaged and "repaired". That's why it's such an odd shape.

It's a Fender Mustang with humbuckers.

EDIT: upon closer analysis, I don't know WTF it is, but if it weren't for that single-cutaway, it'd be a Mustang.
Last edited by sashki at Jul 30, 2009,

Join date: Oct 2006
70

IQ
Ovation Viper:
or
BC Rich Segull:
nah... that horn and pickguard are definitely SG... is the neck and duck tape that throws me off