USA FS-Epiphone SG Deluxe -- SD's and Locking Tuners
I have an Epiphone G400 Deluxe guitar in a beautiful Honeyburst finish. I have replaced the original pickups with Seymour Duncans - an SH-2 Jazz in the neck and an SH-4 JB in the bridge position; a push/pull bridge pot splits both of them (which does wonders for my clean tone). It has Sperzel locking tuners on it. I also put a locking tailpiece on. All the hardware is Nickel/Silver. The upgrades cost more than $250, and the guitar is rarely found on Ebay (or any music store I've ever been in). Epiphone hard case is included.
Disclaimer
: To install the Sperzel locking tuners, holes had to be drilled. There are six small holes in the back of the headstock where the original tuners had the stabilizing screws. Rarely will people notice this if you are actually
playing
the guitar

. I also put markings next to each volume/tone knob to adjust my volume and tone more accurately (see picture).
Price -- $675 shipped.
I'll try to get some more detailed pictures up by Monday, but for now --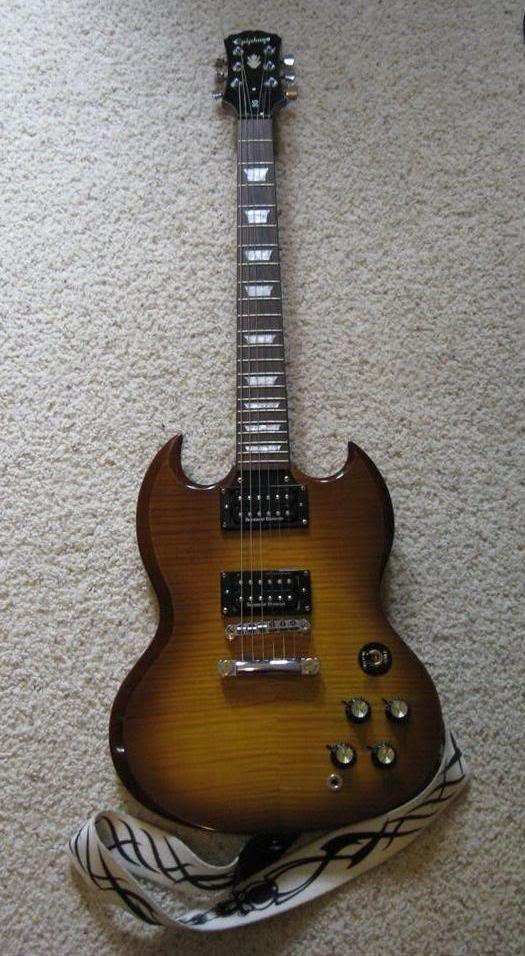 Thanks for looking!

Join date: Mar 2006
163

IQ
OH DEAR GOD. I want that so bad, fücking exchange rate.
Bump again. Make me any (money) offer, I promise you I'll consider it.
Also, sorry about not getting more pictures up yet; I'll do that as soon as I can use my brother's camera.
Seriously, make an offer if you're interested, you may be pleasantly surprised.
But no shipping outside of the States... sorry.