The most iconic guitar to you?
Richie Sambora's 1959 cherry sunburst Les Paul. It's the sole reason why I stopped singing and started playing guitar instead.
This is the only picture I've got of it but meh.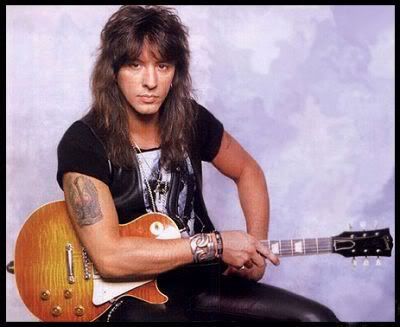 That to me is the best looking guitar I've ever seen, and it's the best sounding too. I have wanted a guitar with that exact finish - not a new cherry burst, not a reliced cherry burst, just a yellow-orange burst made to those exact hues - for years. It actually really bummed me out that when I was looking at Gibson CS 59 reissue LPs, all the washed cherry bursts that looked right played and sounded like arse and the only guitar that played and sounded perfect was an Iced Tea finish, but meh.
Anyway, to me that is
the
guitar. Nothing else can even remotely touch it. That specific guitar is the holy grail to me. I actually got to see him play it once. I was halfway back through the Wembley Stadium standing crowd, thousands of people between me and the stage, I couldn't even see the stage and had to watch on the video screens because it was so packed and I was so far back - but **** it, I still cried - actually
cried
- when I saw him get that LP out. Some people dream about world peace, solving world hunger, being the person who finds the absolute cure for cancer. My dream is being able to play that guitar for three minutes and I'm not ashamed to admit that.