My very first NGD/NPD
I bought an Ibanez Jemini and it frankly was one of the best distortion pedals I've ever played!!!! It beat a Fulltone OCD as well as a few other boutique pedals. I tried out this thing with a Jekyll and Hyde and I still loved the tone I got from this baby. My setup was a 1958 Reissue Gibson Les Paul (made in 1998) into this pedal and a bunch of Marshall amps. The different setups:
Gibson Les Paul>>Pedal>>Marshall 1959HW (fullstack)
Gibson Les Paul>>Pedal>>Marshall 1959RR = Randy Rhoads (halfstack)
Gibson Les Paul>>Pedal>>Marshall Vintage Modern 2266 (halfstack)
Gibson Les Paul>>Pedal>>Marshall Vintage Modern 2466 (halfstack)
I tried all the combinations at different volume levels on each stack. EL34's are very nice, but KT66 tubes really SING!!!!!
So enough of my talking and excitement, and here are the pictures!
What is in this kooky looking 60's retro thing?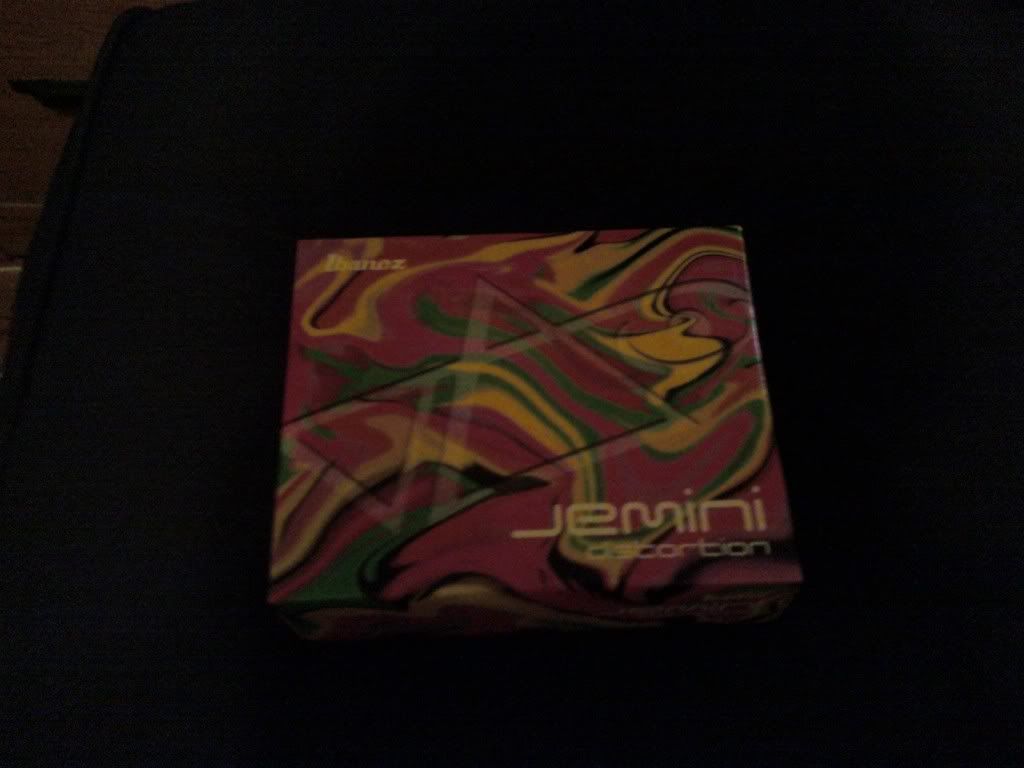 I can't see through that plastic crap that's in the way.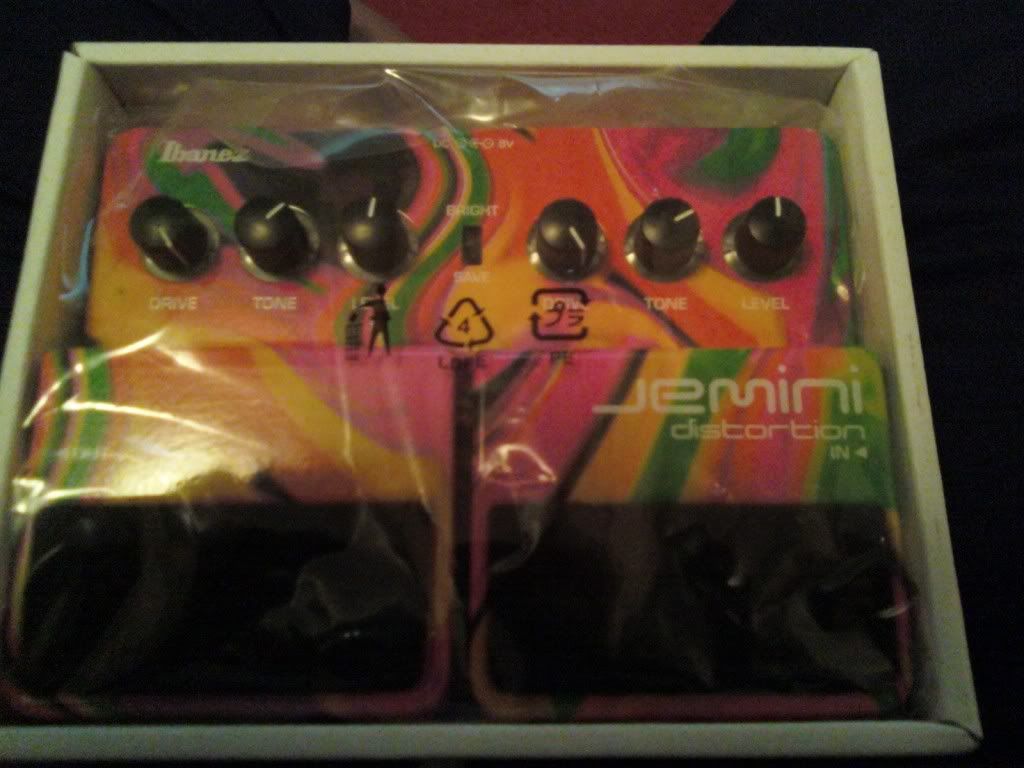 Thank you! Oh hmm, it looks...interesting...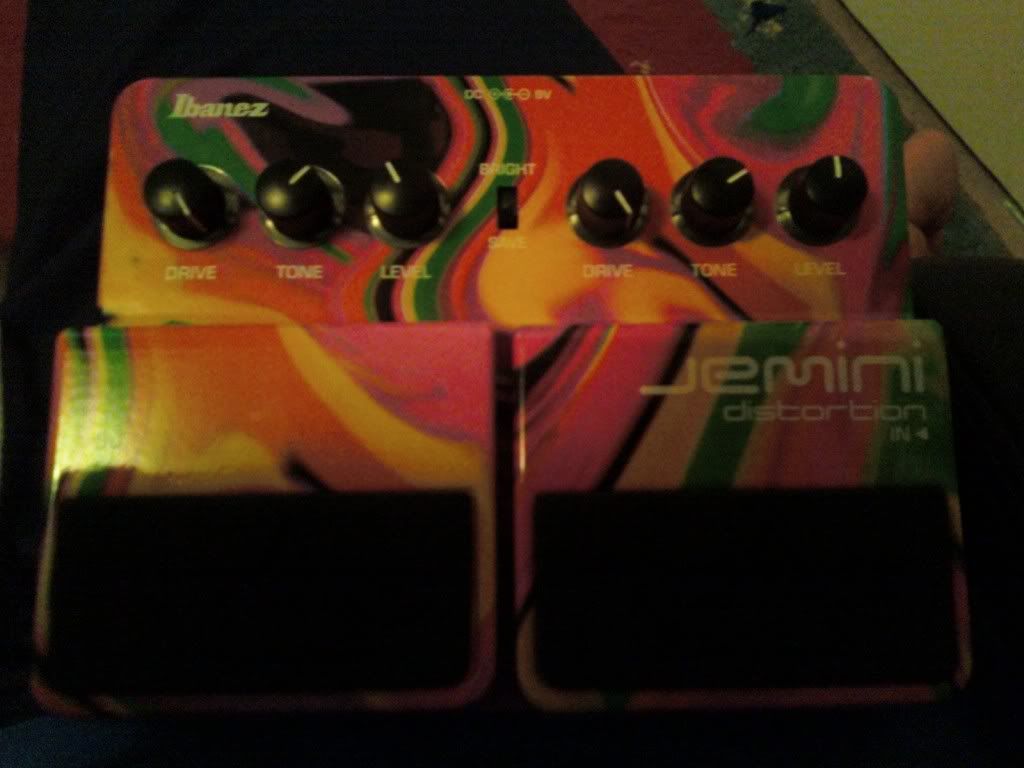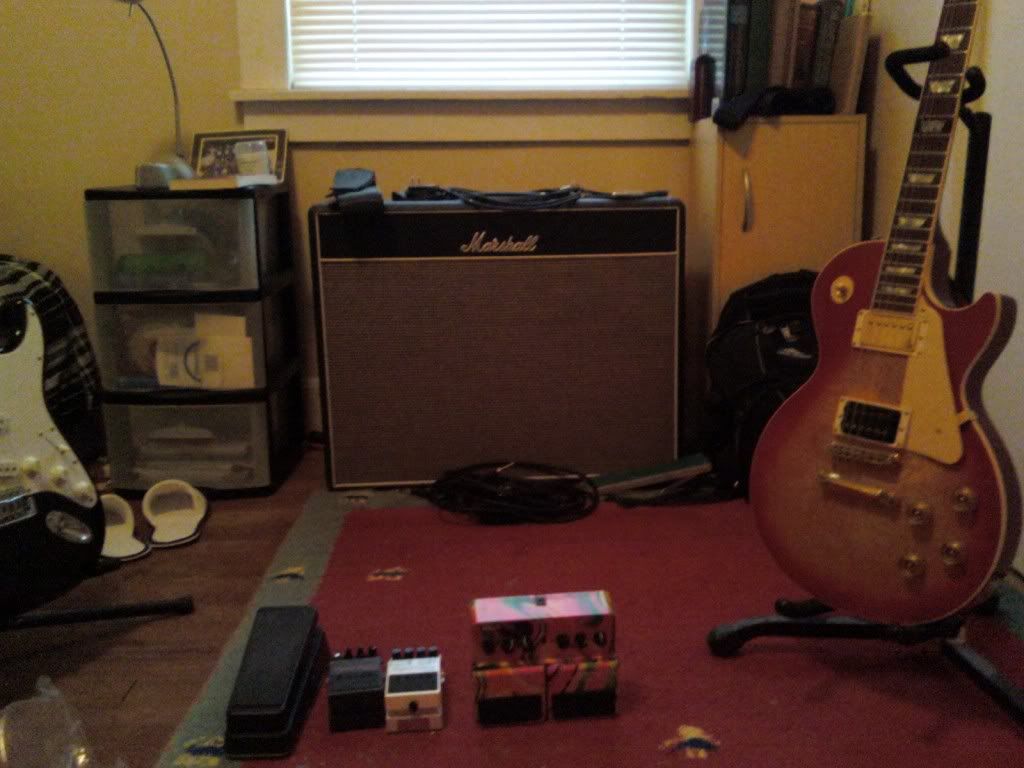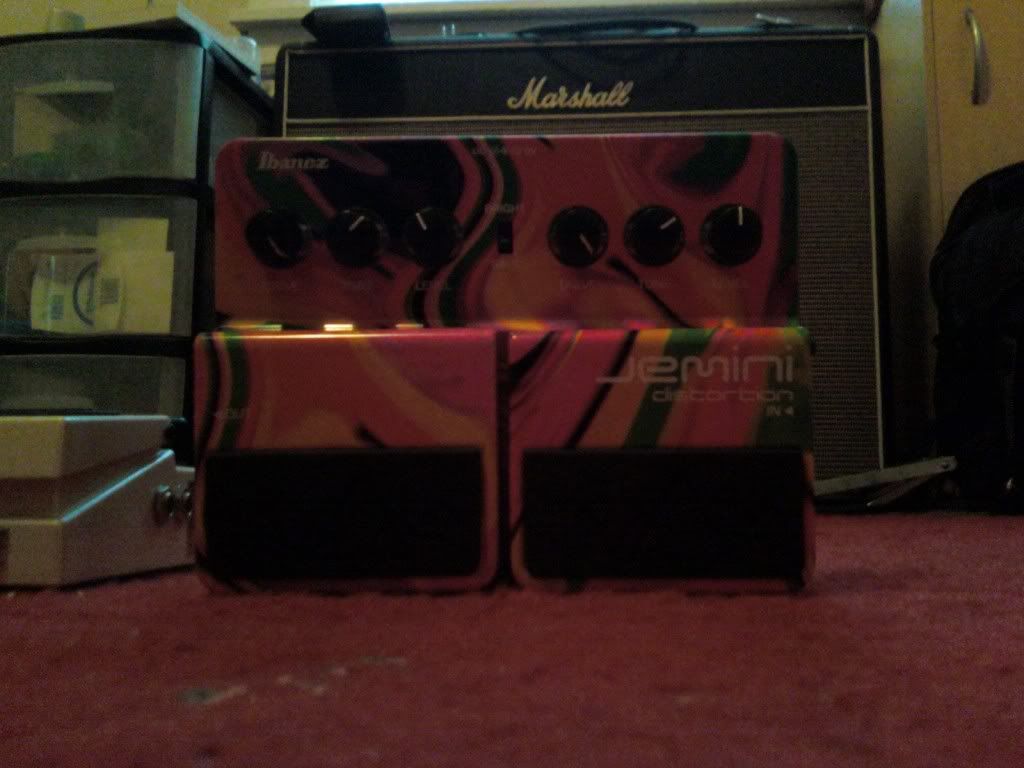 I tried it out through my Bluesbreaker, and now I wonder if someone changed the guts of my amp while I was shopping for this pedal.

Join date: Nov 2007
40

IQ
Oooo those things are beautiful
hey man grats on the pedal!

you have a beautiful setup? hows LP?

Join date: Dec 2006
40

IQ
CLIPS! lol i want some clips of that pedal! the only time i heard it was through a PA.

Join date: Feb 2009
50

IQ
Sweet! HNGD

On a side note: I love youre Guitar like a brotha from a diffrent motha. Sweet tap dancing christ, thats a nice stick.

Join date: Feb 2009
40

IQ
Join date: Nov 2003
90

IQ
Awesomeness! Congrats on your new addition!
http://www.youtube.com/watch?v=WrBLnB3ze5Y&feature=fvst

HNPD

I'm not big fan of those, but I'm not anything close to a shredder/metalhead either lol
Trust me, the left side of that pedal works so well like a Tubescreamer. Try it, you might like it.
And believe it or not, that's EXACTLY what the pedal sounds like. Especially the right side. Both sides of the pedal are awesome, and are SO much fun to use. And if I find some way to record it, I will.
Edit: The settings on the left side are with the drive all the way up. If you crank a tube amp, then put the drive to about 11 o' clock and it still works amazingly.
and thanks everyone for wishing me a HNPD/HNGD

Last edited by Junnage at Aug 6, 2009,

Join date: May 2009
160

IQ
The things I would do with that pedal....
>_>
<_<
I was actually going to get that, but it was way out of my budget... I'll probably start saving up for it once I get all my current GAS items.
HFNPD!
you lucky son-of-a-bitch


Join date: Aug 2008
370

IQ
OH SHIIIII-

Fabulous man, fabulous. That Gibson is sexy and so is the pedal. I want your stuff.
HNPD!

Great looking paintjob on the Jemini
Thanks everyone for wishing me HNPD and HNGD =D

The Gibson Les Paul is my baby. It has a 70's Double Black T-Top in the bridge (that supposedly belonged to Ace Frehley and was signed by Seymour Duncan, but that was not its selling point, as much the fact that Jimmy Page used one). It makes a metal zone sound good and the Jemini is awesome. It gets shimmering glass-like cleans to djent.

The Thomas Organ Wah is awesome. It can pull off Hendrix, Kirk Hammett, Slash and a lot of people that use Crybaby's and Vox pedals.

I do not know what inductor is inside, but the circuit (since it's from the 70's) sucks a bit of tone when off, so sometimes, I do not even put it in my rig for that reason. I have not tried it with the Jemini yet.
All that gear and this is the first N*D thread?

Nice stuff you have thar.

Epicness!

if only you could use the distortion and overdrive at the same time.....not that you NEED to, but why offer 2 pedals in one, if you cant use them both?

still, i would love to try one

Join date: Nov 2007
721

IQ
do I see a bluesbreaker!? want!


happy NPD
i would kill the population of a small nation for that bluesbreaker
Last edited by just17n8 at Aug 6, 2009,
Haha thanks for the comments about my gear. I'm thinking of swapping the 6L6 tubes for possibly EL34's or KT66's or KT88's