NPD! (Pics)
So I found a great deal on the Sovtek Big Muff. Got it brand new shipped for 58.00. Ive always wanted a fuzz, and this is a nice smooth one. I read extensivly about the differences in the russian and NYC models, and I love the russian sound. Its more of a nice distortion thatn I really expected.
Heres a shot of him on the board. I plan on getting a Delay (any suggesttions) and upgrade the Flanger. I like that Ghetto Chorus pedal, as it has a high and low filter that you can run, I sweep the high end out and and run a lot of low end chorus.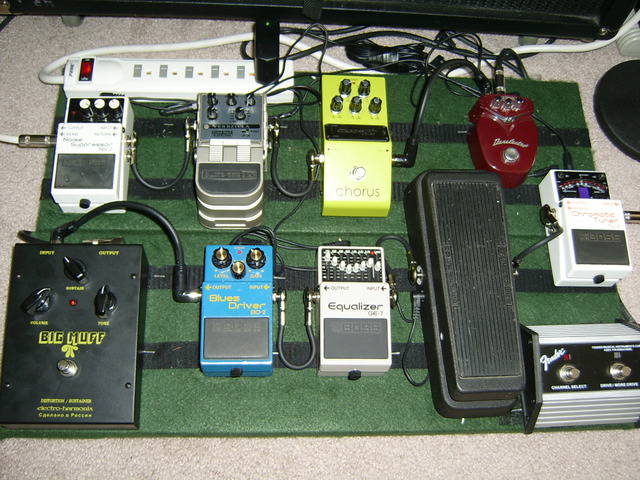 Nice board!

What's the Dano pedal?

Clips?

Join date: Dec 2008
30

IQ
awesome board
HNPD!!! what crybaby is that?
Dano Pedal is the "Hash Browns" Flanger. The Crybaby is an Original. I'll try to get some clips together. The camera mic I have aint that great, but I can give a go this weekend. I have to head into work. The board is a custom job I built out of a shelf I cut in half, lined in green felt, and hinged together for transport.

Join date: Apr 2007
10

IQ
If you don't want crazy long delay, looping, reverse delay, or any weird crap like that, the MXR Carbon Copy is the go-to delay pedal. Literally every gigging musician I know that is picky about sound, and uses delay, owns that pedal.

If you need looping or reverse, Digitech and Boss both make some great options. If you're going to use it a lot I'd still get the Carbon Copy as well, as most of those loop pedals sound less natural.

Join date: Jul 2009
70

IQ
HNPD! Personally, I prefer the Big Muff Tone Wicker when it comes to that series, but the Sovtek is a close second.

By the way, is that chorus actually good? I've seen those pedals at a Best Buy and instatnly assumed it was a piece of crap. I also saw a distortion and flanger. Are those any decent at all?
They arent the best, but for the money they get the job done. I think they do great for 15 bucks. Thats what I paid at the pawn when I picked it up. The filter for highs and lows is pretty good, it has a level and rate control to boot. I think I could do better, but It has its uses, and im not complaining
I hear good things about the Carbon Copy. I just want basics. I like the delay to fade out naturally, and I dont use long delay times. Mostly delay/echo sounds like you would hear in a grand hall or autitorium, just to fill the sonic footprint when Im playing.

One of the things that I still like about my Sipder is the delay functionality that it has.

Join date: Feb 2008
10

IQ
If you use the X cable method with your NS-2 you can get much better sound from the pedal with less noise. Just saying...

Happy new pedal day! I myself am a fan of the tone wicker.
for a delay, you can't go wrong with a DD3, IMO. it's meat and potatoes kind of pedal. simple, yet effective.
If you use the X cable method with your NS-2 you can get much better sound from the pedal with less noise. Just saying...
I am unfamilliar with the X Cable method. What is that? What does it do? You have piqued my curiosity