Hngd!
Got myself a new guitar of the flea market. It still needs some working and adjusting. It was sold for 30Euros. It is a Luxor Acoustic guitar. Made in West Germany.
Heres my full gear now.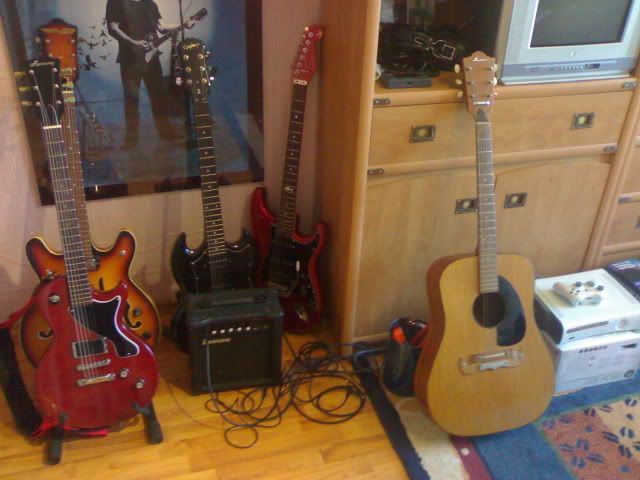 Wow very cool. Is it vintage?

Join date: Dec 2008
30

IQ
Woops, I forgot that this is only electric guitar, my bad. : < Vintage by what you mean? Brand Vintage, or just a vintage guitar. Yeah it is old. Because on the back of it is written made in West Germany. So that clearly means that it was made when Germany when it was split apart during the Cold War. : )
aren't you the guy that pimped that red LP?
flee hunter?
nah seriously, looking nice

yeah it is me : D woohoo I am famous! : D Yeah, well me and my father usually go to the flea market each weekend, my father has a huge collection of old turntable and other stuff like that, old photo cameras and so on so he goes there in search of those, and I just search for guitars and so on. It is fun to find some old beat up thing and restore it so people cant believe it is the same thing. : )
Yeah by vintage i meant old. (20 years makes it offically vintage)

It looks like its in really good condition for as old as it may be. be sure to wax it down real good, get it polished, and treat the fretboard with some lemon oil!
You got it. : D I sure will I will post a better pic when I am done with it. : )
This flea market that you're frequenting seems to be bringing in the goods! Why is there nothing like that near where I live?
Oky got news. This guitar has a removable neck. I have just removed it because there's a little work thats needs to be done. And I can now say the date when this guitar was made, because there's a numbers on the neck. It dates to May 1962. I will post a picture later. : )
Wow. you scored quite a find. I bet it sounds wonderful. acoustic guitars always get to sounding better with age, Im planning on keeping my yamaha in perfect condition my entire life.

You got balls, Im too afraid to take the neck off of ANY of my guitars.
It is a bolt of neck so it is really easy. The fun part is removing the fingerboard and changing the trust road. : ) Believe me, it is not that hard as people say, just before you do anything read about it and do it calmly and steady without applying to much ARGH! force. Believe me, if someone can do it so can you. : )