Dean Dave Mustaine VMNT (800$) or Gibson Flying V(1000$)
View poll results: Which guitar to choose?
| | | | |
| --- | --- | --- | --- |
| Dean Dave Mustaine VMNT Metallica Silver | | 26 | 50% |
| Gibson Flying V White | | 13 | 25% |
| Don't buy either, think about buying another guitar. | | 13 | 25% |

Join date: Jul 2009
50

IQ
Ok so I'm going to get a new guitar(YEAHHHH

)
I have a HARD choice of either a Dean Dave Mustaine VMNT or Gibson Flying V
If it helps, I'm gonna get a White Gibson Flying V or a Metallica Silver Dean Dave Mustaine Also, I will playing either of these guitars on a Line 6 Spider Valve Tube Amp
Please take into consideration the price of the guitars too I'm a cheap man

And last but not least... I play heavy metal like Iron Maiden, Megadeth, Metallica, Judas Priest, etc
All the New Wave of British Heavy Metal and Heavy Metal of 80s lol
Here are the features
Dean Dave Mustaine VMNT:
# 25.5 scale length with 24 frets
# Dave Mustaine Live Wire USA custom active humbuckers
# Dunlop flush mount straplocks
# Includes hardshell case
# Available in Silver and Black
Gibson Flying V:
# Solid mahogany body
# Premium nitrocellulose finish
# Set neck construction
# Extended neck joint
# V-Factor X Neck profile: Hybrid '50s rounded/'60s slim taper neck
# 17 degree angled headstock
# 22 fret ebony and rosewood fretboard
# Nickel and silver alloy fret wire
# Classic dot inlays
# 496R Hot Ceramic pickup in the neck
# 500T Super Ceramic in the bridge
# 2 volume, 1 tone control
# Tune-O-Matic bridge
# Stopbar tailpiece
# Includes hardshell case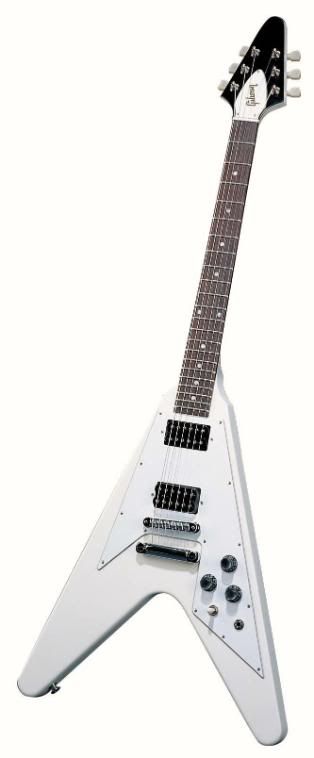 THESE ARE OBVIOUSLY THE STOCK PICTURES

Dave Mustaine out of the two.

But there are better V's out there than the Mustain and the V.

Randy Rhoads and Schecter V-1 comes into mind.
Get the VMNT in silver, but definately consider a Rhoads model.
look at the angel of death design. its awesome
I own the Angel of Deth model Dave Mustaine V...

It's god in guitar form...

I've never played a better guitar.

.....The fact that it's a Dean on the other hand....
Don't be surprised if you get it and the first thing you have to do is reattach a wire. Deans are horrible about putting things together sloppily and retarded like..

The sound is ****ing amazing however, and I hate Gibson V's... Just opinion.. But they're just not brutal enough for me.
And also, if you DO get the VMNT.. Make sure you slap some DM signature LiveWires in that bitch.. Because they're so hot, and so ****ing clear.. Best pickup I've played on so far to my tastes.

EDIT: Nevermind.. The guitar in the picture has stock Seymours in it, but I overlooked in the features where it mentioned the Live Wires. So nevermind.
Last edited by Killswitch666 at Aug 9, 2009,
Demmelition = 2nd god in guitar form.. xD
And I'm not sure on that.... O.o The only one I research/know about is the Angel of Deth, and it's definately not that one.
I think I was thinking of a Batio superstrat from Dean.

I can't seem to find it anymore, I'm pretty sure it was limited to only like a 100 models (typical Dean) in late 2007.

Join date: Jul 2009
50

IQ
yeah it does come with 24 frets not sure about the HSH
Also I am a BIG fan of Rhoads but his guitars are just TOOO small I tried em out at guitarcenter and it looks like a chop stick on my fingers. I'm 6 "2" and randy was short so maybe thats the reason?
Anyway..
dean Dave Mustaine sounds awesome
Oh Geez, I'd get one of those over the ones in OP any day.

Join date: Sep 2006
40

IQ
gibson. purely cause of re-sale value. but if your just needing a real instrument to do some old school thrashing and shredding on, probably go jackson.. the jackson stars stuff from japan is pretty bad ass. or USA is a pretty good place too i hear


Join date: Jun 2009
20

IQ
VMNT by far!

24 frets, LiveWire pickups, ebony fingerboard, string-thru-body,...

Seriously, why bother with a Gibson if you could buy the Dean?

Or go for a Jackson like somebody else suggested.

Join date: Apr 2009
81

IQ
Out of those two, get the Mustaine
I would say the Mustaine, I have played one and let me tell you I am currently saving to make it my 3rd sig ever haha. Dean's higher end V guitars are among some of the best guitars I have ever played they all have a very nice feel to them. Plus i feel All gibson guitars are overrated I have owned 3 lp's and a v and needless to say i dont have them anymore tho one LP that my dad gave me that he got in the 60's was stolen or i would have that still and that one did play nice.