Getting a cab at ear level.

Join date: Aug 2008
210

IQ
I'm using a Classic 30 combo through an Avatar 4x12 and all I can hear is my crappy Blue Marvel when I'm standing. I have to duck down to hear my 4 awesome Eminence speakers which sound great with overdrive. Do you guys angle your cabs or somehow get it to ear level or do you just live with it?

I realize it won't matter for shows, but I like to hear myself at practice.

Join date: Aug 2009
10

IQ
Yeah same i have to be standing behind my amp sometimes for it to sound really beast.
its weird and sometimes i angle it aiming up.xD
it depends on your prefference.

Join date: Jul 2007
110

IQ
You can angle it by putting some carpet between the cab and wall and just leaning it on the wall, or if you have some sort of small but sturdy table you can put it on that to have it higher. I prefer having it higher up like on a table.
I put my AC15 on a TV stand when I kept it in my bedroom.
I set my AVT on a busted chair, that's missing the back. Dramatically changes the bass response.
Disconnect the speaker of the C30?

Join date: Aug 2008
210

IQ
Disconnect the speaker of the C30?
Wouldn't work. I'm running a 16 ohm 4x12 and a 16 ohm speaker in the amp which combine to form an 8 ohm load for the amp. So I'd need a new cab if I did that.
Get a better speaker for the C30? Maybe take the C30 down from on top of the cab?
I did this once on a conveniently-placed shelf.
It was both awesome and totally unnecessary.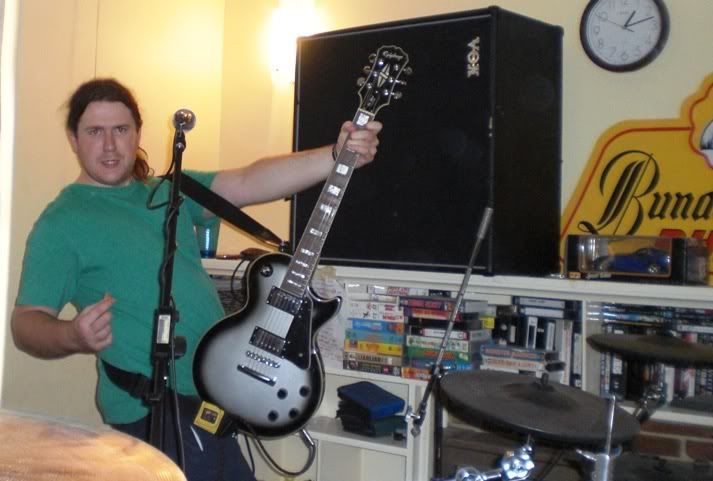 Swap the speakers?
+1
Or another idea that would require some easy modding an ingenuity is to make a small load box, add an on/off switch for it. After that, you wire the lead that goes from the amp into the loadbox. After that you make a new wire from the speaker and either make one with a lead that connects to the loadbox or sold it straight to the input. Then you could probably mount this little box in the amp chassis. After that, you can turn off the speaker and let the loadbox take the load (hence the impedance will match) but you can turn on the speaker too.
Last edited by Gabel at Aug 11, 2009,