Fretwork Primer
Alright, so there doesn't seem to be anything like this on UG currently so I thought I would share my method for fret leveling and crowning.
I want to preface this guide by saying a couple of ground rules for fretwork:
1.) You ought to practice on a junker or two before you actually do it to one of your nice guitars. And do it to your own guitars many, many times before you try it on someone else's guitar.
2.) Take your time. This can get tedious and frustrating but if you rush, your work will look, play, and sound like crap. So if you're not going to do it right, don't bother, because there is a very good chance you'll make it worse than it was.
3.) Don't be surprised if you have to repeat the steps to get the guitar playing perfectly the first time. Especially if you're learning from an internet tutorial instead of a real person.
So, with that out of the way, let's go.
To begin: why are we doing this?
Simply put, frets aren't very hard. Steel strings wear away and misshape frets over time. This means that some spots (under the strings) on some frets (the ones you play more often) end up lower than others. Our goal here is to remove enough material from the high spots (and high frets) on the frets to make them
level
with the low spots (and lower frets). Once that's done, we want to remove yet more material to reshape the flattened surface of the frets into something like an upturned "D" shape, or
crown
them.
What tools will you need?
A flat metal file (no handle)
A small, triangular file (with a handle)
Sandpaper (400 grit and up)
Fresh razor blade (or X-acto)
Masking tape
Buffing wheel and compound
Rags
Straight edge (18"-24")
The first step in the process is to check your neck straightness and make sure your truss rod is adjusted correctly. If the neck is humped or bowed when you level the frets, all of your hard work will basically have been wasted.
The second step to this process is to take the strings off the guitar. Having the strings off is a great opportunity to clean/oil the fretboard, but wait until you finish the project to do so!
Masking is next. This is a very frustrating but very, very important part of this process. Nobody is 100% accurate with a file, and masking the fretboard serves to prevent you from gouging it. Start by covereing the fretboard with masking tape from side to side, like so: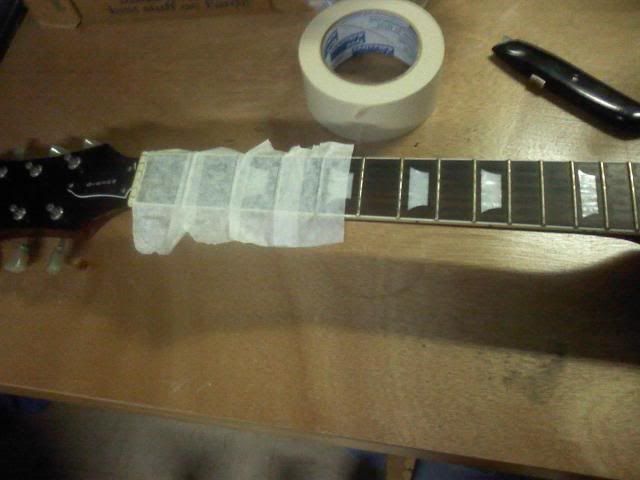 You can see in this picture how shot this guy's frets are. This particular guitar was used and abused at gigs and on tour for years by a friend of mine. He was convinced he needed a refret, but unless you have already leveled/crowned a guitar several times, there is usually enough fretwire left on the axe to do it.
Continuing on with the masking process: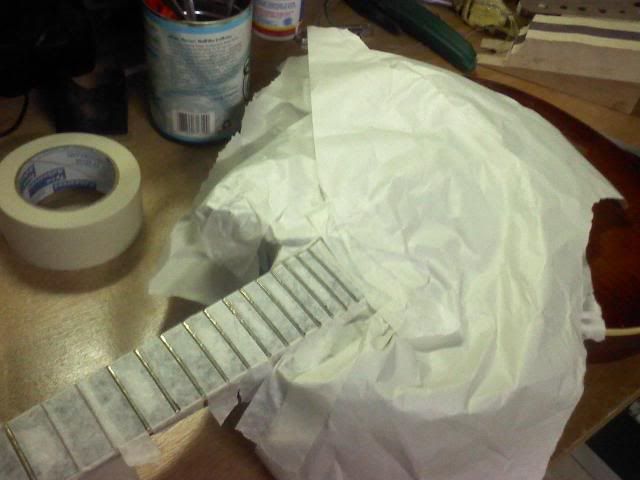 What I've done here is used the razor knife to cut the masking tape away from the frets themselves. Keep the tape and the knife out! As you go through this process, you will need to remask spots many, many times. It may be helpful to have a couple of different widths of tape around. Also, keep reasonably sized scraps because they can often be used to do spot repair.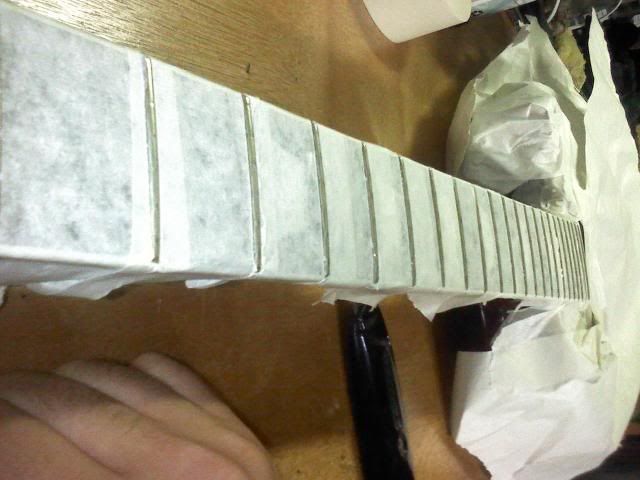 One more shot of the masking process. Always remember: you can not be too careful with someone else's guitar. A fret job will take you an hour or two, but fixing things you unintentionally messed up can take a lot longer. In this case, I covered the guitar with paper leftover from some veneers that I got via mail. I'm not sure if it shows in the picture but I also marked the location of the switch (this is a Les Paul) so that I don't whack it by accident.
Let's get started!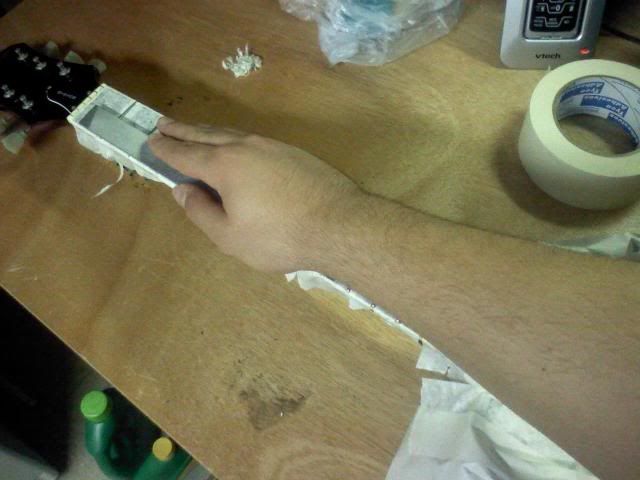 Take your flat file and run it lengthwise up and down the neck. The goal here is to cover the entire area pretty evenly, keeping the file flat and touching the frets at all times. Make your strokes as long as possible, and remember that you are only cutting on the "push" stroke, so there's no point in going back and forth quickly.
Be sure not to get hung up on one area or one side-- you need to cover both the higher frets and lower frets on both the bass and treble side. ONLY GO UP AND DOWN THE NECK WITH THE FILE. Do not file sideways ever, even if it seems like one fret needs "special attention"... its neighbors need to be in line as well.
Keep in mind that the lower frets will generally have more damage, and the higher frets will be higher as a result. You will need to take more material off the higher frets as a result. Check often with a straight edge to see if all of your frets are level.
The file will move noticably easier and make a different noise when you are almost finished. It's a "feel" thing-- I can't communicate this well without demonstrating it. If you're not sure, check again with a long straightedge.
One more thing: It looks and feels like you are taking a LOT of material off your frets, but it's really only a few thousandths of an inch. It's much less than it looks like, but you won't notice until the project is finished. Don't worry! Your jumbo shred frets will not end up feeling like a 60's Gibson.
Here's another shot, mid-leveling
You can see the flat, shiny area on top of the frets. If you look closely (dunno how well the pic shows it), all of the scratches go "north" to "south"... keep this in mind for later.
Here's how you check with the straightedge. This shot shows that some frets appear to be very slightly low (1/64" maybe?)... this is indicative of a fret higher up the neck being too high. This causes string buzz, and makes it so that you can't get your action to its absolute lowest.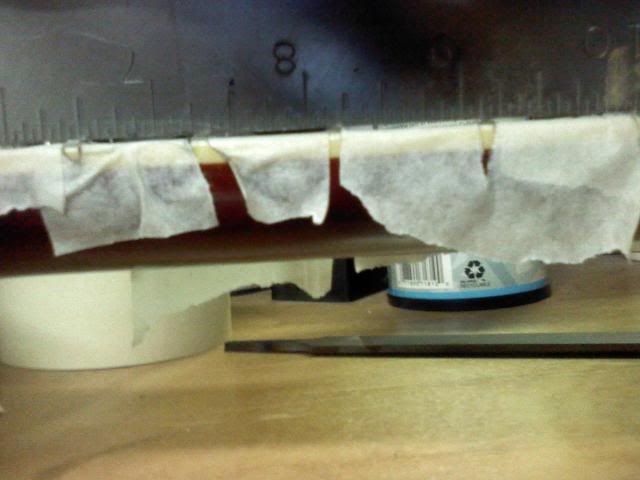 Once the frets are level, we can begin the crowning process.
Remember all of those "north to south" scratches? We are now going to concentrate on each fret individually and work "east to west" Using the triangular file, begin working at fret one. The action here is filing across the length of the fret in order to take the corners off... we are transforming a flat fret (looks squarish from the side) into something that looks more like an upturned D or the top of a mushroom.
Again, work slowly. Only the push stroke matters. Let the file do the work (don't push too hard!). As you file, it will put "east-west" scratches into the fret. Working on both sides, file the corners of the fret down until only a very thin ridge of "north-south" scratches remains. The process sounds simple but can be incredibly frustrating.
Example: the top 2 frets are crowned, the bottom is not.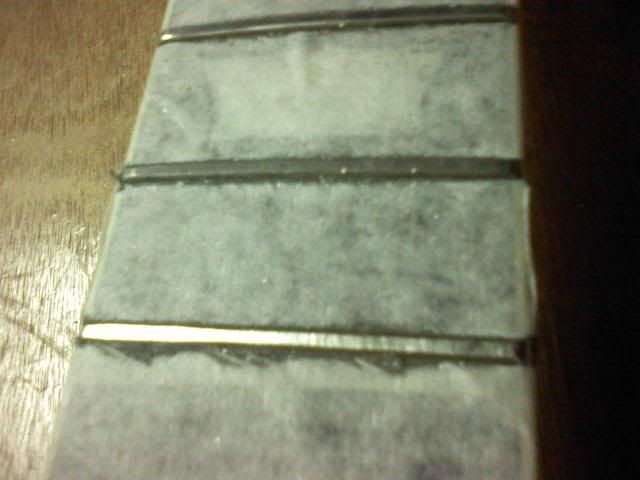 During this part of the process, you will scratch, peel, and generally demolish your masking tape. Fix holes as soon as they start-- these things don't get better as you work, only worse. By the time you are done, your masking tape will look like a mismatched patchwork of clean and dirty tape. This is ok.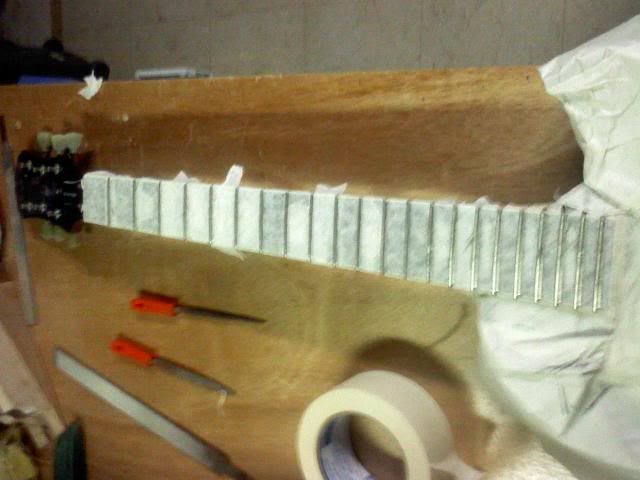 When you get to fret 11 (12 if it's a 24 fret neck), get up and walk away. Make yourself a sandwich. Have a cold beverage and sit out on the porch if it's nice out. Take some time to compose yourself. When you're ready, grab a good cd and head back to the workshop.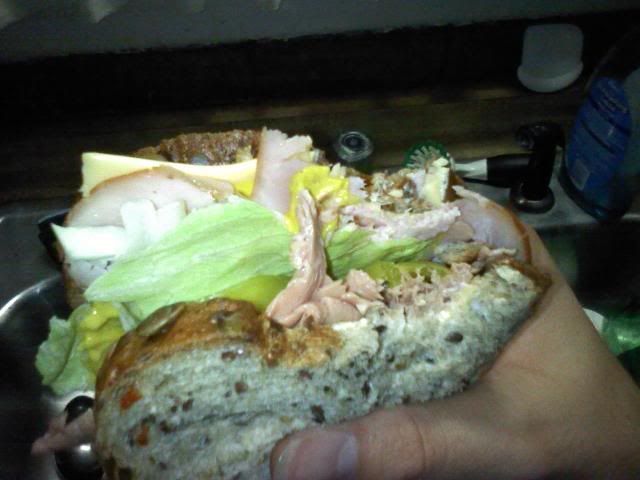 Delicious!
Back to work! When you finish crowning, we can start the final process, which is refining the finish.
Last edited by Rebelw/outaCord at Aug 12, 2009,