NGD-FenderAmStd and GC buying lesson
this is my first american standard. i used to own a mim, but never really felt it was a solid performer. but this one is great. i know alot of people debate over the mim vs mia and how they are supposedly just the same. the mim's are definitely good guitars, but you can certainly notice a few differences with the mia. whether or not those differences are worth the extra money, is personal preference. to me, its worth it.
color is charcoal frost metallic. in person, the color looks much better than online pics. hopefully this will be one of those rare colors 30 years from now. i was thinking about changing the pickguard in the near future because im not fond of white, but not sure what other colors would look good with it. any suggestions?
also, bought this from GC. the main reason was because i have ordered my last 3 guitars online, and 2 of them had to be exchanged because the first ones i received were not up to par. so i figured if i ordered in the store, they would do a better job of finding a nice one to ship, or at least, when it arrived i could show any problems to the store personnel and have them ship it back, possibly saving me some time and hassel. well...some of you probably know this already, but i didnt. GC stores and GC online are essentially separate entities. so inventory and shipping times online are very different from the store. the online orders are filled from the same warehouse as musicans friend, the warehouse is located in kansas. however, if you special order through the store, it generates a manual purchase order that is faxed to the fender factory (or manufacturer you ordered from). so the wait time for my guitar was almost two weeks. if i had ordered it online, it would have been 2 or 3 days. but, i did feel alot better about it coming straight from the factory rather than some collective warehousing depot. the crazy thing was reading the tag inside the case where it shows the date it was assembled, shift, line number, etc., and seeing that it was assembled in mexico. lol just doesnt make sense, manufacture everything here and then send it all a 1000 miles away to be put together.
tried to reduce size without making the color indistinguishable. they are still huge. sorry.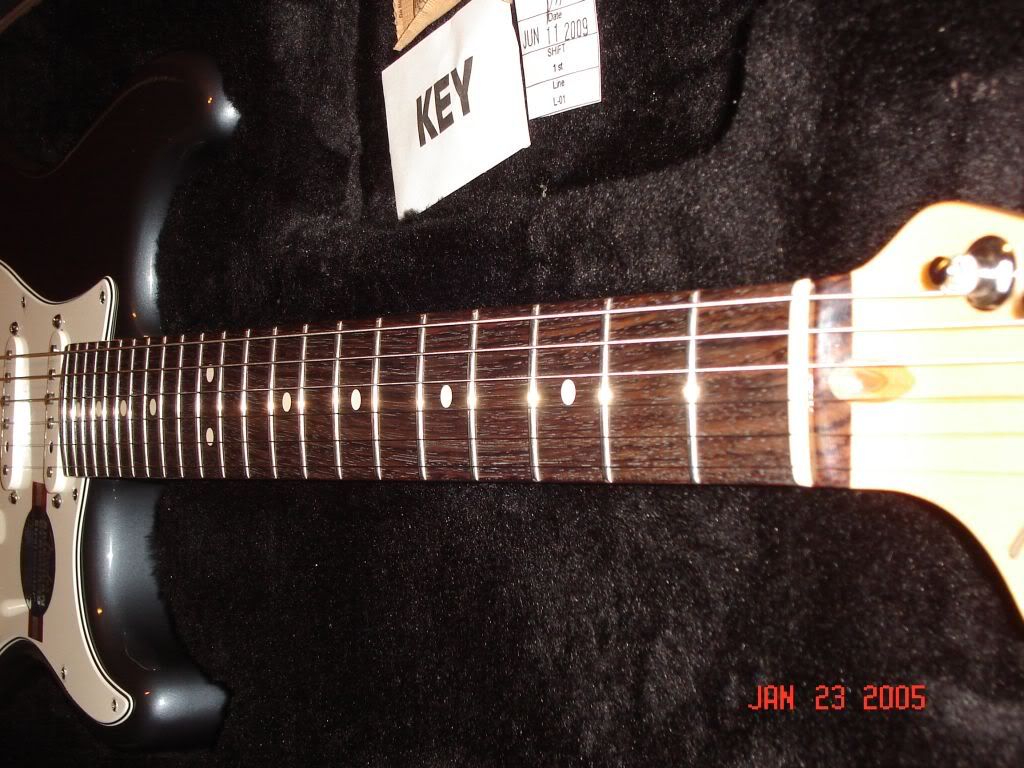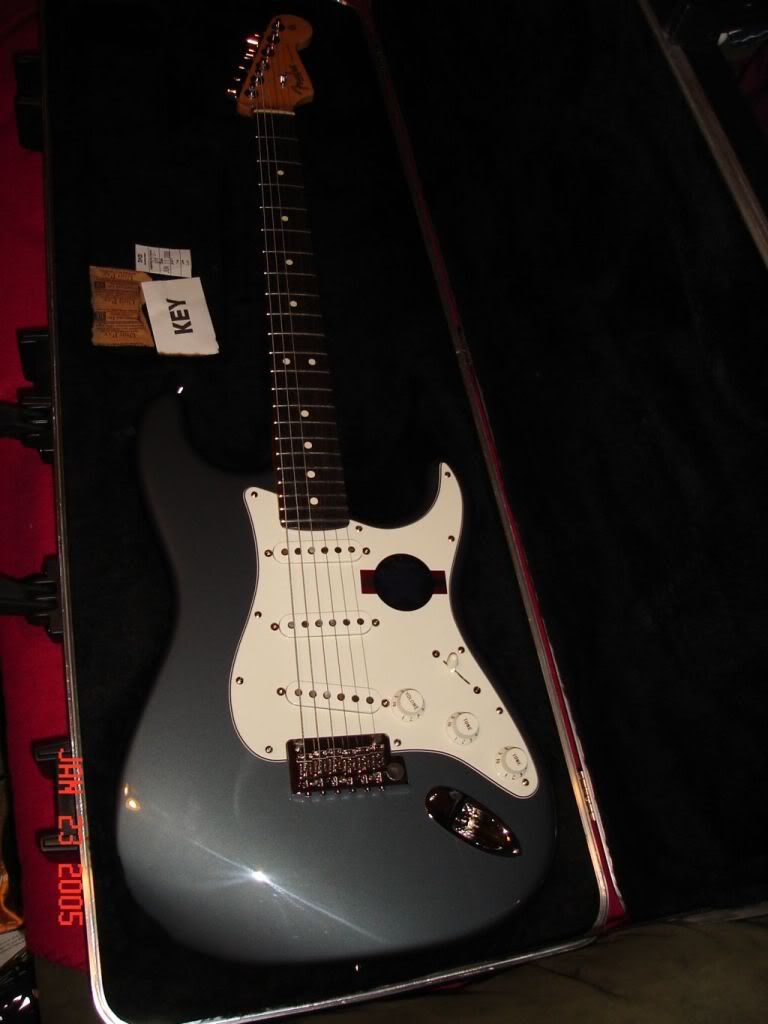 Join date: Nov 2008
600

IQ
That color looks ill. Love it. HNGD!
HNGD!!!

Very nice. It's hard to appreciate the body color in the pictures, but I think it's a pretty cool color.

But I love the fretboard, it looks soooo nice. Love rosewood..


Pearloid Fretboard...
Last edited by jonmo1 at Aug 14, 2009,
Happy 4 year old guitar day

Happy 4 year old guitar day
lol yeah the camera i used has had a rough life. eventually i gave up on keeping its date setting current.

Join date: Feb 2008
20

IQ
HNGD!
That's a sweet thing

But, let me get this straight... Your MIA Fender was actually assembled in Mexico from MIA parts? Go figure...

HNGD!

That's a sweet thing

But, let me get this straight... Your MIA Fender was actually assembled in Mexico from MIA parts? Go figure...
Yeah something about that just isn't right.

Join date: Feb 2009
40

IQ
I love that finish, HNGD


Join date: Feb 2009
100

IQ
Finish is sweet
HNstratD

Because it's cheaper to be made in Mexico, I guess.
It can still say MIA because it was, quite literally, made in the US, just assembled in Mexico


Join date: Oct 2008
550

IQ
Absolutely beautiful. How's she sound?

Also, for the pickguard, black and tortoise-shell always make everything sexier.
Absolutely sick finish dude. That has to be one of the sexiest stock Strats I've seen in a while! Now if only they would start finishing the American Standards in nitro instead of poly....

I'd suggest either a black 3 layer guard or a black pearloid guard and perhaps a switch to black knobs/pickup covers.
thanks for all the comments guys. and im glad to hear suggestions of black for pickguards. that was my first thought, but wasnt sure how it would look and my photoshop skills are subpar.

as far as how it sounds, i love it. most of my other guitars are dual humbucker and/or active pickups. so playing clean stuff with the strat through my hot rod deluxe...its incredible. the notes are so much more full and colorful. ill sit and play a phrase over and over just to bask in the tone lol. ergonomically its hard for me to get used to the neck joint, seems a little big and keeps my smaller hands from reaching the higher frets without adjusting my grip. other than that, it is super comfortable to play. although i was frustrated with the volume knob being so close to where i normally anchor my picking hand, after awhile i got used to it and for some songs i enjoyed the volume knob being so accessible.

my favorite part by far, is playing all of those classic songs that were recorded with strats and being able to hit most of those tones spot on.

Join date: May 2009
10

IQ
Hey man nice guitar day! But isnt that a MIM stratocaster bridge...its the same as on mine. did they change the bridges?

Join date: Oct 2008
40

IQ
HNGD mate. Looks absolute beast

Join date: Dec 2006
30

IQ
looks nice!
I'd go with a tortoise-shell pickguard


Join date: Sep 2007
40

IQ
Hey man nice guitar day! But isnt that a MIM stratocaster bridge...its the same as on mine. did they change the bridges?
No, that's a 2-point bridge. MIMs are the 6-point vintage style.
Tortoise Shell or Pearloid, anything else, you don't win. Anywhoo... Beautiful NGD, that is one of the sexiest strats I have ever seen, maybe even sexier then mine :0 So HNGD, and hurry up with that pickguard. JK

Join date: Jan 2008
390

IQ
O my god thats sexy! HNGD!
When I got mine, I thought, oh why not pay the tax (the threw something in to alleviate it) to know what I'm getting.


HNGD!

Join date: May 2009
10

IQ
Oh sorry just looked closer and noticed

Join date: Nov 2003
90

IQ
What a beauty. Just a tip- use tinypic.com to resize pictures- they are enormous! Congrats on your new addition

finally popped a string on this thing. gave me an excuse to change out the pickguard, et al.
so...fyi and those curious what fender's charcoal metallic frost looks like with a black pickguard:
i prefer it much better to the white...but thats just me.
(cell phone pics...didnt feel a need to go all-out simply for this)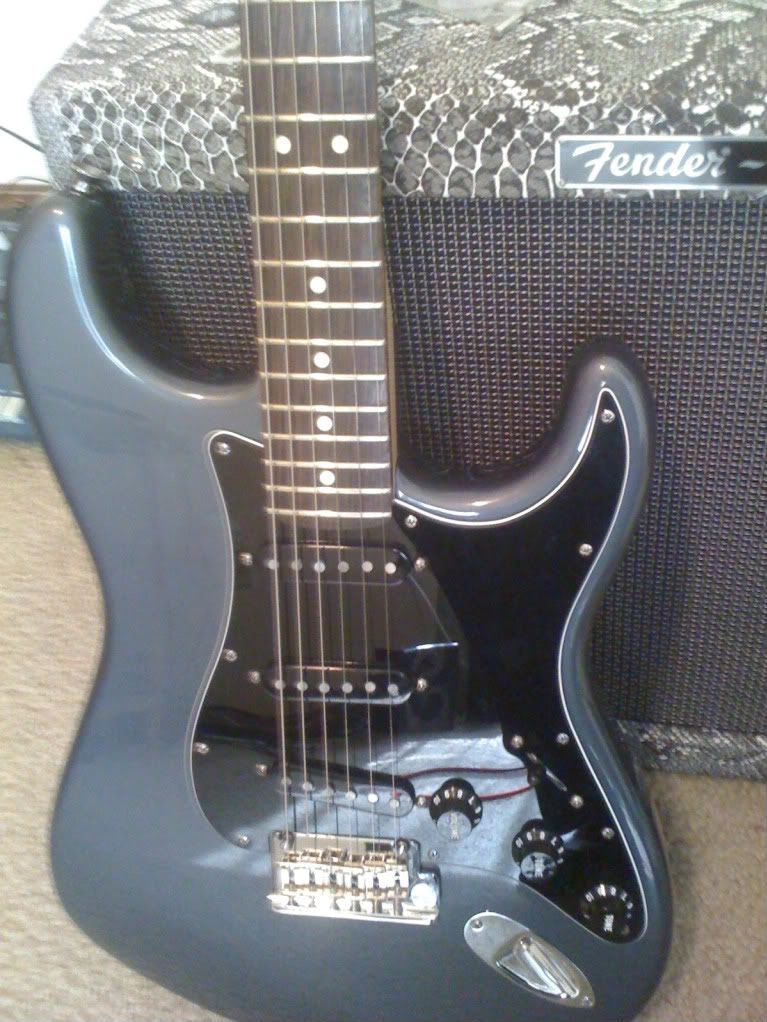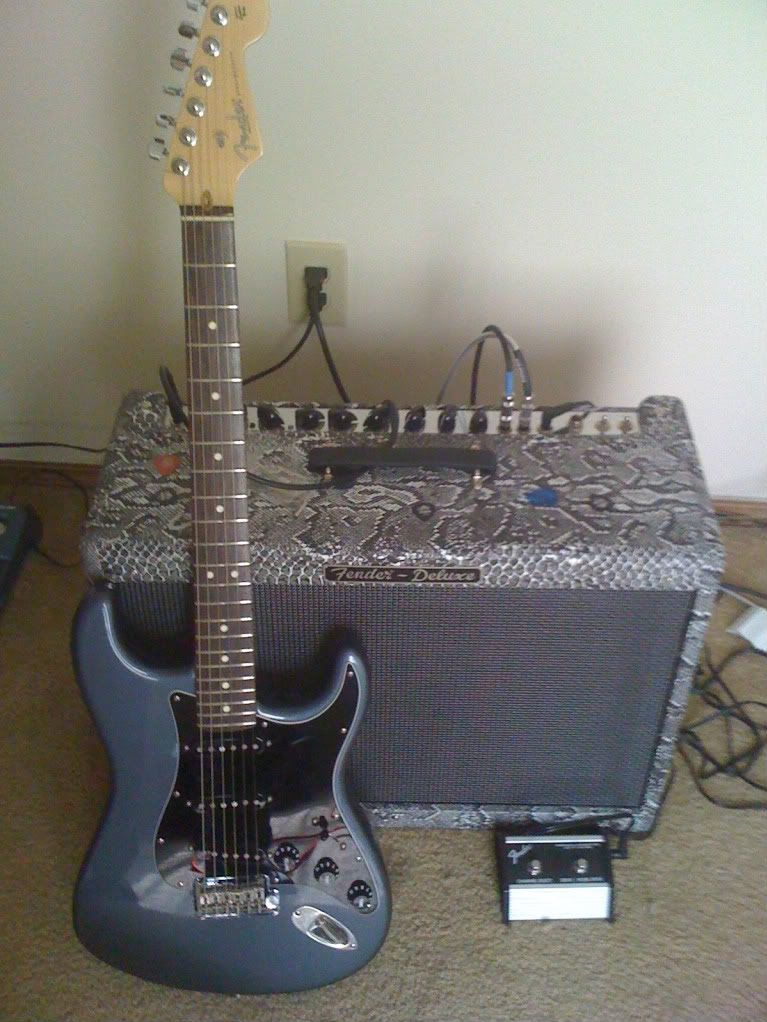 just awesome...

i'm about to sell my mia because the body is black, i'm bored of it...