tele with matching maple veneer ?

Join date: Aug 2005
30

IQ
im building a tele ,i guess more of a hotrod tele with a maple top i have a matching peice of veneer already glued on the headstock .i was wondering what to do with the neck would leave the neck natural maple color or dye it black or the same crimson red as the guitar , the pic is just a couple coats of sealer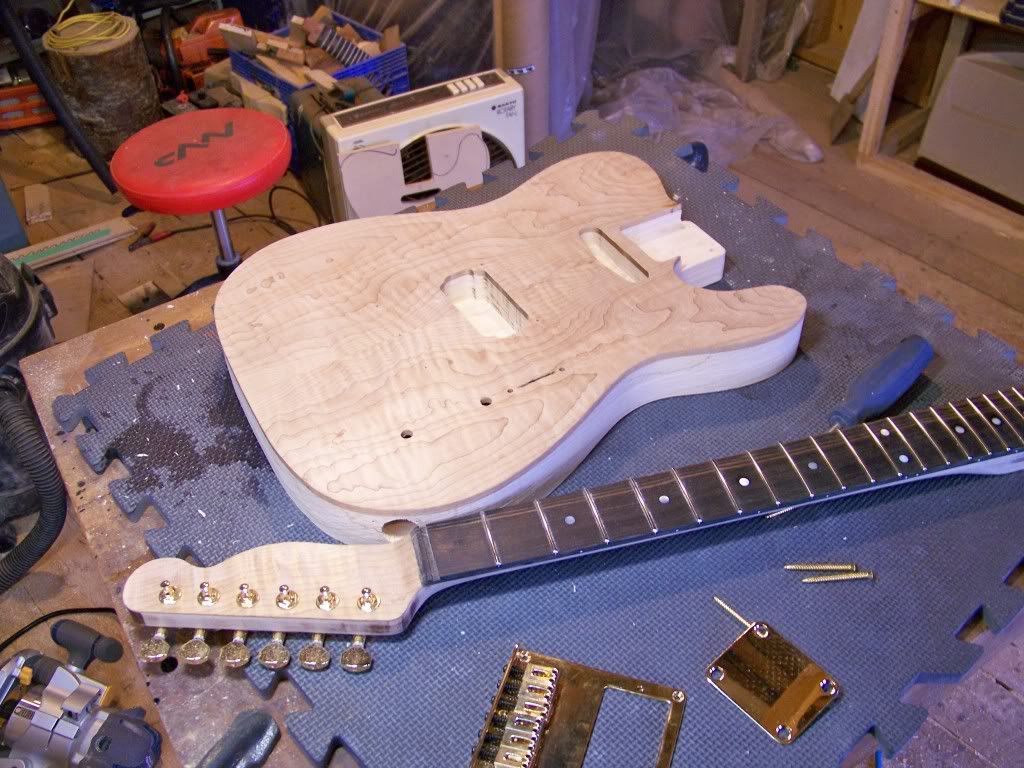 Last edited by copperhead at Aug 15, 2009,
The headstock should be the same red.


Join date: Nov 2007
120

IQ
By neck do you mean just the headstock? Or the whole neck. If its just the headstock, I'd dye it to match the body. That thing looks sweet, love the colour.

Join date: Apr 2009
20

IQ
I'd say leave the back of the neck natural, but dye the headstock.

Join date: Aug 2005
30

IQ
sorry man!! you get replies here very fast but i already have the headstocked dyed red to match the body but the NECK is still natural maple i was getting ready to apply the finish on the neck and i got to thinking of leaving the neck natural,black or red ?
Leave it natural, it creates a nice contrast to the red.
Also, quick answers are what we do.


Join date: Dec 2008
40

IQ
leave it natural, its unanimous.

Join date: Mar 2006
60

IQ
Red matching headstock. Yeah, I went there.

Join date: Dec 2008
40

IQ
Cedric, we (most) of us (i assume) are okay with the red matching headstock (which he already did), were talking about a red matching neck.

Join date: Mar 2006
60

IQ
I read this too hastily. Is you neck flamed maple? If it is, it would look sexy to dye it black, then sand some so the grain pops, then dye trans red. I am not a fan of painted necks because they tend to be too sticky feeling. But you can dye it and still retain smooth feel. Hadalet did one like that with black and yellow a couple years ago and it is my favorite looking neck ever.
Last edited by cedricsmods at Aug 16, 2009,