broken input jack(wire)
hey guys I just plugged in my Cort and it wasn't working so I checked the usual suspect(the input jack) usually the piece of metal that touches the guitar lead bends back somehow but this time the bare wire was broken I cant fix it till I get some solder but I just wanna know how i happens and if you guys have any experience with this


Join date: Dec 2008
30

IQ
just get the solder and fix it, there could be any number of causes make sure your soldering produces a good joint (the amount of peeps i`ve seen who say they can solder but actually can`t)
I can solder when I repainted my strat and re soldered the ground and input jack they have played without a problem for what is now a few months at least

Join date: Jan 2009
20

IQ
I had this problem too...I think it that my input jack was loose but i don't really remember!
If your input jack becomes loose and you continue to finger tighten it, it's possible you can rotate the inner workings of the jack and eventually just rip the wires apart at the solder point.
If your input jack ever becomes lose the best thing to do is to tighten it while holding the inner portion still, like shown in the picture.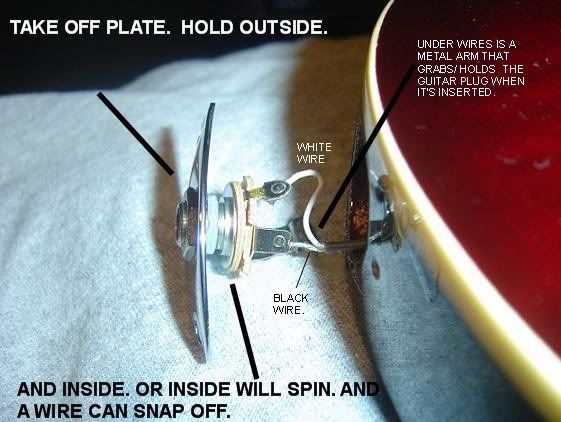 well me and my dad fixed it (the only reason I needed a second person was because there was barley enough wire there) but we got it and I burnt my finger in the process so all in all a good day lol