USA, SoCal, For Sale: Schecter C1-fr, body, neck, ibanez sz320mh
I have a few things up for sale I wanted to give you folks on the forums a shot at this first before I take it to eBay:
Schecter Body
-- $70 shipped & paypal'd
Well unfortunately I no longer have much time to work on my project and it has gone neglected for far too long.
So up for grabs is an older schecter omen body in walnut. I bought this body off of eBay about a year ago in hopes of saving it from certain doom. It had a really bad carving on the front, yes someone tried to carve a horrible drawing in the front (can still see part of it in the pics). I tried to sand the front off to do a tru-oil finish, but since I had no electric sander, sanding it by hand was very time consuming. So here it is my unfinished project:
front: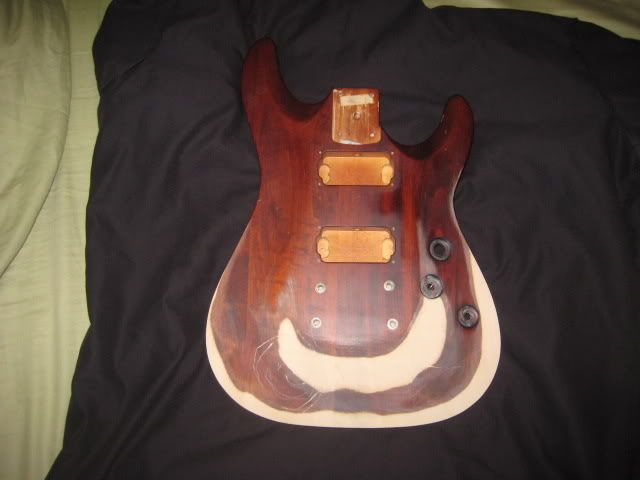 back: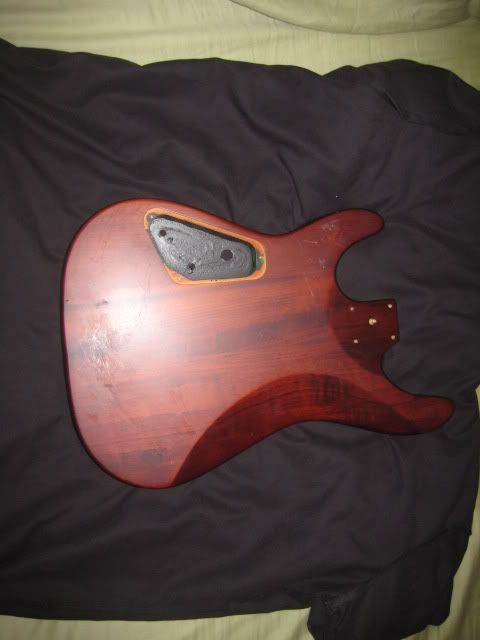 Also note, this is an older schecter body before they started stringing the strings through the body, you can probably buy the tune-o-matic bridge off GFS, I just never got around to it. No electronics or hardware included, just the body.
Schecter Neck
-- $60 shipped & paypal'd.
Now I also have an older schecter neck made back in '99. I was never really able to find the model this came off of but I really liked the fact that it had 6 tuners in line instead of a 3-by-3 tuners. No locking nut came with it or tuners. It is 25.5" scale, 22 frets, diamond inlays (which i really like), maple neck with rosewood fretboard, unpainted but very very smooth, 2 3/8" heel and a very small chip at the tip of the headstock.
front: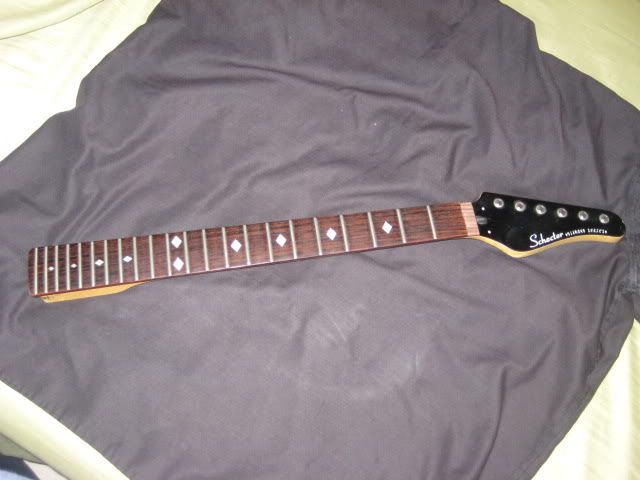 back: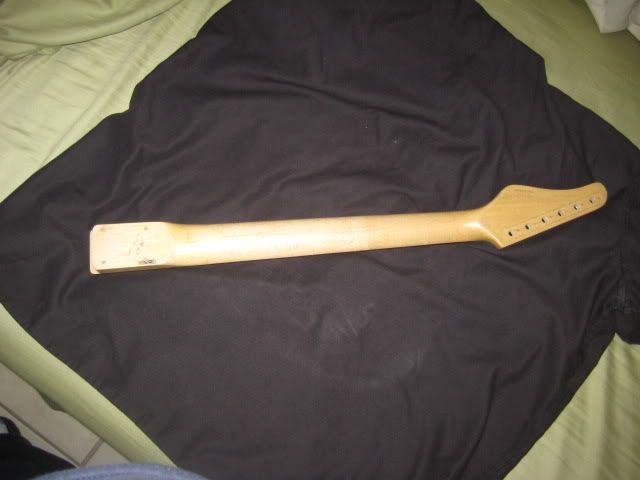 headstock: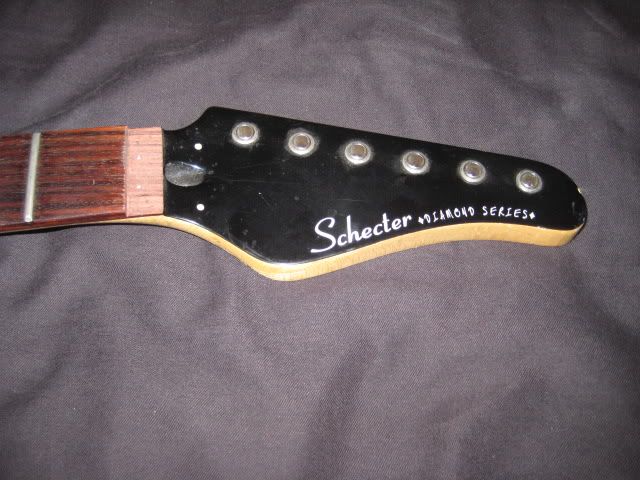 Ibanez SZ320mh
-- $220 shipped & paypal'd
I also have an Ibanez sz320mh with a set neck ("natural" finish) that I bought on HCEG back in december, I installed all the electronics and played it for maybe a few hours, but I had to move and the electronics were sold. What did stay on the guitar is the nice hardware: a Gibraltar III bridge and grover tuners (so no electronics). I really loved this guitar but sometimes you gotta let things go...
nice review from guitar world:
http://www.guitarworld.com/article/ibanez_sz320mh_electric_guitar
front:
heel: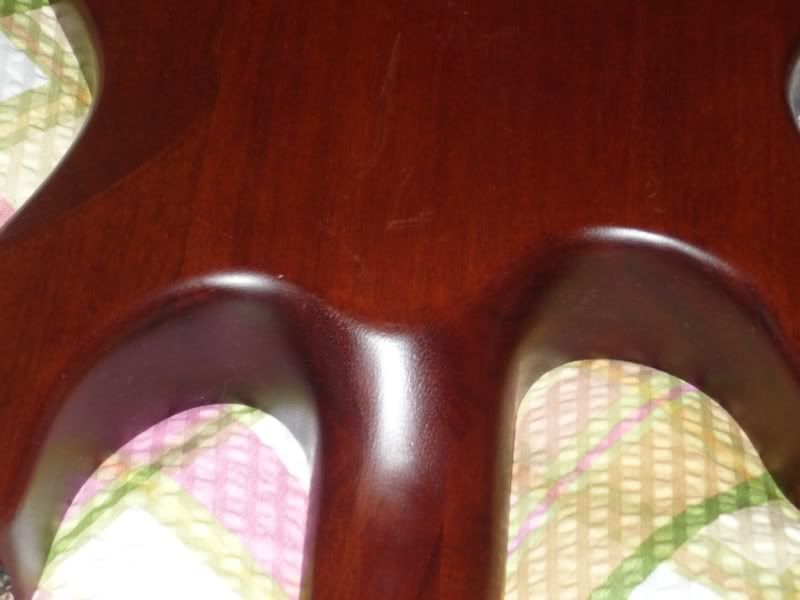 Schecter C1-FR
-- $390 shipped & paypal'd
Talking about letting things go...
I also have a very very nice Schecter c1-FR in black.This was an impulse buy of mine since I really liked my c1 blackjack I wanted something similar but with a floyd rose and the c1-FR was my answer. The thing I really really like about this schecter more than the active HB-105 duncan designed pick-ups is the unpainted neck. Comparing my blackjack to the c1-FR I can see where people complain about schecter's painted necks being "sticky", the unpainted one is really smooth and easier to navigate. This guitar is as heavy as my blackjack, and stays in tune just as well, the tremolo has never given me any problems whatsoever. It is used very light scuff marks by the knobs, most of the plastic covering on the backplates is still on there.
specs on MF:
http://guitars.musiciansfriend.com/product/Schecter-?sku=518491
front: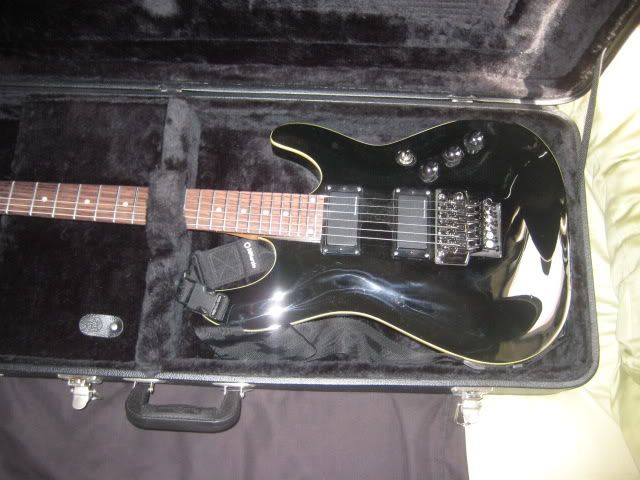 headstock: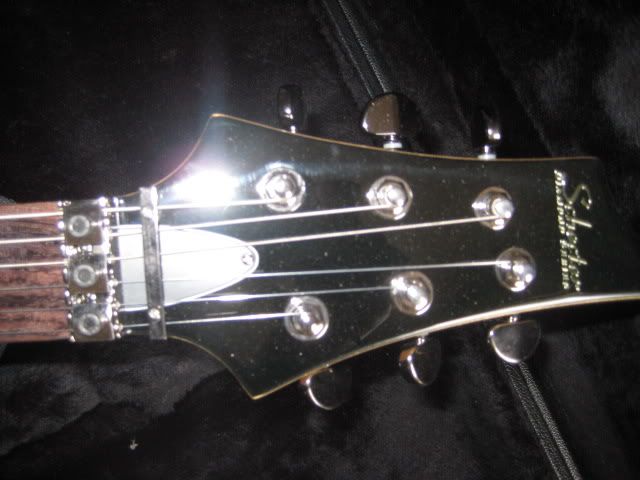 back neck:
Ok so there you have it.
I've lurked here for a while posting now & then. You can also look up my feedback on eBay screen name: dark_hell_fire (100% positive, no negatives)
Shipping:
I always ship stuff out within two days of receiving payment. Either USPS priority +insurance + tracking or UPS. I usually over pack stuff so everything gets to you intact ( I used to work at UPS so I really know what abuse alot of packages go through.).
Payments:
I accept paypal and will consider trades I currently have strat gas, but I will always consider a nice schecter (yeah I like my schecters!). All prices Or Best Offer.
Contact:
If you need more pictures or have any questions just shoot me a PM, i check UG & HCEG throughout the day. This for sale thread is also posted Harmony Central and might get posted on eBay if theres no interest here.