Your history of guitars?
Ok, so this thread is to tell people your history of guitars.
My first guitar, a Jay Turser JT50, for $70. it is amazing.
After some time, I decided I wanted to get another guitar. So, being the stupid inexperienced guitar player that I was, I bought one from an eBay Store. Stupid.
I played it, thought it was THE ****, then I played my other one again, then dropped the "the."
I sold it to Darkarbiter7 and $175, and then bought his LP100.
It was nice, but I guess I got tired of it.
I took it to a guitar shop to see how much money I could get out of it, and they told me probably about $50, seeing as how they were $150 new. I believed it. Just a few minutes ago, I was looking at the guitars and saw they are $399 new.
While I was there, I asked my guitar teacher who works there about a guitar he said he wanted to show me. He said he sold it a while back, but they had just gotten a JS100 in. I asked him to see it, and fell in love.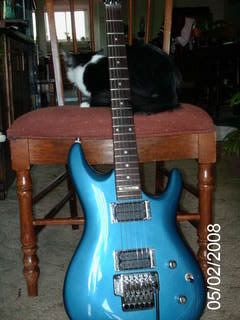 I bought it. I was extremely happy. I played it in our van, since I was too excited to wait, and got it out. I strummed a D chord and the low E snapped. I didn't know anything about a Locking Trem, I freaked out and thought I broke the guitar. I was crying.
Anyway, I went home, put the LP on ebay, and sold it for $240.
All was good for a while.
Not too long ago, we went back up there I had set it up professionally after I had been having troubles with the Trem) and saw a AFS75T on the wall. Of course, I asked to see it.
I bought it.
It plays amazing. And, after a few days, we went to my grandpa's house. My Great-Aunt was selling an Old Kraftsman acoustic. She gave it to me.
It's now on eBay.
And That, UG, was my complete history of guitars.
Last edited by Angus_Junior35 at Aug 19, 2009,