The Hugging [WE JUST WANT TO COP A FEEL] Thread Mark III
Told You We'd Be Back
Alright everyone, you know how this works, it's the Hugging Thread. Now I checked with Carmel to see if this could happen and she gave me the okay on one condition. NO SPAM. No having meaningless conversations, this is the hugging thread and people come here for comfort and advice, that's the most important thing. Now I'll be patrolling the thread and if I see any spam I won't hesitate to report it just so we can keep this thread open, so play nice okay?
But Sam, What is the Hugging Thread For?
The Hugging thread for those of you that don't know is a thread where people with problems or issues that they want to talk to someone about go and just bear it all. Now if you're not bearing it all, you're here to help, give some advice if you can, and just let the user know that you're there for them. I've seen this thread work miracles for people so be caring, help if you can, and just make sure this thread stays open as it's an important fixture for the Pit.


Alright, who needs a hug?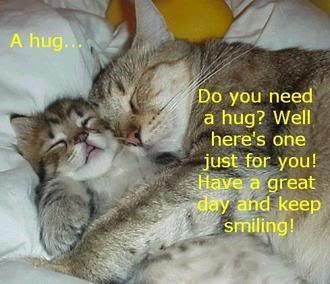 My MSN addy is dontaskmeimnotadoctor@gmail.com if you need to talk to anyone, I'm not exactly on all the time, but I'll try and be on more. So drop me a line if you really need to talk okay? Cheers.
Last edited by wizards? at Aug 28, 2009,