WooT NGD!!(pics)
WOOO! New Guitar day and guess what. IT'S A SCHECTER. (sp?)
Anyways, I actually got it a couple days ago. Just had no camera.
So here it is in all of its beauty.
THE DAMIEN 6! (w/o FR)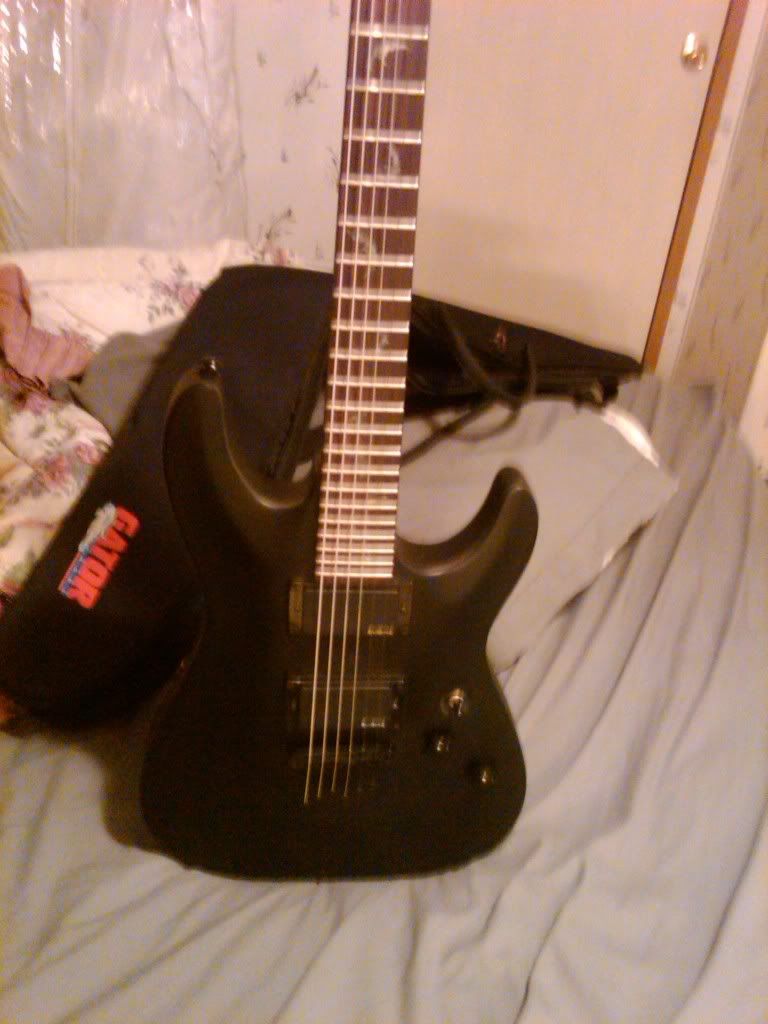 And here is the crappy Kustom 12 Gauge amp I got with it.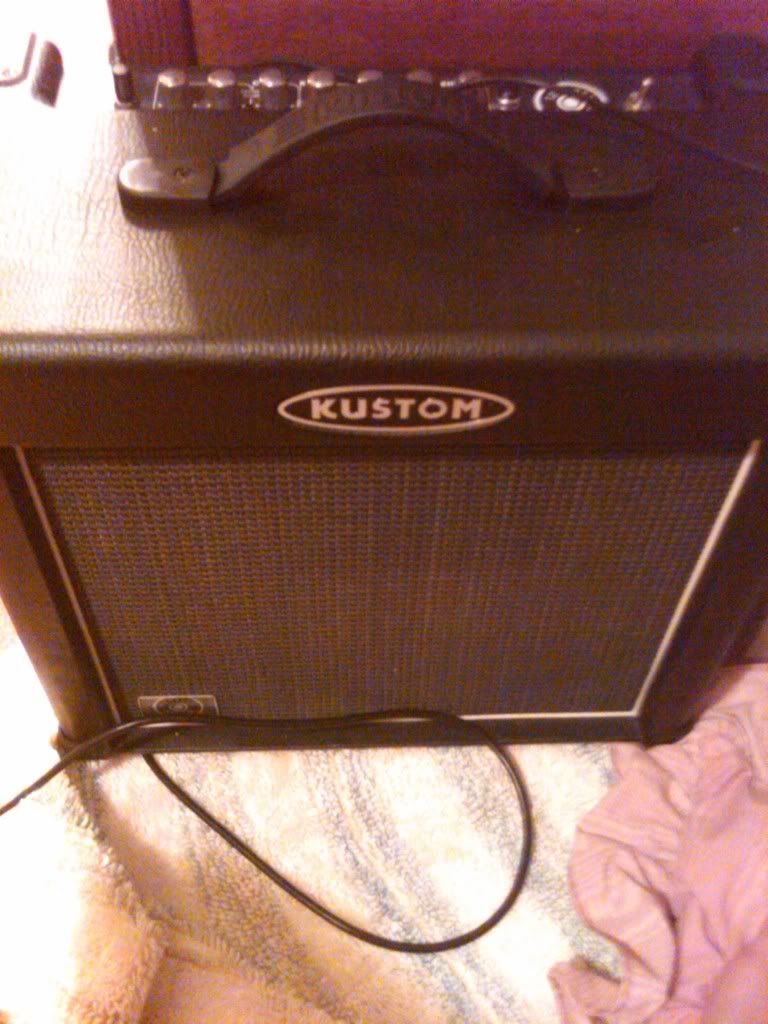 To everyone. I reccomend the guitar hands down. It's high class for its price. ($400 New w/o FR)
The amp on the other hand is absolute crap and I feel sad for having to play this beautiful guitar thru this crap amp.
Save money and get a Peavey Vyper for a starter amp.
100 bucks and nice with some decent built in effects.
The amps distortion is horrid just a fyi.
In closing. Thanks for looking at the niceness that is me geetar!

EDIT:: Sorry for huge size and horrible pic quality. Taken from my phone.
Last edited by FingersOfNewby1 at Aug 23, 2009,

Join date: Jul 2009
30

IQ
i just tested that guitar out at guitar center today- that thing is a beast- it held up to the loudest and heaviset stuff. like the finish too.

you should get a peavey, especially if you play heavy stuff like me (punk and metal).

just be cautios- they inlays can be slightly confusing. clean doesn't sound bad either, but its not a WOW clean tone

not to bad for low tuning
Last edited by PUnkMetaL00 at Aug 23, 2009,
very nice...but did you honestly asked for spelling on Schecter when it's written right on your headstock? haha
HNG/AD!

At first, I thought you had actually gotten a Paul Allender PRS because of the inlays

Haha. Thanks everyone but yeah I had a brainfart Chuck. It does stand up to the heavy stuff very nicely.
Im in the process of saving up enough cash to get rid of the kustom and grab a vyper.

(noob at guitar store tried to talk me into the extra 30 for a spider. I was like. PHAIL)
awesome man, glad your satisfied. I just traded my Schecter C-7 Hellraiser for a Peavey 5150 head. The guitar was great, just in the mood for something else. I am very impressed by every Schecter I play so I'm sure yours is no different. Good luck finding an amp bro. If you just practice in your room or whatever look into the Roland Micro Cube if you play hard rock/metal. The rectifier setting on it is damn good for a 2 watt, 125 dollar amp. It is what I use when I'm at school and don't have my stack and I'm satisfied (it does cleans and some blues/classic rock damn well too, I just use the rectifier setting the most).
I took a look at the micro cube. Looks nice. Might test one out later.


Btw I forgot to mention I only payed 425 for both.
good deal bro. The Micro cube is a great practice amp be sure to try it at Guitar Center next time you go.
Join date: Nov 2003
90

IQ
I dig the inlays. Congrats on your new addition!

Join date: Aug 2009
253

IQ
i personaly prefer the hellraiser over the damien

Join date: Aug 2008
10

IQ
upgrade those pickups. hngd.

Join date: Mar 2009
20

IQ

Hngd! How is the neck, i've heard that they can be a bit ChUnCkY.
hngd

a set neck damien would be pretty cool, with a satin finished neck.


hey don't diss kustom. I started with one and I liked it a lot, for what it was.
Nice, inlays look awesome. At first I was like :O more PRS to make me sad that I'm poor