Red or green?
View poll results: Red or green?
Identical guitars except for the Wilkinson and the colour.
If you ignore the fact that the green has a Wilkinson, what guitar would you have?
(there are different pups in them atm, but ignore that too)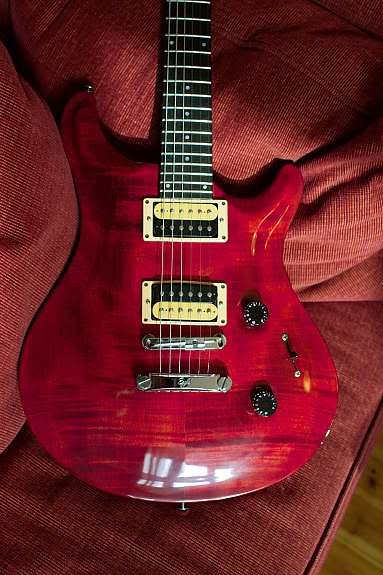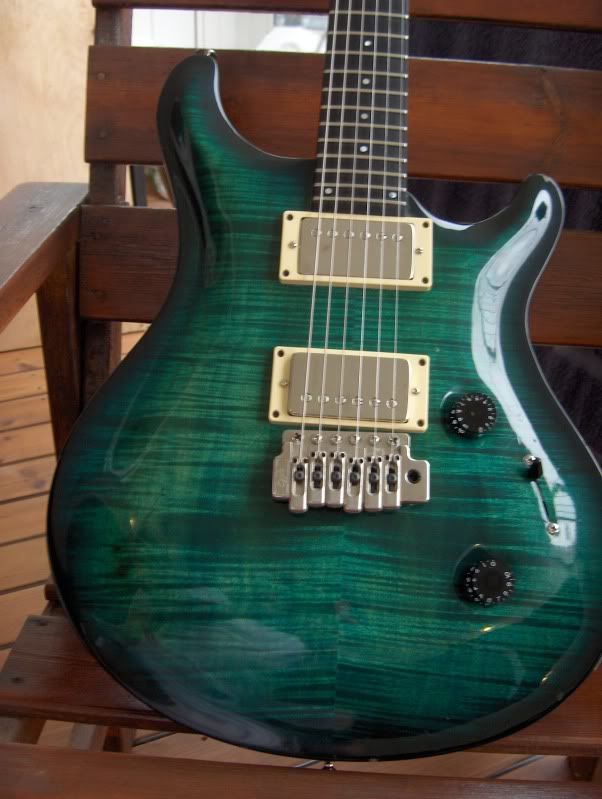 Join date: Jul 2009
50

IQ
Greeen!

Are those PRS Custom 24's?

Join date: Oct 2008
10

IQ
They are Patrick Eggle Vienna guitars. A plus and a Pro.

Join date: Aug 2009
10

IQ
What amp du you have? What styles do you wanna play?

Just kidding...
Green...

Join date: Jul 2009
40

IQ
i prefer green. but the green also has covered pups so that makes the two different a little bit. i think i would pick green either way.
Green.

Not just because it's green though.
The Flame Figuring is MUCH nicer on the green one.

If THAT one was red, I would still pick it over the other one.
I prefer TOMs with tailpieces...

Join date: Nov 2008
30

IQ
green! But i dont like red, and green is my favorite color! So im biased. LOL
Well, i have the red, and a dude i know have the green.
I want a wilkinson, and he hates green, so we might change guitar (without pups, he has some bare knuckles in the green one he wants to keep)

i'm leening towards changing guitars with him now.
I like the red one, so I guess I'm just a communist.
I like the sort of fireglow effect on the red one. For me, the green is a little to far towards the blue.

Join date: Jul 2009
40

IQ
Ggggggggggggggggggggggggggggggggggggggggggggggggggggggggggggggggggggggggggggggggggggggggggggggggggggggggggggggggggggggggggggggggggggggggggggggggggggggggggggggggggggggggggggrrrrrrrrrrrrrrrrrrrrrrrrrrrrrrrrrrrrrrrrrrrrrrrrrrrrrrrrrrrrrrrrrrrrrrrrrrrrrrrrrrrrrrrrrrrrrrrrrrrrrrrrrrrrrrrrrrrrrrrrrrrrrrrrrrrrrrrrrrrrrrrrrrrrrreeeeeeeeeeeeeeeeeeeeeeeeeeeeeeeeeeeeeeeeeeeeeeeeeeeeeeeeeeeeeeeeeeeeeeeeeeeeeeeeeeeeeeeeeeeeeeeeeeeeeeeeeeeeeeeeeeeeeeeeeeeeeeeeeeeeeeeeeeeeeeeeeeeeeeeeeeeeeeeeeeeeeeeeeeeeeeeeeeeeeeeeeeeeeeeeeeeeeeeennnnnnnnnnnnnnnnnnnnnnnnnnnnnnnnnnnnnnnnnnnnnnnnnnnnnnnnnnnnnnnnnnnnnnnnnnnnnnnnnnnnnnnnnnnnnnnnnnnnnnnnnnnnnnnnnnnnnnnnnnnnnnnnnnnnnnnnnnnn

Join date: Aug 2009
50

IQ
I like red a lot, more than most, but that green is damn nice
That green looks really nice.