Ngd II
OK, guys here is another new guitar I got. It's a Jay Turser JT-220 CS I picked this up on Ebay as a project guitar for $20.00 and change. It was totally stripped down to the bare bones. It needed a nut and a couple frets as well as all the hardware. I was lucky to have the complete set of hardware from a Stellar LP copy I scored on Craig's list for free! So this guitar cost me about $5.00 for the fret material, a couple bucks for a new nut and a set of strings. So it topped off at under $35.00. It took me about a day to get it all together. I took my time. Now that it is done It looks beautiful I can't believe how great it plays and sounds. I have a few more projects I'll be posting soon. The LP in the back ground is another Jay Turser LP in vintage burst that needs a neck repair.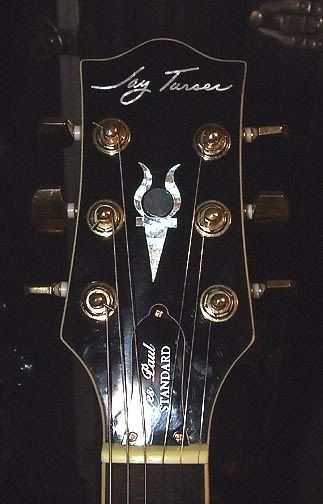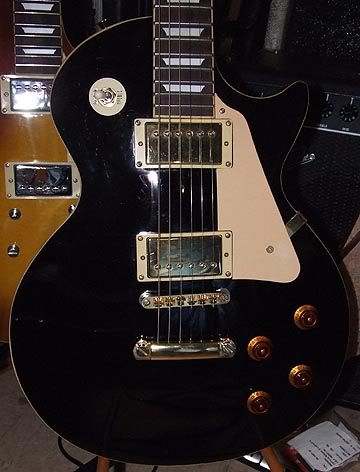 John
just 25 USD????? lucky bitch

Join date: Feb 2009
164

IQ
Great find!

Thanks, I forgot to mention Jay Turser uses Alder for the bodies with maple tops on these LPs they have a different tone than the standard Mahogany body LPs. I am lucky to be able to buy these guitars from a local source and pick them up at the store so I do not have to pay high shipping costs which keeps people from bidding a lot for a project guitar.


John
Dude that is so cool! I've been curious to see what a Adler based LP would sound like, I imagine it's much brighter. Three cheers to projects!
I....Hate....You....
thats so cheap

I want a cheap one

HNGD.....

Join date: Jun 2009
10

IQ
NICE! well done for spotting a bargain.
Join date: Nov 2003
90

IQ
Thanks guys. I am almost ready to post another JT guitar I got pretty cheap. I am also bidding on yet another project guitar as well. The last guitar. I will be working on will be the LP in the back ground it needs to have the neck fixed at the scarf joint.

John

Join date: Aug 2009
20

IQ
I used to have a wine red Turser LP. Loved that guitar, smashed it one night though.

HNGD!