Can I use this as header for a half stack?

Join date: Aug 2007
20

IQ
So I have a Vox AD15 amp right now and I love it. The only problem is the power. I'm starting to play more with other people and I want to get a half stack. Being short on cash, and a pretty cheap guy; I wanted to know based on these pictures could I buy a 4x12 amp with no header and use my amp with it.
Thanks for any help in advance.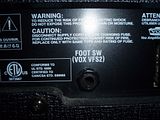 (click pictures to make them bigger)
Afraid not. I don't really see why you'd spend your money on a huge cab for a cheap practice amp, instead of just buying a good amp.

Join date: Jul 2007
50

IQ
if power is a problem a cab (thats what you're looking for btw, a cab, not a 4x12 amp) wont help much. you're better off either getting a new combo or a new HEAD(er??^) and cab

Join date: Oct 2008
80

IQ
Spend your hard-earned cash wisely for god's sake! God's rice alcohol?

No, really, a decent 2x12 will blow away any 4x12 that is cheap, strait up. And as for a head, you should really save a bit of money for that to. Really a 2x12 combo might be right up your alley.

So then it comes to this: What do you play? Budget? Gigging? Versatality needed? et cetera