The EP is out! And we're going on tour!
Join date: Jun 2005
580

IQ
Hey guys!
Just sharing some news with you!
Our EP is official out, and available at all the major digital music distributors. It's also available for full listening on our page!
www.myspace.com/theendlessendeavor
Come December, we will be heading off on tour up the West coast. Maybe I'll meet some of you guys on the way.
Give things a listen if you get a chance, and let us know what you think!
Eric
The Endless Endeavor
hey i checked out your band. the music is very generic and cliche. i also think the clean vocals need work...in fact the thing i dislike most about your music is the singer. he's just not good enough for that kind of music. and the screams should vary in range rather than the same old roar over and over again. other than that guitars and drums are spot on.
thats my constructive crit.
I was also wondering if you guys would want a better band logo. looking at the art of the EP, it was quite a turn off. also for you're kind of music you're gonna need a pretty stand-out logo to grab potential listeners' attentions. hit me up if you want a more bad-ass logo
oh and good luck with the tour
edit: here's a quick logo i did. i'm pretty sure its too brutal for your kind of music but i can tone it down if you are even somewhat interested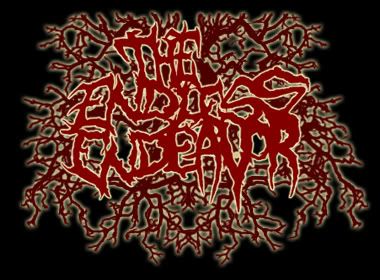 Last edited by Acronikos at Aug 31, 2009,

Join date: Jan 2005
100

IQ
do you have any dates for this tour booked besides the first one? it seems kind of unprofessional to have you tour listed without any shows...
yeah it is kinda cliche... but you have a pretty tight band all the same. it would be interesting to see what this band is like live.
I think it sounds good, although it's cliche, I like that kind of stuff.
I also don't think the vocalist was that good. Some of this screams and growls were good. But nothing spectacular. Didn't like the clean vocals.

I like the drumming.

Winter Tour to San Gabriel Valley Area CA!!