Making my Ibanez RG2550z a little more 80's..(Pictures Included!)
Hey guys
Since I was getting a little bored with my RG, I decided to spice it up a bit!
I put in a pair of pink dimarzio breeds and some new knobs and pickguard
Tell me what you think!
Before: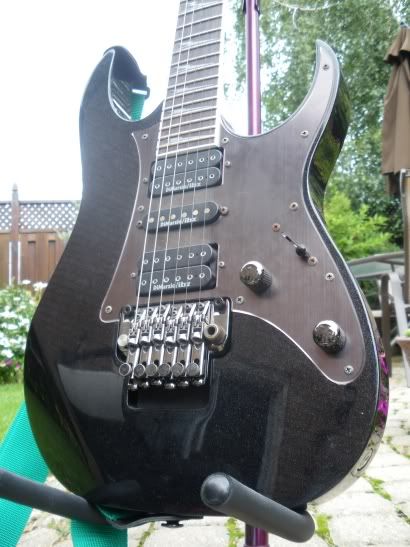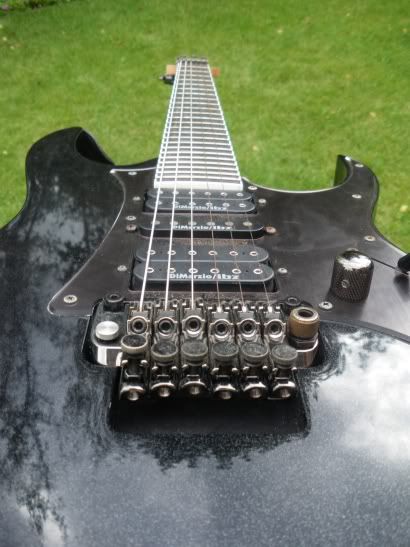 After: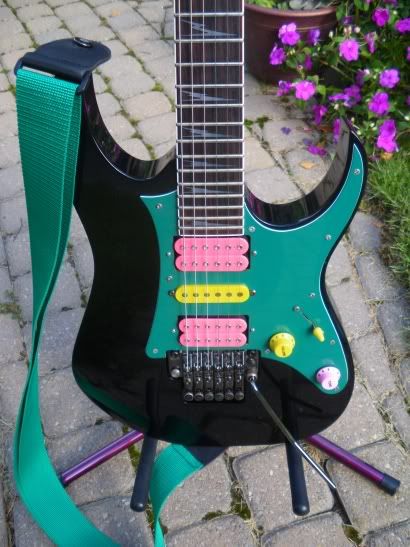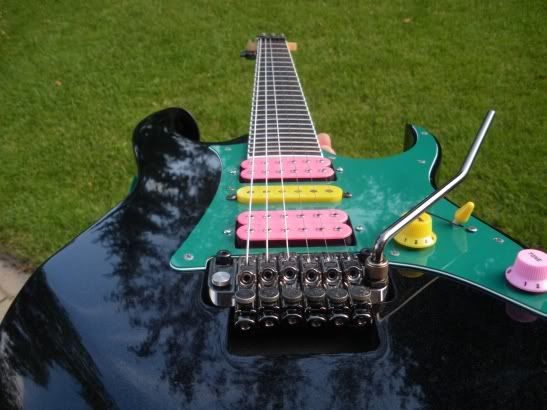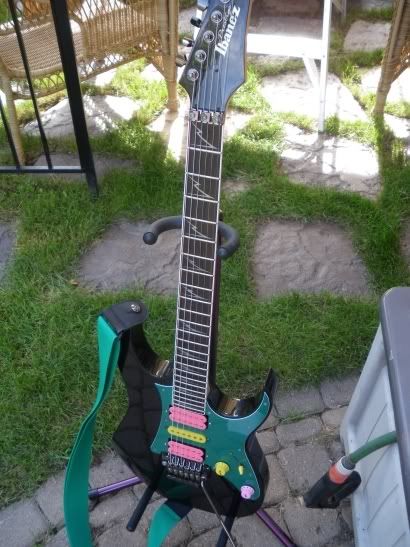 With the gear: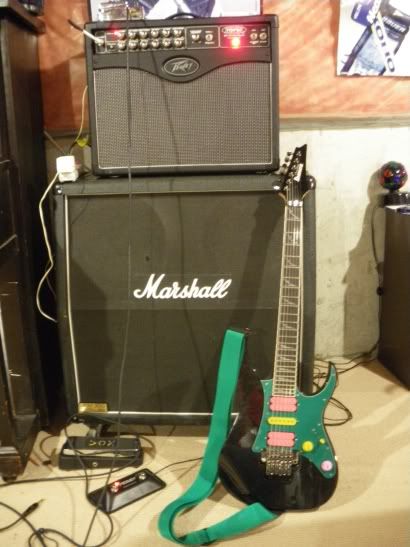 Join date: Aug 2006
230

IQ
I love it! It's so deliciously neon.

Make that ibanez logo some shade of day-glo and your set lmao.

Join date: Jun 2008
30

IQ
Very interesting.....overall I'm a fan of it. It's tacky, but that's 80's for ya. nice work

Join date: Aug 2008
20

IQ
I actually bought an RG220 just to do something similar. I did a green/black/white swirl paintjob. I just ordered a pink Dimarzio Evolution, and a pink Dimarzio PAF Pro. I'll probably be putting a green mirrored pickguard on it. I scalloped the frets from 12 up.

One question though...
Where did you get those knobs? I've been looking for colored strat-style knobs for a while, and don't feel like painting any.
I actually got them through
www.allparts.com
but they were not correctly sized for the Ibanez so I had to widen the holes a bit with a dremel. To make sure they didn't slip around, I actually just used some hockey tape on the inside (how canadian is that?).
Although perhaps maybe you could order some through dimarzio? I have heard they make matching knobs, but for some reason I never investigated that so I can't say for sure.
..if that's any help?
All I gotta say is....


lol..

Join date: Oct 2007
40

IQ
nice, how are the breeds?

Join date: Aug 2006
121

IQ
paint it pink or lime green and you're set

Join date: Nov 2008
60

IQ
DUDE! whered you get that green strap...ive been looking for one forever!

Join date: Jul 2008
190

IQ
This was literally my reaction when i saw those pics:
"ooh, nice!"
very nice mod, it's got a little of that Jem vibe going, but without any of the pretentiousness or excessiveness. (or at least that's my take of it

)
haha thanks guys
The breed bridge sounds nice and beefy to really fill out the guitar's sound, while the neck can really pump out the screaming highs, which is exactly what I was hoping for. I also found that they sound great with the single coil too, which is something I didn't really anticipate. Overall, I must say I'm very pleased with them.
Oh and the green strap just came off the rack of my local long and mcquade

I'm trying to do this with my RG550, black is so...bland.

Join date: Nov 2007
120

IQ
DUDE! whered you get that green strap...ive been looking for one forever!
You can get Dimarzio Cliplock straps in lots of colours.
This guitar gets my seal of approval! Looks great. Someday, I'm gonna get an old RG550 and make it into an JEM777LNG clone, if I can find some paint that matches.

Join date: Aug 2009
10

IQ
That is AWESOME!! Well done man you've inspired me to do something like that to my guitar nice!