The Ultimate Guitar Pick Thread
I promised to make this thread, so here it is.
History of guitar picks
The first record of picks I could find was from Ancient Egypt, around 3150 BC. There were images of stringed instruments with some sort of pick on Pyramid Walls.
Skipping forward a bit, the first pick to really resemble the modern day kind was made from tortoise shell. This became the material of choice around 1800. However, because these were costly and difficult to make and obtain, the search was on for different materials.
The material used today for picks is usually celluloid based. It was Mr. D'Andrea who sold the idea of using celluloid to the music industry in the form of a celluloid prototype. in 1920.
From that point on, guitars became more popular and the variety of pick materials, shapes and sizes grew like never before.
Sources: Picks! By Will Hoover and Wikipedia.
Guitar pick varieties
Thickness:
Most people know that picks come in various thicknesses. I'll keep this brief and just say that thinner picks to me sound brighter, make it easier to strum evenly but wear and tear faster, and you tend to get extra picking/strumming noise. Thicker picks are less prone to bending, will last longer and have a deeper sound to them. They are arguably a better choice for heavier string gauges. I personally tend to use a thinner pick when recording clean or acoustic for their brightness and ease of strumming, and I use thicker picks for my metal and lead playing.
Approximate guidelines to thickness ranges are presented in the following table:
Sources: Wikipedia and personal findings.

Common Materials:
Celluloid
used to be the most common, but has largely been discarded because this material is highly flammable. Still very common though.
(Invalid img)
Nylon
is the material of choice for most thin and extra thin picks because it is so easy to produce thin sheets of it. Most manufacturers add a high friction coating to these, because they are very smooth and slick naturally. They also come in thicker varieties.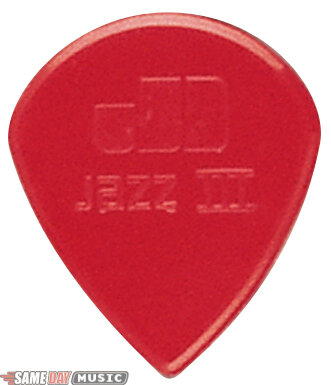 Tortex
, pioneered by Jim Dunlop is one of the most common. Sturdy, and usually treated to be matte and easy to grip.
(Invalid img)

Common shapes:
Left to right: Standard, Teardrop, Jazz, Equilateral-Triangle, Sharkfin Guitar Picks
Standard picks
are the most common shape. Wide enough for a firm grip, with a gentle point for strumming. When picking, the point tends to slide off the string, giving a mellow tone.
Teardrop and Jazz
guitar picks tend to be more rigid than a Standard pick of the same thickness. Players love them for their fast response especially for picking. When strumming, or looking for more mellow tone, slide your fingers back slightly and relax your grip.
Equilateral picks
are easy to hold, since there is no right or wrong edge to grip. They can last longer since you can turn to another point if one wears down or breaks. These are also good for players who wish to experiment with filing down the point since you get three tips to experiment with.
Sharkfin guitar picks
are used two ways: as a standard pick, or rotated to use the multi-point edge to create multiple contacts per strum. Some like the multi-contact tone produced by the multi-point edge.
Source: start-playing-guitar.com

How to hold a pick
There are no rules in music, so don't take this as the law but as the general consensus good/effective place to start.
1. Make a thumbs up fist
2. Place the pick with the strumming side facing away from your hand approximately on your index finger knuckle/midbone
3. Hold the pick in place with your thumb.
Should look like this:
(Invalid img)
Remember to try and be relaxed about it. Don't strain yourself clamping down hard. Keeping it in place between your thumb and index finger is enough. As you grow more comfortable you'll realize you don't need to keep your hand in a fist shape. Be free about it, see what's comfortable for you.

Questions and recommendations
Background and beginners info is cool, but this is a forum. I'd like you to discuss your favorite picks and make pick questions/recommendations using this thread. Any question is fine ofcourse, but if you want a pick recommendation, or have a pick recommendation I would like you to follow this format:
- Requesting/Recommending a pick
- Genre
- Style/application
- Why you are suggesting it/What led you to requesting a pick
- picture if applicable.
Last edited by Mark G at Sep 2, 2009,