Ngd Iii
Well, I scored another sweet guitar on Ebay for only $80.00. Picked it up this afternoon. It's a Jay Turser JT-55C in Fireburst. I still need the trem arm for the Burns mark 8 set up and I need to string it but here are pics. This is a really pretty guitar. The pick up look odd because the plastic is still on them.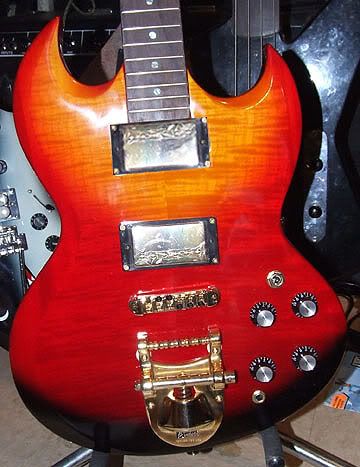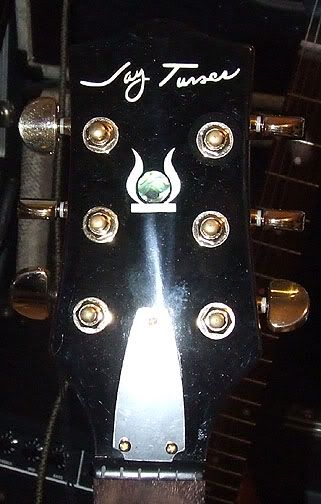 John
Last edited by johnro6659 at Sep 7, 2009,

Join date: Sep 2008
10

IQ
...you are one lucky SOB



Happy New Guitar Day!


Join date: Mar 2009
30

IQ
Nice find. HNGD!
But I'm guessing it's a B-stock? The headstock has white spots.
Thanks guys, the guitar is dusty I took it out of the box and just popped it in the stand for some quick pics. As soon as I set it up and clean it I'll post better pics I'll take out side without the flash. The pics really do not show the grain and colors very well.

John

Join date: Dec 2008
80

IQ
Crazy tailpiece... nice guitar though, HNGD.


Join date: Nov 2008
70

IQ
I dont really like the color but Ilove the shape

HNGD

Join date: Aug 2007
40

IQ
i love that color! when i first started playing i was in love with the Gibson SG with that finish. can't remember the model name now though. that thing is beautiful! and i like the bridge, too. thats a steal for $80!
The color on these is what really attracted me to the guitar. I saw both a Gibson Les Paul and SG in Flameburst not too long ago but they were asking way too much for them.

I am still trying to get a replacement trem arm I found out Burns of London makes the Burns MK 8 trem so I emailed them as well as Jay Turser. I also found out the same company that owns Jay Turser also owns Hagstrom. Hopefully either JT or Burns will come thru this week. I can't wait to be able to play this.


John
Last edited by johnro6659 at Sep 9, 2009,