my first mod
well i just found my very first electric guitar that i got about 9 years ago and i figured i'd mod it and make it look badass and play like a champ (what do i have to lose?) its a strat copy the brand is "bridgecraft." well im not really sure where to start, i know eventually i wanna refinish it, as of right now its a see-thru cherry color and my question regarding that is would i have to sand off the original finish before refinishing it or will the new finish mask the old? other than that im open to any suggestions that any modding vets have for me, i appreciate any help i can get
Yes you should sand off the old finish before refinishing it.

You could add new - Tuners, bridge/saddles, nut, pickups, pots/wiring... the possibilities are endless.
Deff sand off old finish before applying any new stain or paint.

If guitar has been sitting around that long unplayed I would make sure that the neck is still straight and playable beofre doing anything. No sense in wasting your time refinishng if you can't play it.
i already checked the neck before i stripped everything off the body and headstock, its still straight. one thing that im kind of concerned about though is the wood in the cavity for the bridge pickup and middle pickup is thin as hell, i can see through it and out of the cavity for the claw and springs for the trem. is this going to have any significant impact? i can provide pics if needed
Post pics if you can.

If its a strat copy then the PU's should mount into the pickguard and not the body of the guitar in anyway.
yeah everything is attatched to the pickguard, ill put some pics up tomorrow i have to run to the store then i have to go to work, thanks for all the help so far srob and fuzzlove
Dude, you don't HAVE to remove an old finish before you add the new one, but it really does help. If you wanted to be lazy, you need to remove at least the outer layer of lacquer, then lay down a coat of primer, then your solid colour.

As for stuff you can do, you have the perfect guitar for it. Strats are great for modding, since every part of it is removable.

Also, pics are always appreciated.
i could only get one of my pics to upload but this shows pretty much what im talking about, more to come if i can get it to upload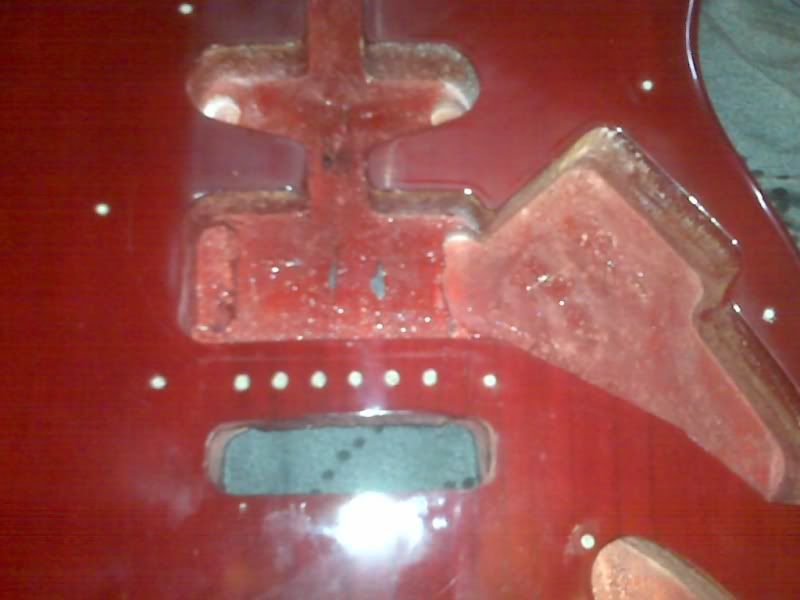 Join date: Feb 2007
374

IQ
I don't think that'll make any difference really since everything is attached to the pickguard.

I'd say upgrade pickups, and maybe get new pots and such, and put in some easy stuff like a killswitch just for the hell of it. and try shielding it. i did this for the first time earlier today and it worked out fine.
Yea, you should still be ok, even if that wood is on the thin side.
It was originally a SSS with how the cavity for the bridge pickup is routed would i be able to convert it to a HSS without any additional routing?

Join date: Apr 2008
20

IQ
It's already routed HSS. You'd just have to either modify the pick guard or buy a new one. Also, don't forget about your hardware. New hardware can really help a guitar out if the old hardware isn't up to par.
im planning on replacing everything that i can aside from the neck and body, I got this guitar around 9 years ago for like 40 bucks on ebay and i wanna make it a good player
i just got all of the original finish sanded off of the body, what should i use to refinish it? like would spray paint and then a clear coat work? i was going to pint the whole thing a glossy pink and then tape off parts and paint over it with a gloss black (think frankenstrat style taping) then put a clear coat over that

Join date: Apr 2008
20

IQ
You'll probably find
this
a great resource.

Join date: Jul 2009
70

IQ
i sure hope you dont sand it down and find that its plywood,

You'll probably find

this

a great resource.
thats super helpful thanks so much, and no its not plywood its basswood
well i got the body sander, primed and painted so heres the pics of those 3 steps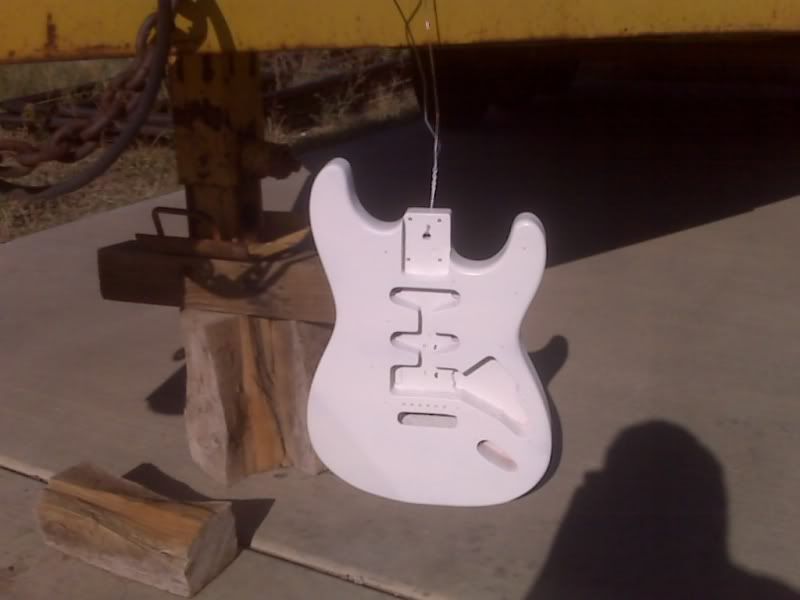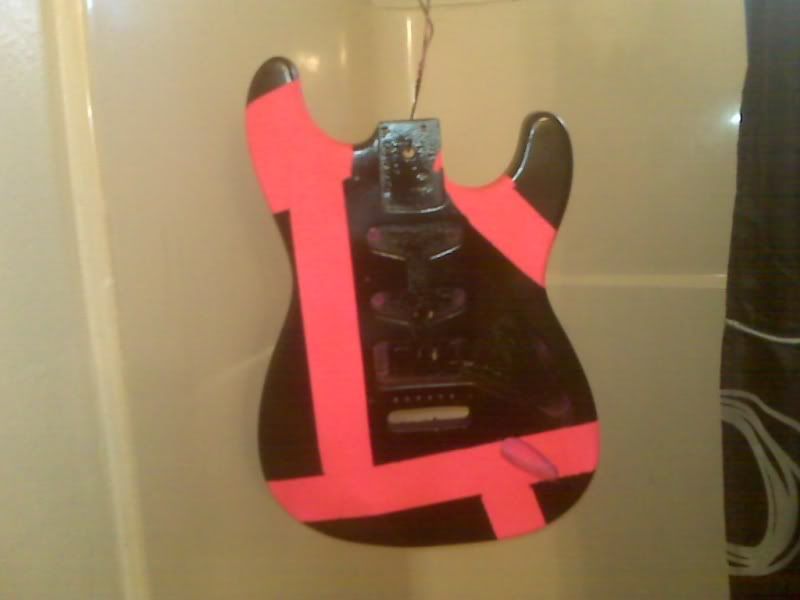 Looks snazzy. calls for all black hardware though....
thats what i was planning on, i love the look of black hardware
how much do those run for? that looks pretty sweet lol. i wanna get pink tone and volume knobs too just so the whole muddle of the front isnt just one chunk of black