Worst damage done to your guitar?

Join date: Aug 2009
100

IQ
What's the worse damage done to your guitar?
My worst is when one end of my strap came off, and my Epiphone Les Paul fell about an inch onto a table (thankgod that was there, it wouldn't been worse if it fell on the ground....), then it made two little cracks on the body on either side of one of my tone control knobs, which had a little chip on the sides as well...
Doesn't seem much, but to me, it felt like I destroyed my whole guitar...

searchbar scracht, you know

Join date: Apr 2007
10

IQ
Exactly the same as mason, except it was onto the concrete floor!

Join date: Jun 2008
50

IQ
I have never damaged one of my guitars (im super cautious and dont play standing up lol) BUT...

I traded my Ibanez RG5ex1 for a Jackson RR3

the RR3 has a nice chip in the longer horn and scratched and little gouges in the paint EVERYWHERE but it plays ALOT better.

I can always paint it and it look nice again

Join date: Sep 2009
10

IQ
I was playing and went to go to the bathroom, put the guitar on the stand, told my brothers not to fool around near it or id beat them. Im finishing up in the bathroom and suddenly, i hear a large crash and a, "Oh Crap" from my brothers. i come out to the room to see that they knocked down my guitar, and the head stock had pretty much snapped off. saddest moment of my life

then something like this happend to my brother


Join date: Sep 2008
76

IQ
1. Chipped a chunk of wood off my RG350DX Ibanez headstock.
2. My volume and tone knobs got Really loose, and wobbled like crazy.

Join date: Apr 2007
40

IQ
A part of the headstock cracked off my Jackson.
Taking it apart and getting too lazy to put it together again...

Join date: May 2008
90

IQ
belt rash down to the body? thats all i got.

Various direct to the neck hits with my jem, nothing serious, it is already 20 years old now!

Playing my Ibanez hollow body and the bridge flew out from under the strings after a slight bend, intonation got all messed up.

other than that, no big fails

Join date: Jun 2009
110

IQ
Nothing.

No drops, no scratches, plenty of near misses, but the only "damage" I can say is the knobs and trem's color wore away.
Join date: Feb 2009
60

IQ
I ate pizza covered with ranch dressing one night, and then immediately went to practice.
My guitar neck has never been the same.

everyday dents and scratches
one time i had some powdery stuff after i was in my friends garage... and it was on the neck but i cleaned it up
ugh. I dont even want to say it lol. My older brother put my bass case behind my Gibson V which was on a stand. The case fell forward, hit the Gibson, which fell forward and hit a radio...it screwed the neck up and gave me some pretty bad fret buzz. I had to raise the strings so the 2nd and 3rd frets would play notes on pitch...traded that guitar for an almost new Schecter C-7 Hellraiser

Taking it apart and getting too lazy to put it together again...
I've done that to so many things I've owned.
Thankfully my dad stopped me before I did it to my guitar too.
Hmm. I can't think of any way I've damaged my guitar. There's a nice dent next to the pickguard near the upper horn, but my brother did that when it was his.
Jammin' with a friend and just couldn't stay together. Let my frustration get the best of me and dislocated the neck as I slammed it into our concrete basement wall then threw it onto the ground. Snapped the head off. I've since disassembled the guitar as you can see below. Sorry it's dark, my camera sucks on my phone.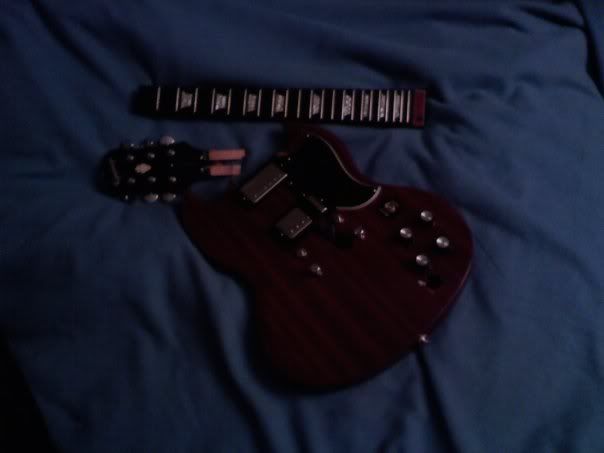 Join date: May 2008
90

IQ

why the hell would you ever think about doing that to a guitar