N u-G D
today i traded a mint mexican strat and a jackson kvx10 for a used ibanez XPT700! two guitars for one may sound stupid, but i bought the jackson from this store for $100. someone dropped it and slipped out quietly, and a peice of the headstock broke off right where the little E tuner sits. i paid this store $40 to fix it. i just havent been playing it very much. i dont care if the $$ equals out because this store gives me deals on everything so its nice to give a little back. this xiphos is built better and its got dimarzios! now i have EMGs, SDs, and DiMs so i can compare the differences myself.
theres nothing special to it, except that it plays great.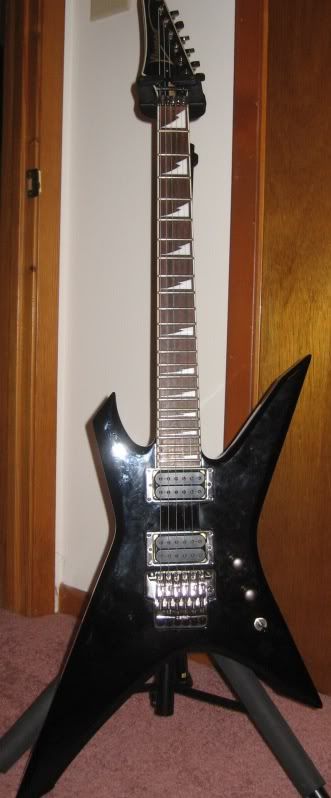 Join date: Mar 2009
90

IQ
HNGD!!!!!!!!! why no chameleon??
27 Frets!!!

HNGD!
sadly its the 700xh thats got the 27 frets

and its black because i got her used! i might get it repainted someday since i already have a completely black guitar. that red chameleon job is nice

Join date: Dec 2006
205

IQ
Sweet. The D Activators kick ass.
Join date: Apr 2009
20

IQ
Aint that neck sweet? hngd!
HNGD!! Ive always wanted to play on one of the 27 fret versions, but the normal version just seems more practical.